Morihata - Binchotan Charcoal, 4 Sticks
SKU
BINCHOTAN.CHARCOAL.4.STICKS
---
Sustainable
Small Producer
Powerful purification. Kishu Binchotan in its purest form.
Each bag includes an assortment of charcoal pieces of roughly the same size,
typically about 5" long and 1" wide. (12.5cm x 2.5cm)
-Kraftvolle Reinigung. Kishu Binchotan in seiner reinsten Form.
Jeder Beutel enthält eine Auswahl an Holzkohlestücken von ungefähr gleicher Größe,
in der Regel etwa 5" lang und 1" breit. (12,5cm x 2,5cm)
Binchotan charcoal is regarded as the purest and most effective
type of activated charcoal and is revered for its purifying ability.
These sticks are made from 100% ubame oak and are exactly as they were
when removed from the ancient kilns in which they are made.
The high temperatures firing and short cooling times - done by dousing the new charcoal with ash
- result in beautiful, glass-like branches of binchotan.
When simply added to a carafe of water,
the thousands of microscopic cavities left in the wood effortlessly remove unwanted toxins and impurities,
while softening and improving water's taste.
Completely natural, the sticks are great for the garden
and can be broken up and disposed of in soil once they start to diminish in efficacy (about 3 months).
Materials: Charcoal made from ubame oak
Wakayama, Japan
***
Binchotan-Holzkohle gilt als die reinste und wirksamste
Aktivkohle und wird für ihre reinigende Wirkung geschätzt.
Diese Stäbchen werden aus 100% ubamer Eiche hergestellt und sind genau so, wie sie waren
als sie aus den alten Brennöfen, in denen sie hergestellt wurden, entnommen wurden.
Die hohen Brenntemperaturen und die kurzen Abkühlungszeiten - die neue Holzkohle wird mit Asche übergossen
- ergeben wunderschöne, glasähnliche Zweige aus Binchotan.
Wenn man sie einfach in eine Karaffe mit Wasser gibt,
entfernen die Tausende von mikroskopisch kleinen Hohlräumen im Holz mühelos unerwünschte Giftstoffe und Verunreinigungen,
und machen das Wasser weicher und besser im Geschmack.
Die Stäbchen sind völlig natürlich und eignen sich hervorragend für den Garten
Sie können zerbrochen und in der Erde entsorgt werden, sobald ihre Wirkung nachlässt (etwa 3 Monate).
Materialien: Holzkohle aus Ubame-Eiche
Wakayama, Japan
Brand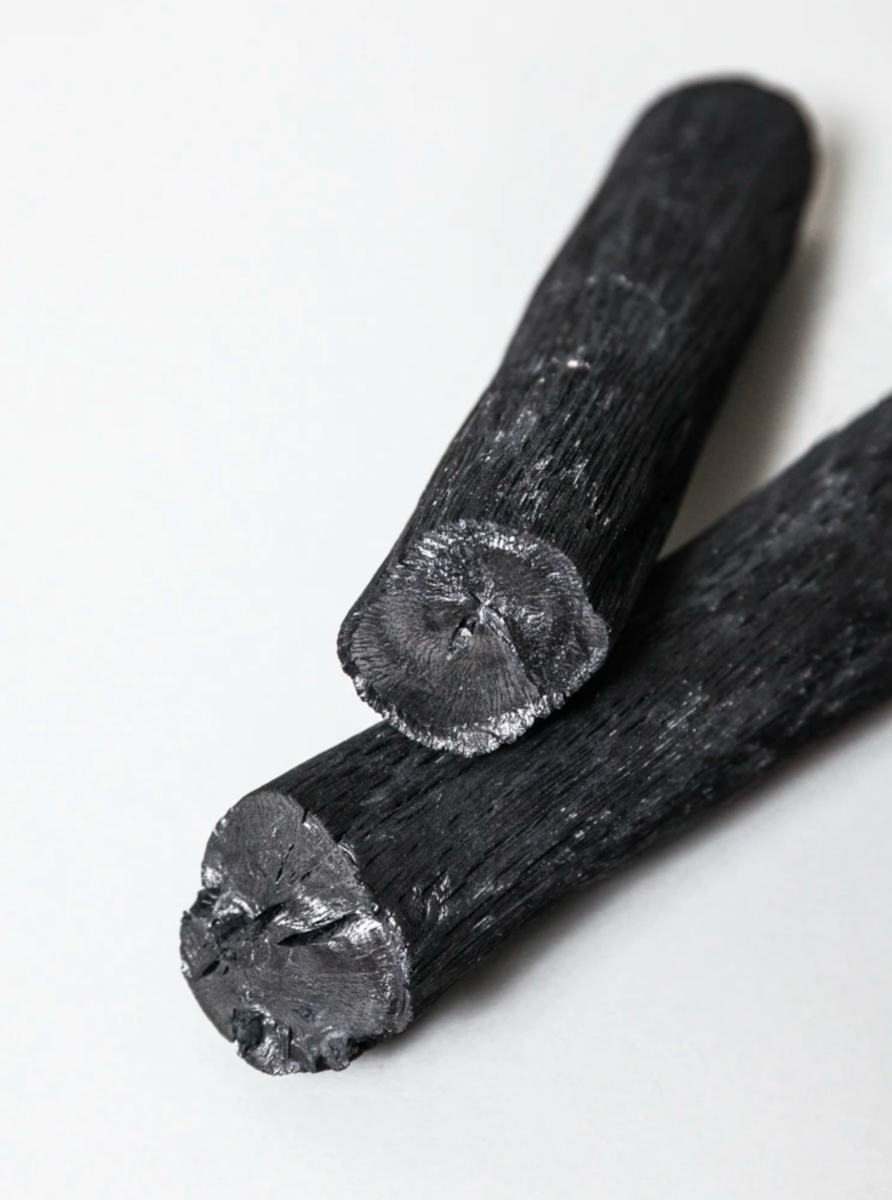 Binchotan Charcoal
(EN) Revered in Japan since the Edo period, Binchotan Charcoal is a natural way to purify, cleanse, and improve the quality of your daily life. Our Binchotan Charcoal is made the time-tested way in its birthplace, the Kishu region of Japan in the Wakayama Prefecture.
Binchotan Charcoal has been used in Japan for centuries to filter and purify water. Made in the region of Kishu, this eco-friendly water purifier draws unwanted chemical out of the tap water, naturally softening and improving its taste for up to three months.
Binchotan Charcoal is activated by burning branches of oak at extremely high termpratures inside a specialized kiln. This process, called nerashi, carbonizes the structure of the wood and leaves behind countless porous cavities that naturally bond with toxins, trapping chemicals and other impurities commonly found in tap water.
(DE) Seit der Edo-Zeit in Japan verehrt, ist Binchotan-Holzkohle eine natürliche Methode zur Reinigung, Säuberung und Verbesserung der Qualität des täglichen Lebens. Unsere Binchotan-Holzkohle wird in ihrem Geburtsort, der japanischen Region Kishu in der Präfektur Wakayama, auf bewährte Weise hergestellt.
Binchotan-Holzkohle wird in Japan seit Jahrhunderten zum Filtern und Reinigen von Wasser verwendet. Dieser in der Region Kishu hergestellte, umweltfreundliche Wasserreiniger entzieht dem Leitungswasser unerwünschte Chemikalien und macht es auf natürliche Weise weicher und verbessert seinen Geschmack bis zu drei Monate lang.
Binchotan-Holzkohle wird aktiviert, indem Eichenzweige mit extrem hoher Temperatur in einem speziellen Ofen gebrannt werden. Dieser Prozess, der als Nerashi bezeichnet wird, verkohlt die Struktur des Holzes und hinterlässt unzählige poröse Hohlräume, die sich auf natürliche Weise mit Giftstoffen verbinden und Chemikalien und andere Verunreinigungen einschließen, die üblicherweise im Leitungswasser vorkommen.