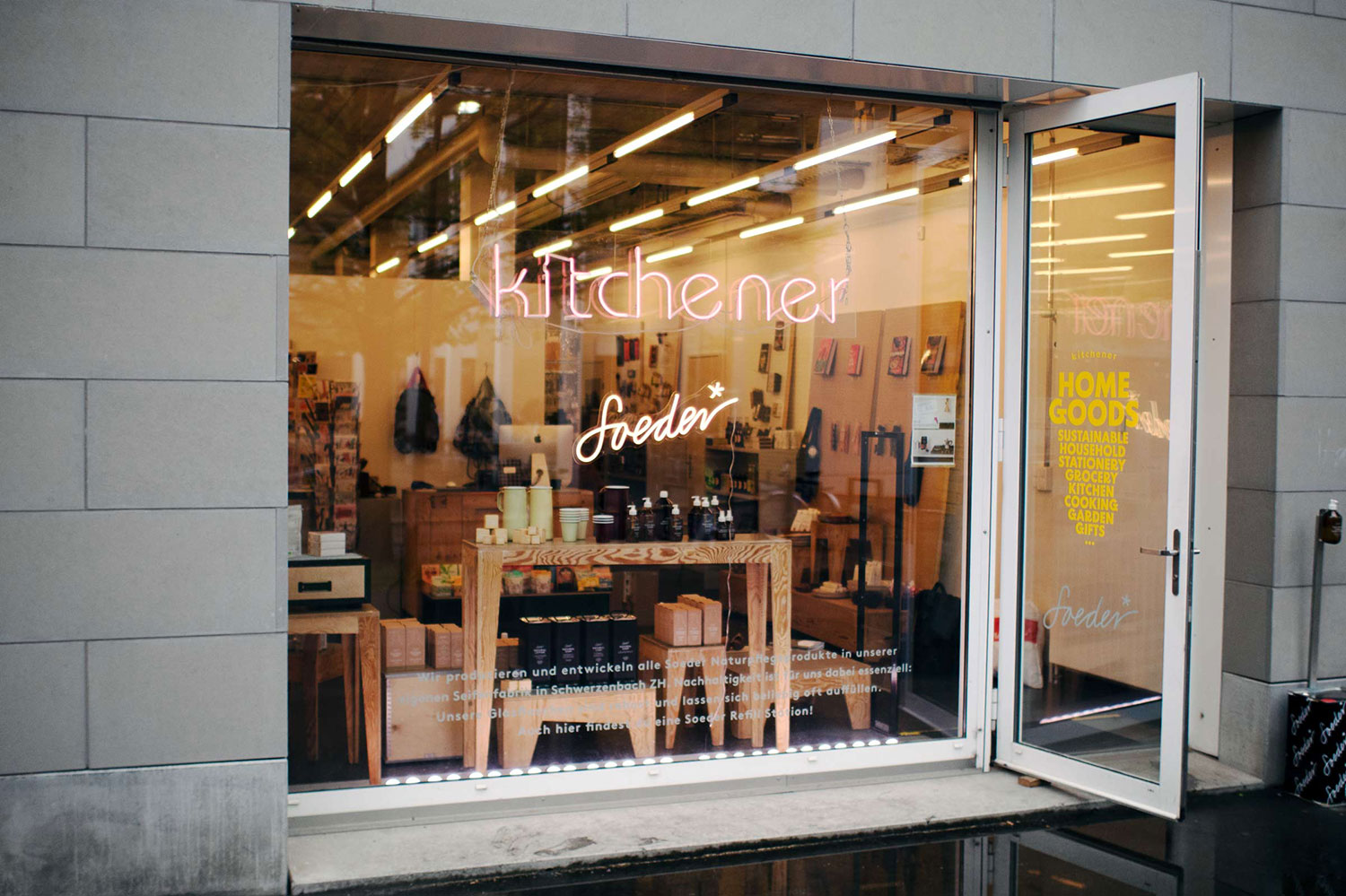 We teamed up with our friends from Soeder not once but twice. Kitchener Home Goods at Heinrichstrasse 217 in Zürich host a Soeder Pop Up Store with a fully equipped Soeder Refill Station till the end of July. Opening hours are from Thursday till Saturday. In Bern we are now the official Soeder Partner Store . This means we stock every Soeder product and we inherited the fabulous sink from the Soeder Bern store , so now you can even try all products in store.We are selling Soeder soap since 6 Years. When they first approached us with theirs soap we did not have to think twice. A refillable soap that comes in a glass bottle and that is made in Switzerland! What mote could you want.Beside our own Soeder Soap Orange Garden we absolutely love the two new scents Wermuth Negroni and Hinoki Yuzu.
A bit more about Soeder
The Zurich based collective Soeder is selling everyday goods since 2013. They focus on care products that are one hundred percent self-made in our their factory and on apparel. Both are essential for mankind. And there is a particular philosophy Soeder apply to both: timeless design meets the highest quality standards. However, the key is sustainability: Soeder products are durable, good for the environment – and suitable for whoever uses them.
When Soeder opened their first Soeder shop in Zurich in 2013, they simply couldn't find any care products that satisfied us completely. But the demand was by no means exaggerated: They had to be of high quality, made in Switzerland, contain no superfluous or even toxic ingredients and be tolerable for everyone. This shortcoming led them to open our first soap manufactory in the centre of Zurich two years later. Over the years, the soap that started it all, which is now available in a wide variety of scents, has grown into a whole family of products. The natural soaps are accompanied by creams and lotions, deodorants, shampoos, conditioners, lip balm, lube, and hand sanitizers. The range of products is in a steady flow and continuously being expanded.
Soeder manufacture all of them in our very own factory in the town of Schwerzenbach – with ingredients that nature provides. All soaps are made out of distilled water, essential oils, and oils from coconut, castor, hemp, olive, jojoba, and almond. All of them are sourced organically and certified. Honey from the Zürich Oberland and organic wheat act as regenerates, sea salt works antibacterial. Soeder soaps comprise 20 percent glycerine – that gives them pleasurably moisturizing effects. The scents come from essential oils like pine, grapefruit, or lavender. The nourishing effect of Soeder soaps makes them suitable for the whole body. No artificial or chemical additives.
Soeder Factory
From the first beginnings in 2013 on, Soeder had a goal: They wanted to be involved in developing and making all their products. In a steady exchange with the manufacturers, they discussed every used material, and made sure that every single step of work met their expectations.
In 2015, Soeder opened their own soap factory – the start of our production journey. They started off in an old garage in the Zurich borough of Kreis 6. Those days, virtually everything was done by hand. They sold the soap in the freezing cold atmosphere of the Zurich Christmas market. The demand was huge, and they soon realized that they would need a bigger production ground.
In 2016 Soeder left the city center and moved to the nearby town of Schwerzenbach. The Soeder Soap Factory is the place where you can feel the Soeder heartbeat. There's a lab where the develop new care products – or improve the old ones with new ingredients and fresh scents. The actual fabrication takes place in the production hall. Here, we they make everything from small batches to large ones. It is the home of mixers, reactors, plodders, tube fillers, and filling lines. It is permanently full of wonderful scents, ever-changing with the rotating production scheme.
All Soeder products are based on natural ingredients and come without any artificial additives. Also, all of them are biodegradable. That's good for the body – and keeps the impact on nature low.