7 questions to Maria from Maska
In a conversation with Maria founder og the swedish label Maska. Maria grew up in a textile family. Her great grandmother and her grandmother run a small sewing mil at home in the area of Borås, famous for it's textile Industry in Sweden.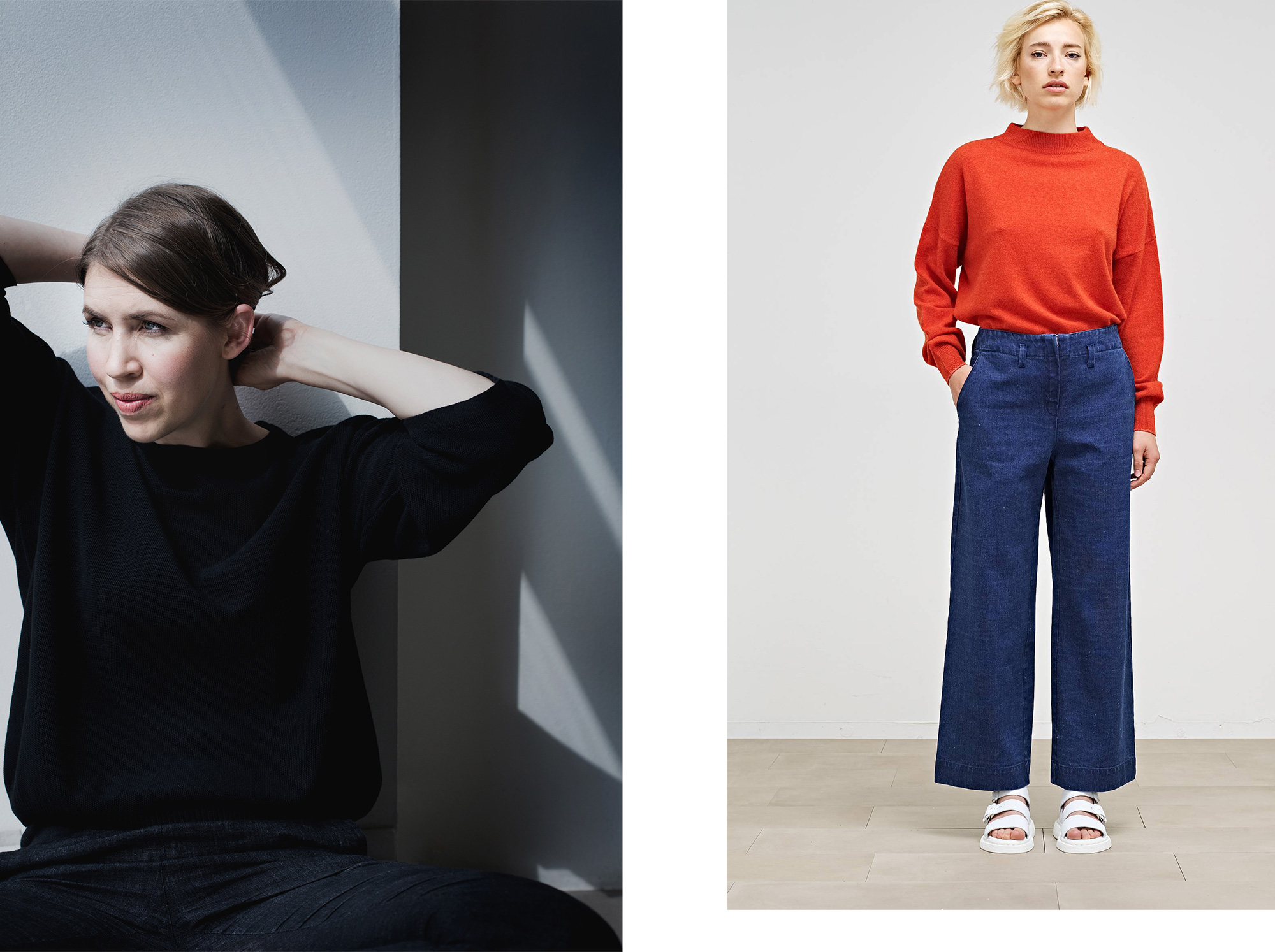 How would you describe Maska?
It is a blend of sensuality and functionality, one never overtaking the other. The choice of fibers and fabrics are very important.
What does Maka stand for?
Longevity and beauty.
How did it all get started?
From way back it started with the happiness of playing in my grandmothers and great grandmothers sewing factory and them teaching me quality of well made clothes. Later on in life I wanted to create the brand I was missing on the market, a combination of a Scandinavian style expression with a japanese beauty philosophy. Mixing it also with an eternal sense of comfort and elegance from traditional tailoring.
Name on thing that Maska will be remembered for.
Perfect harmony between the garment and the wearer.
Who is Maska?
Our customer is often an architect but it could be everyone who is looking to discover something beyond the ordinary in the textile world...
Who or what inspires you?
Wonderful, innovative fabrics and the beauty in all.
Any thought on Kitchener?
Kitchener and MASKA has a similar philosophy of aiming for the perfect product. We admire Kitchener for doing this job for already 50 years. Choosing to offer only truly well made peices shows such great respect to nature and the wearer.
The Maska way
"At MASKA we always take ethical and environmental concerns into consideration when producing our garments and purchasing materials. Our sustainability endeavours include many dimension.
Not only is the choice of fibers important, but also the garment's entire lifecycle and frequency of wear and care. Selecting materials that age with grace and are long-lasting is central to our sourcing philosophy.
Each yarn and every weave has its own unique quality such as shine, drape and softness. We believe that creating great garments with a long life is about a deep understanding for the materials and selecting the right yarn and fabric for every design.
We love natural fibers and only use oil-based fibres or threads to enhance the performance of a garment, never to reduce costs.
We only use natural materials in buttons and knitting yarns.
We work with long-term trends and avoid the short ones to give our garments a longer lifecycle. Quality in sewing is highly important as this gives a garment lasting value. When a trend passes, the beauty is inherent.
We also take environmental aspects regarding usage and washing into consideration by favouring materials that seldom need laundering and require lower washing temperatures.
We favour wool as a knitwear material as it is a high performance fibre that rarely requires washing. The lifecycle environmental impact is therefore favourable.
All knitwear yarn is spun in Europe apart from the cashmere and silk blend. We hand pick all yarns and fabrics and always keep direct contact with the spinning mills and weavers trying to affect the choices of their fiber and yarn suppliers.All knitwear is produced in the EU following the labor laws of the European Union, apart from one style which is produced in Nepal at a Swedish-owned factory. Though outside the EU, this supports the growth of local industry. The factory is managed according to fair labour guidelines created by the international non-profit organisation Fair Wear Foundation. All woven garments are also produced within the E.U. following the labour laws of the European Union."