Morihata - Binchotan Charcoal Facial Puff
SKU
BINCHOTAN.FACIAL.PUFF
---
Sustainable
Small Producer
3"x 2 ¼" (7.5cm x 5.5cm)
An all-natural, plant-based cleansing wonder
-Ein rein natürliches Reinigungswunder auf pflanzlicher Basis
This Binchotan Facial Puff is made from
a blend of fine Binchotan charcoal powder and vegetable fibers from the all-natural and mild Konjac root.
Use with or without cleanser to gently exfoliate and massage skin for a brighter complexion.
The soft texture and natural ingredients are ideal for sensitive skin.
Materials: Konjac root fibers, binchotan charcoal powder (100% ubame oak)
Care: Wet puff thoroughly under warm running water until soft.
Use the puff to gently massage the skin in a circular motion.
Rinse the puff after use and gently pat out excess water between your palms before hanging in a cool, dry place.
Do not squeeze or twist the puff.
Because of the biodegradable nature of its natural plant fibers,
this puff will wear away over time. With proper care, it should last up to three months.
***
Dieser Binchotan-Gesichtsbalsam wird hergestellt aus
einer Mischung aus feinem Binchotan-Holzkohlepulver und pflanzlichen Fasern aus der natürlichen und milden Konjac-Wurzel.
Verwenden Sie ihn mit oder ohne Reinigungsmittel,
um die Haut sanft zu peelen und zu massieren und einen strahlenden Teint zu erhalten.
Die weiche Textur und die natürlichen Inhaltsstoffe sind ideal für empfindliche Haut.
Materialien: Konjac-Wurzelfasern, Binchotan-Holzkohlepulver (100% Eiche ubame)
Pflege: Die Quaste gründlich unter fließendem warmen Wasser anfeuchten, bis sie weich ist.
Verwenden Sie die Quaste, um die Haut sanft in kreisenden Bewegungen zu massieren.
Spülen Sie die Quaste nach dem Gebrauch aus und tupfen Sie das überschüssige Wasser vorsichtig
zwischen Ihren Handflächen ab, bevor Sie sie an einem kühlen, trockenen Ort aufhängen.
Quetschen oder drehen Sie die Quaste nicht.
Aufgrund der biologischen Abbaubarkeit der natürlichen Pflanzenfasern,
nutzt sich diese Quaste mit der Zeit ab. Bei richtiger Pflege sollte er bis zu drei Monate halten.
Brand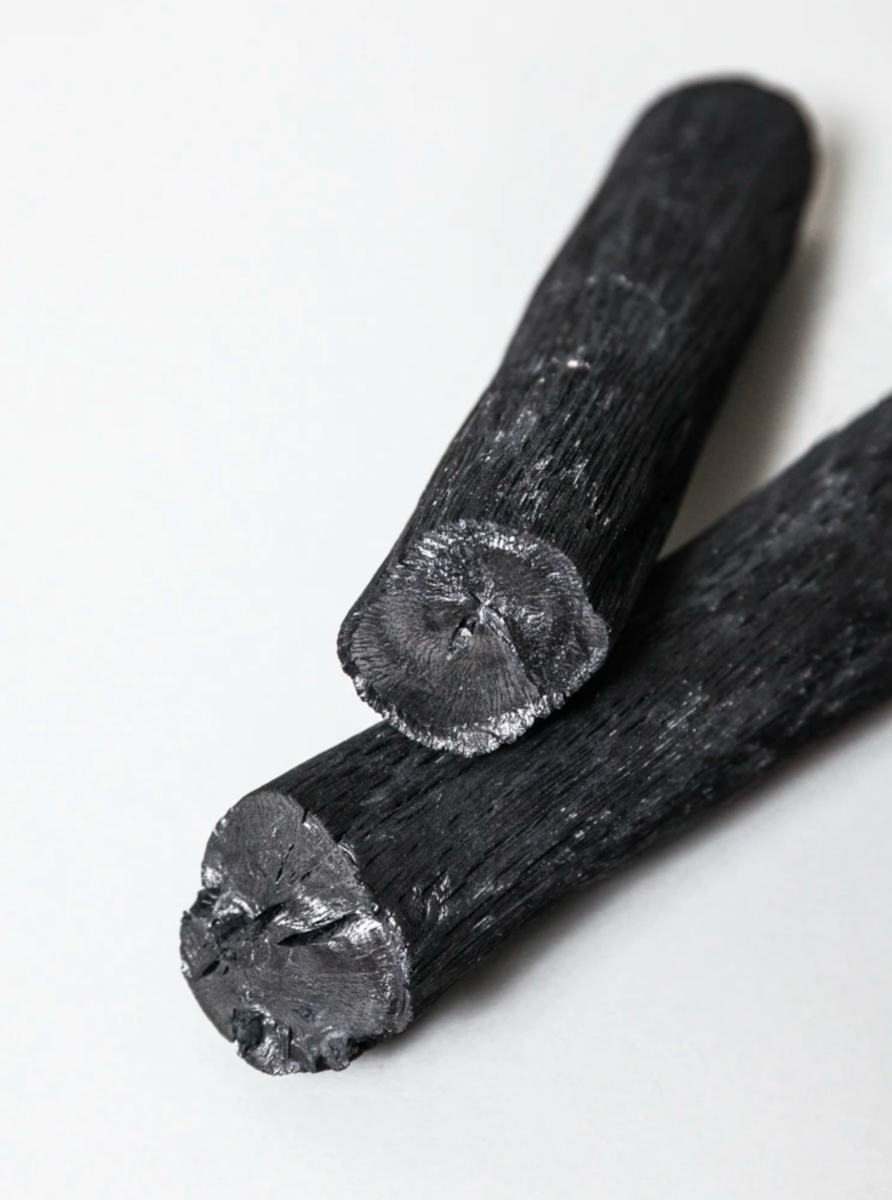 Binchotan Charcoal
(EN) Revered in Japan since the Edo period, Binchotan Charcoal is a natural way to purify, cleanse, and improve the quality of your daily life. Our Binchotan Charcoal is made the time-tested way in its birthplace, the Kishu region of Japan in the Wakayama Prefecture.
Binchotan Charcoal has been used in Japan for centuries to filter and purify water. Made in the region of Kishu, this eco-friendly water purifier draws unwanted chemical out of the tap water, naturally softening and improving its taste for up to three months.
Binchotan Charcoal is activated by burning branches of oak at extremely high termpratures inside a specialized kiln. This process, called nerashi, carbonizes the structure of the wood and leaves behind countless porous cavities that naturally bond with toxins, trapping chemicals and other impurities commonly found in tap water.
(DE) Seit der Edo-Zeit in Japan verehrt, ist Binchotan-Holzkohle eine natürliche Methode zur Reinigung, Säuberung und Verbesserung der Qualität des täglichen Lebens. Unsere Binchotan-Holzkohle wird in ihrem Geburtsort, der japanischen Region Kishu in der Präfektur Wakayama, auf bewährte Weise hergestellt.
Binchotan-Holzkohle wird in Japan seit Jahrhunderten zum Filtern und Reinigen von Wasser verwendet. Dieser in der Region Kishu hergestellte, umweltfreundliche Wasserreiniger entzieht dem Leitungswasser unerwünschte Chemikalien und macht es auf natürliche Weise weicher und verbessert seinen Geschmack bis zu drei Monate lang.
Binchotan-Holzkohle wird aktiviert, indem Eichenzweige mit extrem hoher Temperatur in einem speziellen Ofen gebrannt werden. Dieser Prozess, der als Nerashi bezeichnet wird, verkohlt die Struktur des Holzes und hinterlässt unzählige poröse Hohlräume, die sich auf natürliche Weise mit Giftstoffen verbinden und Chemikalien und andere Verunreinigungen einschließen, die üblicherweise im Leitungswasser vorkommen.