New at Kitchener - Still by hand
Designer Yusuke Yanaghi started the brand In the year of 2000 after returning home from his study in the U.K. and working for a Japanese company for a few years. He initially started producing small collections in this year and then in 2009, when the company Style Department was established with the brand, STILL BY HAND started offering its full collections.
The brand's basic rules are to make its products with Japanese fabrics, in Japan, with an open-minded approach to the colours. The nature of the country, which is vertically fairly long and has distinguished four seasons, always has a significant influence on what it creates.
The designer of the brand is also in charge of its production team. The knowledge he's gained in the process of doing both "design" and "production" over 15 years contributes to making the brand somewhat different from the others, he believes.
They produce their items preserving and cherishing tiny little details that are often eliminated in the mass production on the assembly line. Customers will hopefully find them as they wear the clothes everyday and share the feeling that their clothes are still made by hand.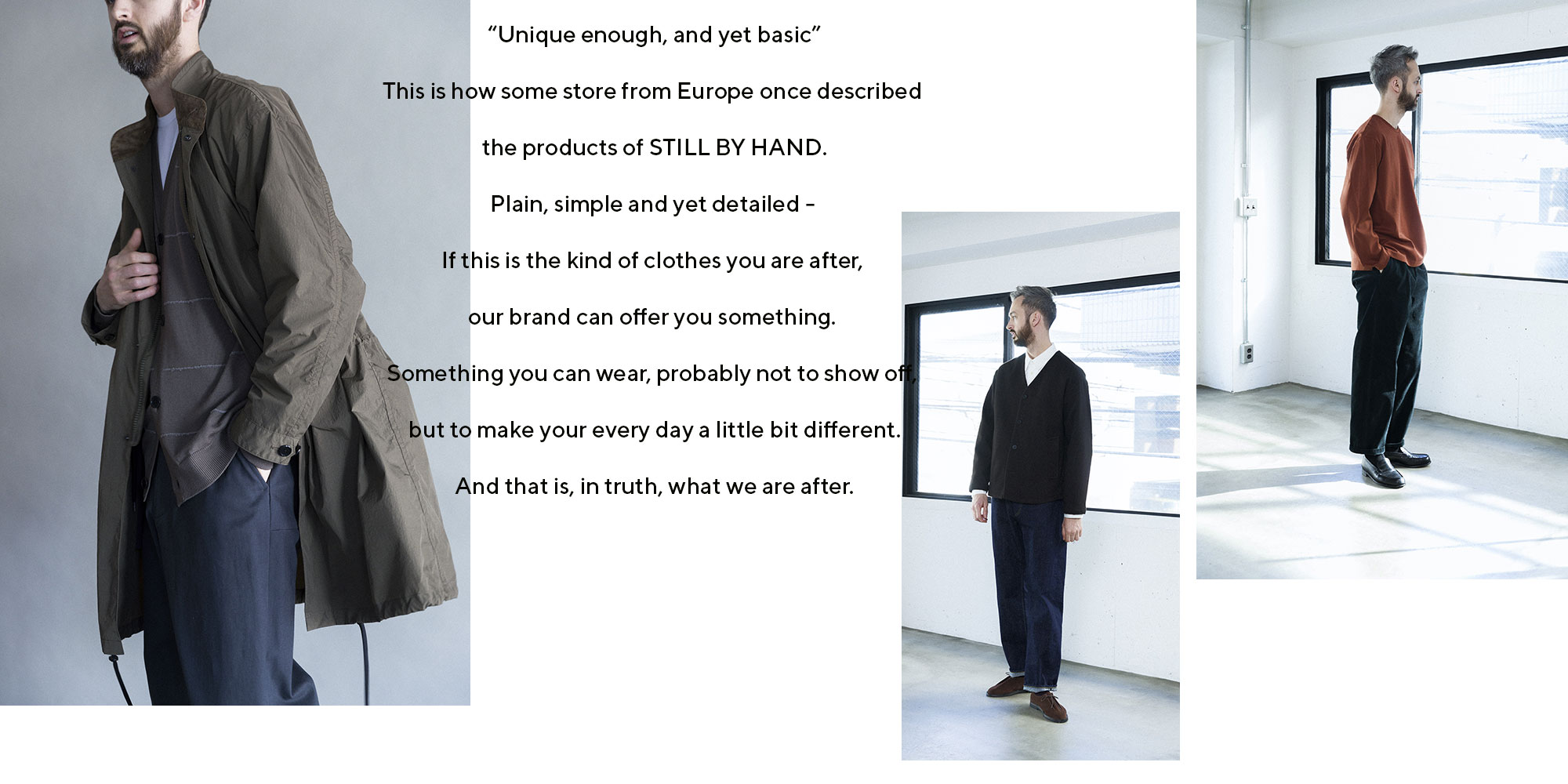 Production
Stillby hand work with multiple factories all over Japan to get the best results out of them and the range of their locations is truly diverse : Aomori(furthest North), Iwate, Niigata, Gunma, Tokyo, Ghifu, Osaka, Okayama, Hiroshima(furthest South) any many more.
Yusuke Yanagi creates everyday collections that balance the technical properties of innovative Japanese fabrics with precise construction techniques, generating wearable styles for the modern gentleman that are produced entirely in Japan by skilled artisans.
Still By Hand is inspired by classical European styles and translates those by focusing on the interaction between inventive design and the craftspeople who help realize these garments that are still made by hand.
The goal is to create pieces in which the wearer can feel a difference not only in the materials, fabrication, and fit, but by the soul imbued in them by the artisans.