In-season
""Never doubt that a small group of thoughtful, committed, citizens can change the world. Indeed, it is the only thing that ever has."― Margaret Mead "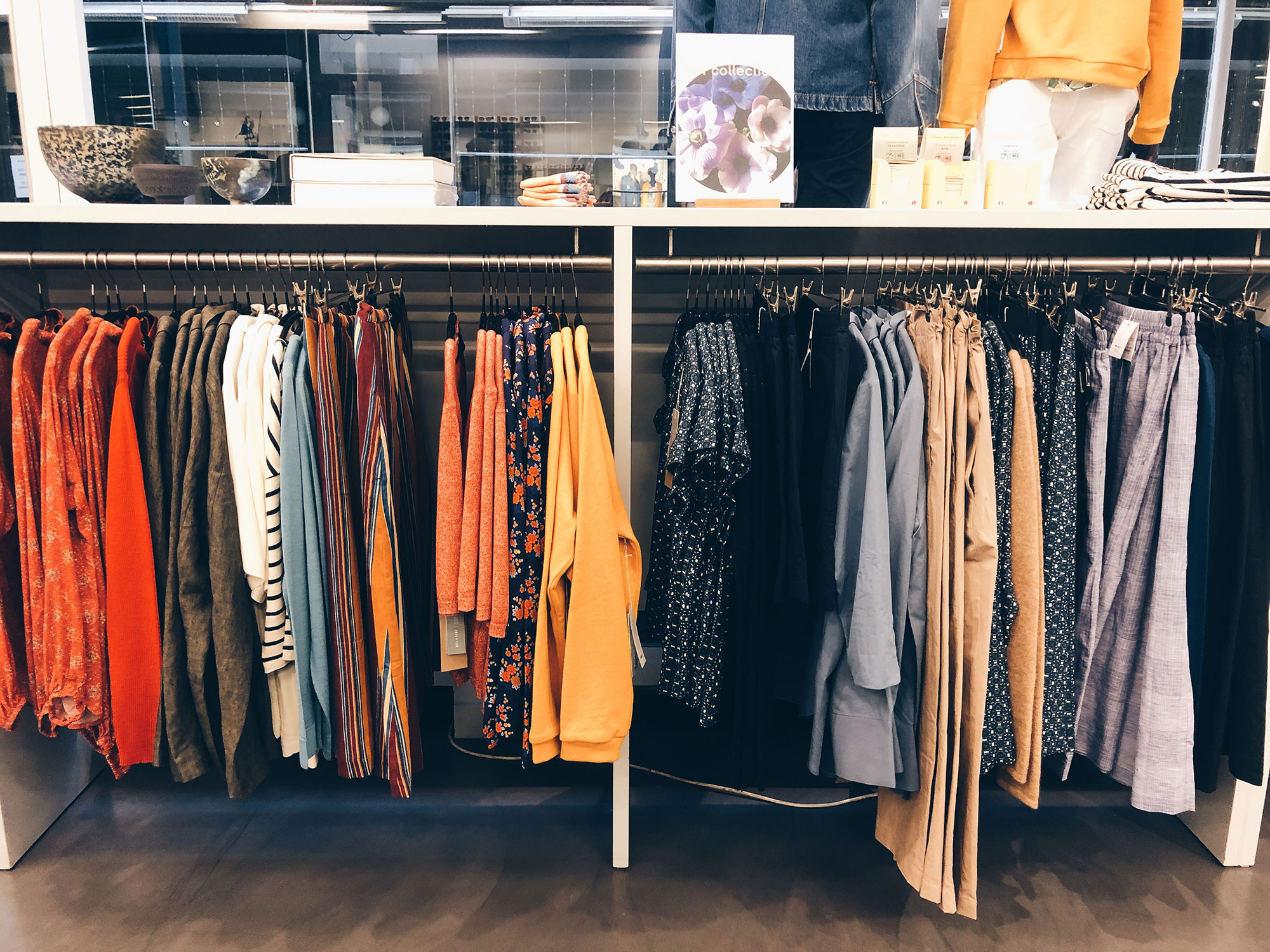 The whole fashion industry fell out of season in order to produce more goods. Since many years shops are asked to buy the goods for the summer of the following year before they even had a chance to sell this years summer garments. We have to start buying summer 2021 by the end of may. Like this the producers have enough time to produce the goods and ship them ( from China and India where labour chap ) to Europe and America. In parallel with this, seasons got blurry due to big brands starting to work with more than 2 collections. The aim was always to sell more stuff at a lower price point. Seasons were always uncertain and have become even more so du due climate change. Who needs a winter jacket in July or shorts in January? And then in June, before summer has really started and in December in the middle of Christmas Shopping when we are all still waiting for the first snow, shops have to start to put their goods on sale in order to make room for the new season and not to fall out of line with the stores that are starting sale. It is almost impossible for a business to oppose this cycle alone - it requires a collective attitude.
The entire textile value chain (from producer to retailer) now has the unique opportunity to create new, value-preserving and sustainable structures. Due to the global lockdown, business activity has come to an almost worldwide standstill. In addition to the legal stop of all sales activities in the trade, this also includes a production stop in many of the most important production countries.
Garments have been pilling up behind closed doors. One thing is sure, starting to sale things that no one has seen yet because the stores were closed is is like throwing away perfectly good food - a mockery of the people who produced them and the resources that were used.
Sale should be in August after the summer holidays. And in February when winter is fading. Now more than ever having two more month to sell the goods until sale starts would help tremendously. Like this stores will not have to cancel big parts of the winter orders which in exchange means the garment workers ( the lion's share of them in third world countries ) will not loose their jobs.
If we all want to continue to work together, we need to find a mutual acceptable solution that reduces the volume of goods that flow into the market . For the future of independent shops like KITCHENER, the workplace for many people and our contribution to a colourful and diverse retail and city life are in danger. Tackling these issues together, has the potential to finally kickstart making the fashion business a more sustainable business.
We are excited to see that finally the industry is talking about these issues and moving in the right direction. Buying less, but better quality and paying fair wages. The environment and the people producing the goods will thank us.
At Kitchener we are determined to go in this direction, we hope you, our partner and customers will join us on this journey.
In der Saison
Die gesamte Modeindustrie ist aus der Saison gerutscht mit dem Ziel mehr Waren zu produzieren. Seit vielen Jahren werden die Geschäfte gezwungen, die Waren für den Sommer des folgenden Jahres zu kaufen, bevor sie überhaupt eine Chance hatten die diesjährige Sommerkleidung zu verkaufen. Wir müssen bis Ende Mai mit dem Einkauf für den Sommer 2021 beginnen. Auf diese Weise haben die Produzenten genügend Zeit, die Waren zu produzieren und sie ( aus China und Indien, wo die günstigsten Arbeiterinnen und Arbeiter sind ) nach Europa und Amerika zu verschiffen. Parallel dazu verschwammen die Jahreszeiten. Die großen Marken begannen mit mehr als 2 Kollektionen zu arbeiten, mit dem Ziel, immer noch mehr zu verkaufen und so die Preise möglichst tief zu halten. Die Jahreszeiten waren immer unsicher und sind durch den Klimawandel noch ungewisser geworden. Wer braucht eine Winterjacke im Juli oder Shorts im Januar? Im Juni, bevor der Sommer wirklich begonnen hat, und im Dezember mitten im Weihnachtsgeschäft, wenn wir alle noch auf den ersten Schnee warten, müssen die Geschäfte damit beginnen, ihre Waren zu reduzieren, um Platz für die neue Saison zu schaffen und nicht aus der Reihe zu fallen. Es ist fast unmöglich für ein Geschäft, sich diesem Zyklus allein entgegenzustellen - es erfordert eine kollektive Haltung.
Die gesamte textile Wertschöpfungskette (vom Produzenten bis zum Einzelhändler) hat nun die einmalige Chance, neue, werterhaltende und nachhaltige Strukturen zu schaffen. Durch den globalen Lockdown ist die Geschäftstätigkeit fast weltweit zum Erliegen gekommen. Dazu gehörte neben dem gesetzlichen Stopp aller Vertriebsaktivitäten im Handel auch ein Produktionsstopp in vielen der wichtigsten Produktionsländer.
Hinter verschlossenen Türen türmen sich die Kleidungsstücke. Eines ist sicher: Dinge zu verkaufen, die noch niemand gesehen hat, weil die Läden geschlossen wurden, ist wie das Wegwerfen von einwandfreiem Essen - eine Verhöhnung der Menschen, die sie hergestellt haben, und der Ressourcen, die dafür verwendet wurden.
Der Ausverkauf sollte im August nach den Sommerferien und im Februar wenn der Winter langsam vorbei ist stattfinden. Gerade jetzt zwei Monate mehr zu haben, um die Waren zu verkaufen, bis der Ausverkauf beginnt, würde enorm helfen. Auf diese Weise müssen die Geschäfte keine übrmässig großen Teile ihrer Winterbestellungen stornieren, was im Gegenzug bedeutet, dass die Arbeiterinnen und Arbeiter in der Bekleidungsindustrie (der Löwenanteil von ihnen in Ländern der Dritten Welt) ihre Arbeit nicht verlieren werden.
Wenn wir alle weiterhin zusammenarbeiten wollen, müssen wir eine für beide Seiten akzeptable Lösung finden, die das Volumen der Waren, die in den Markt fließen, reduziert.
Auf dem Spiel steht die Zukunft unabhängiger Geschäfte wie KITCHENER, Arbeitsplatz für viele Menschen und unser Beitrag zu einem bunten und vielfältigen Einzelhandels- und Stadtleben. Wenn wir diese Probleme gemeinsam angehen, haben wir die Chance das Modegeindustrie endlich nachhaltigeren zu machen.
Wir freuen uns zu sehen, dass die Branche endlich über diese Themen spricht und sich in die richtige Richtung bewegt. Weniger, aber besser Qualität und faire Löhne. Die Hersteller*innen und die Umwelt werden es uns danken.
Wir bei Kitchener sind entschlossen, in diese Richtung zu gehen, und wir hoffen, dass ihr, unsere Partner*innen und Kunden*innen uns auf diesem Weg begleiten werdet.