Kitchener says no to racism!
Deutscher Text im Anschluss an die Bücherliste.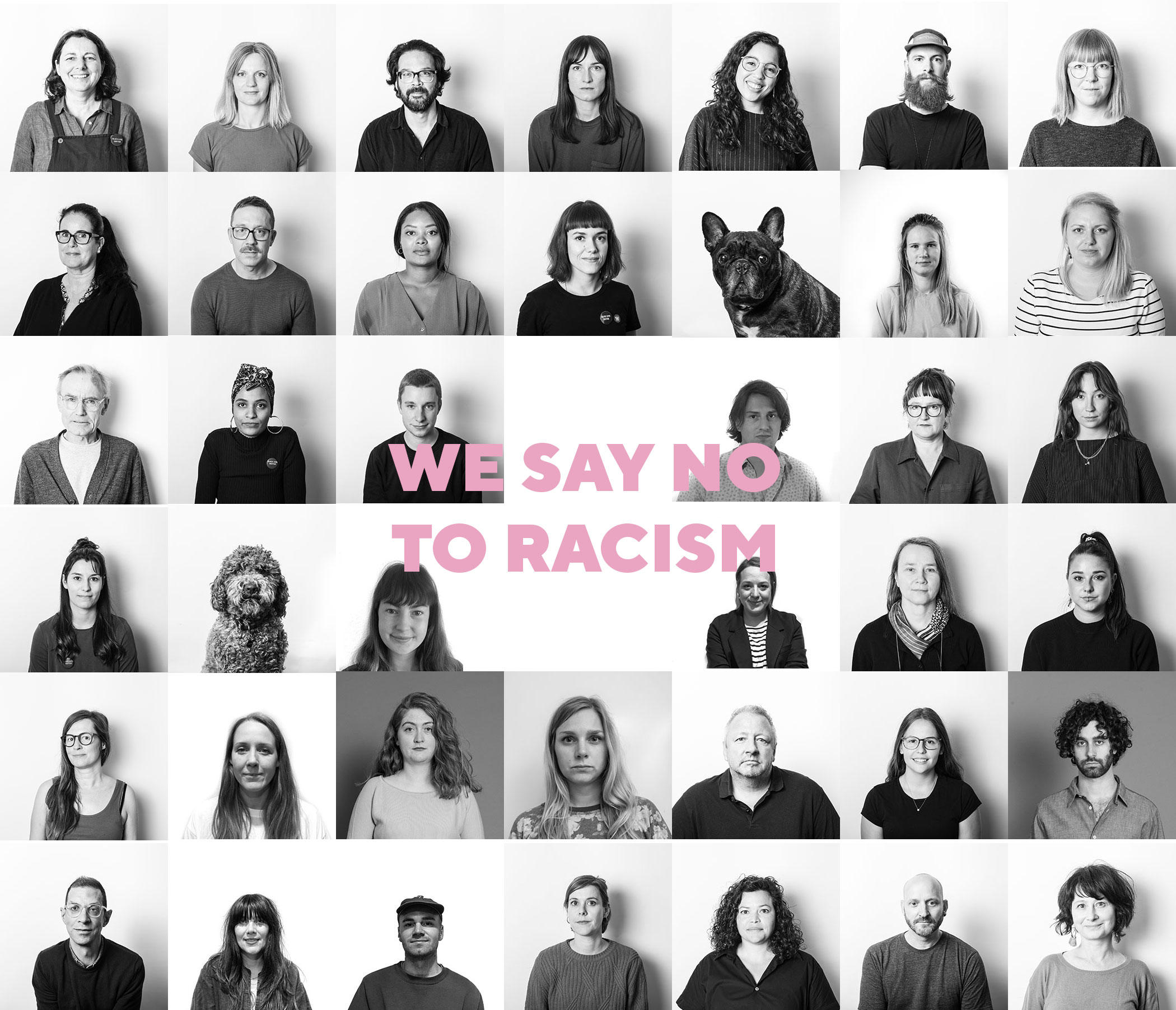 These are unprecidented times. It seems like COVID-19 shines light on so many inequities in our societies.
Images from the refugee camps in Greece, black people still having to say that their lives matter and fight for justice in 2020, the looming prospect of a gigantic famine and so many people drowning in the Mediterranean escaping their countries to Europe – all this makes me feel utterly distressed. But also walking past the local school during lockdown and seeing kids going into their classes because they could not stay at home made me feel very uncomfortable.
After posting a black square which completely corresponded with my feeling of speechlessness, I did the one thing I have learned to do when pain, fear, confusion and anger hit me, and that's become curious about why I'm having these emotions. That means above all making space and acknowledging these feelings. For me it is this uncomfortable place where change can happen.
What I am feeling right now is helplessness and shame. Helplessness because I don't know how to act and help. Shame because of the privilege of being born into a white, European, upper class family.
Shame is a nasty feeling that generally silences us. But actually, silence is the one thing that we must not be in this situation of injustice and oppression.
Acknowledgement is where we should start. We need to acknowledge that racism exists in our everyday lives , in all our communities no, one is free from racism. Only when we acknowledge this, we can start talking about racism.
For me personally and for Kitchener this means being willing to learn, listen and do better when we fail.
It means conscious thinking instead of judging and it means choosing courage over comfort. It means choosing to practice our values rather than simply professing them. Easier said than done - I know.
We at Kitchener believe in diversity, we live diversity and we do not tolerate any kind of discrimination. Neither on the basis of race, gender, origin, or religion.
We follow our own code of conduct which can be read on our web site. In these times it is important for us to find clear words for complex incidents.
We spent the week reading and talking about race, prejudice and inequality. We also ordered piles of books we want to read or have read and found helpfull.
If you are interested head over to our online bookstore or visit our stores, where they will be available within the next few days.
Books on racism
Women, Race & ClassDavis, Angela Y.
Blues Legacies and Black FeminismDavis, Angela Y.
Gertrude 'Ma' Rainey, Bessie Smith, and Billie Holiday
Invisible No MoreRitchie, Andrea and Davis, Angela Y.
Police Violence Against Black Women and Women of Color
Nach der Flut das FeuerBaldwin, James
At once a powerful evocation of James Baldwin's early life in Harlem and a disturbing examination of the consequences of racial injustice, the book is an intensely personal and provocative document.
Everywhere You Don't BelongBump, Gabriel
A darkly funny and heartfelt debut novel about what it means to grow up young and black on the south side of Chicago when it feels like your choices are slim to none.
A Power Stronger Than ItselfLewis, George E.
The AACM and American Experimental Music
Freiheit ist ein ständiger KampfDavis, Angela Y.
GebrandmarktKendi, Ibram X.
Die wahre Geschichte des Rassismus in Amerika - Stamped from the beginning
How to Be an AntiracistKendi, Ibram X.
Angela DavisDavis, Angela Y.
An Autobiography
AntiRacist BabyKendi, Ibram X.Lukashevsky, Ashley
Erscheint erst im July
Warum ich nicht länger mit Weißen über Hautfarbe sprecheEddo-Lodge, Reni
White Innocence - Paradoxes of Colonialism and RaceWekker, Gloria
Stamped: Racism, Antiracism, and You. A Remix of the National Book Award-winning Stamped from the BeginningReynolds, Jason & Kendi, Ibram
Exit Racism - rassismuskritisch denken lernen - GEKLOgette, Tupoka
Was weiße Menschen nicht über Rassismus hören wollen aber wissen solltenHasters, Alice
Wir müssen über Rassismus sprechen. Was es bedeutet, in unserer Gesellschaft weiß zu seinDiAngelo, Robin J.
FarbenblindNoah, Trevor
Born a Crime - Stories From A South African Childhood
I'm Still Here. Black Dignity in a World Made for WhitenessChanning Brown
Various
Wilful Blindness. Why We Ignore the ObviousHeffernan, Margaret
Rebel Ideas. The Power of Diverse ThinkingSyed, Matthew
Wer sich verändert, verändert die Welt. Für ein achtsames ZusammenlebenAndré, Christophe & Kabat-Zinn, Jon & Ricard, Matthieu & Rabhi, Pierre
Jenseits des Selbst. Dialoge zwischen einem Hirnforscher und einem buddhistischen MönchSinger, Wolf & Ricard, Matthieu
Herausforderung DemokratieHanspeter Kriesi, Lars Müller, NCCR Democracy (eds.)
Das Bild der MenschenrechteLars Müller, Walter Kälin, and Judith Wyttenbach (eds.)
Protest.Eine ZukunftspraxisEdited by Basil Rogger, Jonas Voegeli, Ruedi Widmer, Zürcher Hochschule der Künste, Museum für Gestaltung Zürich
An Europas Grenze. Fluchten, Fallen, Frontex Kaspar Surber
I'm Still Here. Black Dignity in a World Made for WhitenessChanning Brown
Watch & Listen
Brené with Austin Channing Brown on I'm Still Here: Black Dignity in a World Made for Whiteness
Austin Channing Brown's anti-racism work is critical to changing our world, and her ability to talk about what is good and true about love, about our faith, and about loving each other is transformative. She is a writer, a speaker, and a media producer providing inspired leadership on racial justice in America. In this episode, we connect on her book I'm Still Here: Black Dignity in a World Made for Whiteness, and talk about her online television show, The Next Question.
Brené with Ibram X. Kendi on How to Be an Antiracist
Brené talking with professor Ibram X. Kendi, New York Times bestselling author of How to Be an Antiracist and the Director of the Antiracist Research and Policy Center at American University. They talk about racial disparities, policy, and equality, but we really focus on How to Be an Antiracist, which is a groundbreaking approach to understanding uprooting racism and inequality in our society and in ourselves.
Angela Davis spoke to Southbank Centre's Artistic Director Jude Kelly about women, race and class in the post-Trump era. As a writer, scholar, teacher and activist/organiser, Davis is a living witness to the historical struggles of the contemporary era.
"How Studying Privilege Systems Can Strengthen Compassion": Peggy McIntosh at TEDxTimberlaneSchools
Kitchener sagt nein zu Rassissmus!
Dies sind aussergewöhnliche Zeiten. Es scheint, dass COVID-19 Licht auf so viele Ungerechtigkeiten in unseren Gesellschaften wirft.
Bilder aus den Flüchtlingslagern in Griechenland, Schwarze, die auch im Jahr 2020 noch sagen müssen, dass ihr Leben eine Rolle spielt und für Gerechtigkeit kämpfen müssen. Die drohende Aussicht auf eine massive Hungersnot. Und die Tatsache, dass so viele Menschen aus ihrer Heimat nach Europa fliehen und im Mittelmeer ertrinken - all dies erschüttert mich zutiefst. Auch habe ich mich sehr unbehaglich gefühlt, als ich während des Lockdowns an der örtlichen Schule vorbeikam und sah, wie die Kinder in ihre Klassen gingen, weil sie nicht zu Hause bleiben konnten.
Nachdem ich symbolisch ein schwarzes Quadrat auf sozialen Medien gepostet hatte, das vollkommen meinem Gefühl der Sprachlosigkeit entsprach, überkam mich ausserdem ein Gefühl der Angst, der Verwirrung der Wut und des Schmerzes. Dies weckte in mir die Neugier herauszufinden, woher diese Emotionen herrühren, was vor allem bedingt, Raum zu schaffen, um diese Gefühle anzuerkennen. Es ist dieser unbehagliche Ort, an dem Veränderung entstehen kann.
Was ich derzeit verspüre, ist Hilflosigkeit und Scham. Hilflosigkeit, weil ich nicht weiß, wie ich genau agieren soll und helfen kann. Scham aufgrund des Privilegs, in eine weiße, europäische Upper Class-Familie geboren worden zu sein.
Scham ist ein unangenehmes Gefühl, das uns im Allgemeinen verstummen lässt. Aber tatsächlich ist Schweigen das Einzige, was wir in dieser Situation der Ungerechtigkeit und Unterdrückung nicht tun dürfen.
Wir müssen mit Anerkennung beginnen. Wir müssen anerkennen, dass Rassismus in unserem täglichen Leben existiert, und zwar in allen Lebensbereichen, in der gesamten Gesellschaft. Niemand ist vor Rassismus gefeit. Nur wenn wir dies anerkennen, können wir anfangen, über Rassismus zu sprechen.
Für mich persönlich - und auch für Kitchener - bedeutet dies, bereit zu sein zu lernen, zuzuhören und besser zu werden, wenn wir versagen.
Es bedeutet, bewusst zu denken, statt zu urteilen. Und es bedeutet, Mut statt Bequemlichkeit zu wählen. Es bedeutet, dass wir uns dafür entscheiden, unsere Werte zu praktizieren, statt sie einfach nur anzuerkennen. Leichter gesagt als getan - ich weiß.
Wir bei Kitchener glauben an die Vielfalt. Wir leben die Vielfalt und tolerieren keine Form der Diskriminierung. Weder aufgrund von Rasse, Geschlecht und Herkunft noch aufgrund sexueller Orientierung oder Religion.
Wir befolgen unseren eigenen Verhaltenskodex, über den du auf unserer Website nachlesen kannst. In Zeiten wie diesen ist es für uns wichtig, uns über komplexe Situationen und Vorkommnisse im Klaren zu sein.
Wir haben diese Woche damit verbracht über Rasse, Vorurteile und Ungleichheit zu lesen und zu sprechen. Zudem haben wir stapelweise Bücher bestellt, die wir unbedingt lesen wollen oder bereits gelesen haben und hilfreich finden.
Wenn du dich dafür interessierst, besuche unseren Onlineshop oder besuche eine unserer beiden Filialen, in denen diese Buchauswahl in den kommenden Tagen erhältlich sein wird.