The new Kitchener catalogue has arrived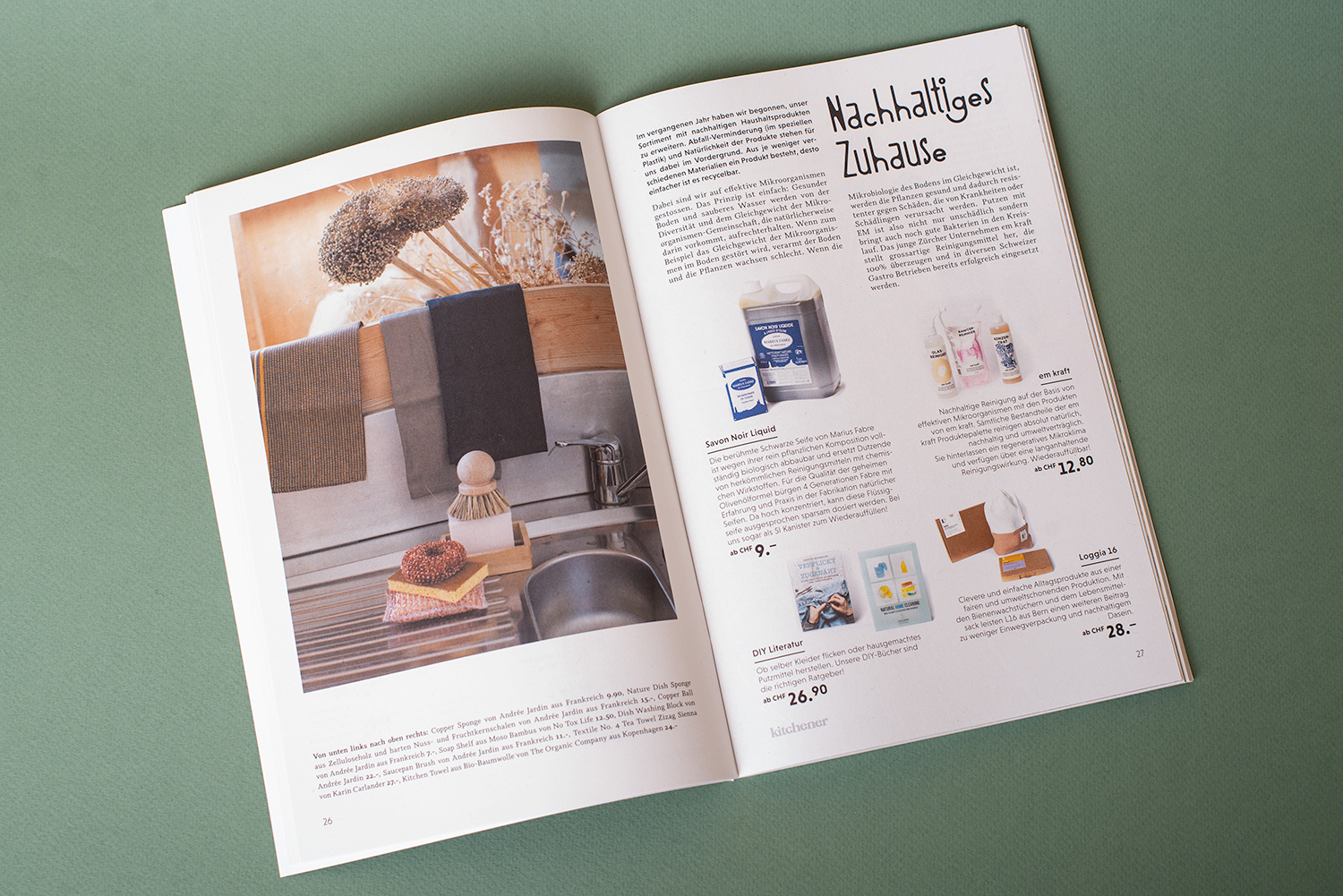 Dear Customers
First of all, we would like to thank you for your support in these uncertain times. Thank you very much for your loyalty, especially your online orders during the lockdown.
A challenging year is coming to an end. We are pleased that, despite the exceptional circumstances, we have been able to put together what we hope will be an inspiring selection of products for you. For some years now, we have been working on expanding our range of sustainable products, resulting in the majority of our range meeting sustainability requirements. For more information about our values and company principles, please read our code of conduct.
As you can imagine, the Christmas sale in 2020 will be a little different. The Christmas Shop in Zurich will open in November, and our daily opening hours in all stores will lengthen in December.
We would like to thank you in advance for your patience in case of waiting times due to governmental hygiene measures. Up-to-date information is always available HERE. Rest assured that your health is important to us and, as such, all new guidelines are implemented immediately.
Otherwise, take a look at our webshop. Not only will you find our range, but also extensive information about the products and their producers. We believe that knowing where a product comes from and who makes it influences the way we look at it, and that buying fewer, higher quality and more durable products is not only sustainable, but makes you feel good.
If you need advice,
- Live chat on our website
- Phone in store
- we also offer Private shopping (both virtually or live) - just give us a call
We ship orders over 70chf free of charge and residents of Bern city* can benefit from delivery via bike courier.
This year's catalogue is all about the incomprehensible and sensual: about scents and feelings, about taste, memories, and thoughts. And yes, there is even talk of fungi, hormones, and bacteria. Let yourself be inspired and seduced by the more or less secret ingredients that make life easier and more pleasant. Enjoy the reading experience!
Browse through our online catalogue or download the pdf version.
We did a simple online translation of the catalogue it can be download here.
All features products can be found HERE.
Der neue Kitchener Katalog ist da
Liebe Kitchener Kund*innen
Als allererstes möchten wir uns bei euch dafür bedanken, dass ihr in diesen unsicheren Zeiten mit uns seid. Vielen herzlichen Dank für eure Treue und eure Bestellungen in unserem Webshop während des Lockdowns und überhaupt dafür, dass ihr bei uns einkaufen kommt.
Ein herausforderndes Jahr neigt sich dem Ende zu. Wir freuen uns, dass wir trotz der aussergewöhnlichen Umstände eine, wie wir hoffen, inspirierende Auswahl an Produkten für euch zusammenstellen konnten. Wir sind seit einigen Jahren daran, unser Angebot an nachhaltigen Produkten immer weiter auszubauen. Heute schon ist der Großteil unseres Sortiment nachhaltig. Weitere Informationen zu unseren Werten und unseren Firmengrundsätzen könnt ihr gern HIER nachlesen.
Wie ihr euch sicher vorstellen könnt, wird der Weihnachtsverkauf 2020 ein bisschen anders ablaufen. Im Dezember werden wir länger offen haben und das Weihnachtslädeli in Zürich ist schon ab November für euch geöffnet. Wir danken euch schon jetzt für eure Geduld, falls es manchmal zu Wartezeiten kommt. Auf unserer Website informieren wir immer aktuell über Massnahmen, die das Einkaufen für euch und uns sicherer machen. Selbstverständlich passen wir uns immer den jeweiligen Schutzkonzepten an. Eure Gesundheit liegt uns am Herzen. Aktuelle Informationen zu unseren sonder Öffnungszeiten findet ihr HIER.
Schaut in unseren Webshop, wenn ihr nicht vorbeikommen könnt. Ihr findet online fast all unsere Accessoires und ausgiebige Informationen zu den Produkten und ihren Produzent*innen. Wir glauben daran, dass das Wissen darum, woher ein Produkt kommt und wer es herstellt, die Art und Weise beeinflusst wie wir es betrachten. Denn was wir schätzen, werfen wir nicht einfach weg, wenn eine neue Saison beginnt oder ein neuer Trend vor der Türe steht. Weniger, dafür hochwertige und langlebige Produkte kaufen, freut nachhaltig und ist nachhaltig.
Wenn ihr Beratung braucht, empfehlen wir den auf unserer Website installierten Chat. Oder ihr ruft uns einfach an. Gerne bieten wir auch Private Shopping virtuell oder live an. Wir verschicken Bestellungen ab 70.- frei Haus und Berner*innen können vom Delivery via Velokurier profitieren.
In unserem diesjährigen Katalog dreht sich vieles ums Unfassbare und Sinnliche: um Düfte und Gefühle, um Geschmack, Erinnerungen und Gedanken. Und ja, es ist sogar die Rede von Pilzen, Hormonen und Bakterien. Lasst euch begeistern und verführen von den mehr oder weniger geheimen Zutaten, die das Leben leichter und angenehmer machen. Wir wünschen euch viel Freude beim Lesen.
Alle Produkte des Kataloges findest du HIER.
Stöbere durch unseren online Katalog oder lade das pdf runter.