Morihata - Binchotan Charcoal Face Scrub Towel
SKU
BINCHOTAN.FACE.SCRUB.TOWEL
---
Sustainable
Small Producer
8 ½"x7" (26cm x 18cm)
A facial scrub towel infused with binchotan charcoal to amplify any beauty regimen
-Ein mit Binchotan-Holzkohle angereichertes Gesichtspflegetuch, das jede Schönheitskur bereichert
Ultra-fine binchotan charcoal powder is infused into every fiber
of this highly exfoliating face scrub towel.
The charcoal helps to absorb oil and impurities from the skin
and leaves the skin feeling smooth and refreshed.
Materials: 58% cotton, 33% polyester, 9% binchotan charcoal-infused rayon
Care: Machine washable
Wakayama, Japan
***
Ultrafeines Binchotan-Holzkohlepulver ist in jede Faser
dieses hochgradig exfolierenden Gesichtspflegetuches.
Die Holzkohle hilft, Öl und Unreinheiten von der Haut zu absorbieren
und hinterlässt ein glattes und erfrischtes Hautgefühl.
Materialien: 58% Baumwolle, 33% Polyester, 9% Viskose mit Binchotan-Kohleanteil
Pflege: Maschinenwaschbar
Wakayama, Japan
Brand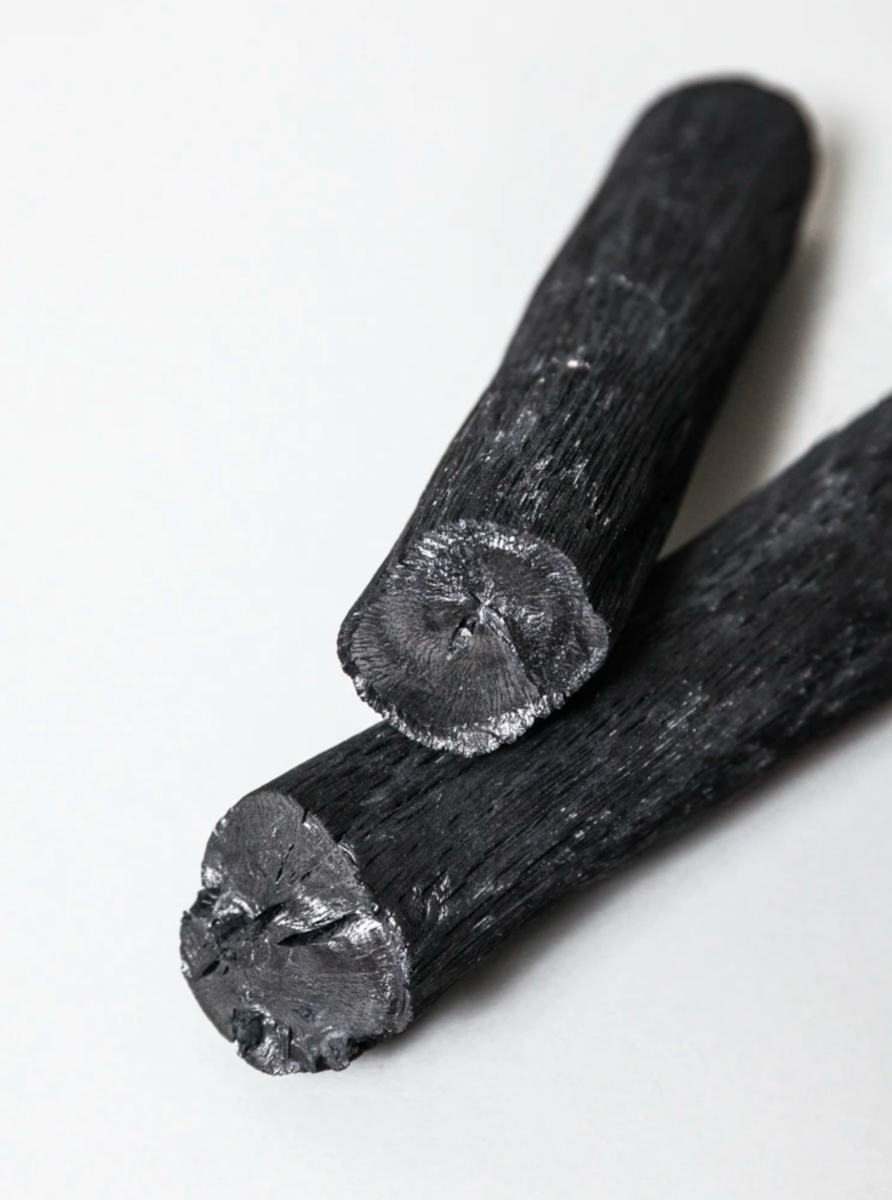 Binchotan Charcoal
(EN) Revered in Japan since the Edo period, Binchotan Charcoal is a natural way to purify, cleanse, and improve the quality of your daily life. Our Binchotan Charcoal is made the time-tested way in its birthplace, the Kishu region of Japan in the Wakayama Prefecture.
Binchotan Charcoal has been used in Japan for centuries to filter and purify water. Made in the region of Kishu, this eco-friendly water purifier draws unwanted chemical out of the tap water, naturally softening and improving its taste for up to three months.
Binchotan Charcoal is activated by burning branches of oak at extremely high termpratures inside a specialized kiln. This process, called nerashi, carbonizes the structure of the wood and leaves behind countless porous cavities that naturally bond with toxins, trapping chemicals and other impurities commonly found in tap water.
(DE) Seit der Edo-Zeit in Japan verehrt, ist Binchotan-Holzkohle eine natürliche Methode zur Reinigung, Säuberung und Verbesserung der Qualität des täglichen Lebens. Unsere Binchotan-Holzkohle wird in ihrem Geburtsort, der japanischen Region Kishu in der Präfektur Wakayama, auf bewährte Weise hergestellt.
Binchotan-Holzkohle wird in Japan seit Jahrhunderten zum Filtern und Reinigen von Wasser verwendet. Dieser in der Region Kishu hergestellte, umweltfreundliche Wasserreiniger entzieht dem Leitungswasser unerwünschte Chemikalien und macht es auf natürliche Weise weicher und verbessert seinen Geschmack bis zu drei Monate lang.
Binchotan-Holzkohle wird aktiviert, indem Eichenzweige mit extrem hoher Temperatur in einem speziellen Ofen gebrannt werden. Dieser Prozess, der als Nerashi bezeichnet wird, verkohlt die Struktur des Holzes und hinterlässt unzählige poröse Hohlräume, die sich auf natürliche Weise mit Giftstoffen verbinden und Chemikalien und andere Verunreinigungen einschließen, die üblicherweise im Leitungswasser vorkommen.