Soul Spice Purple Curry Bio
---
Sustainable
Fair
Small Producer
60g
*Hibiscus flowers, *Coriander seed, *Mustard seed, *Pepper, *Cumin,
*Cinnamon, *Macis, *Ginger, *Cloves, *Fennel seed,* Star anise,
*Cardamom, *Lemon grass, *Orange peel, *Lemon, *Beetroot
*Organic
Made in Germany

*Hibiskusblüten , *Koriandersaat, *Senfsaat, *Pfeffer, *Cumin,
*Zimt, *Macis, *Ingwer, *Nelken, *Fenchelsaat,* Sternanis,
*Kardamom, *Lemongras, *Orangenschale, *Zitrone, *Rote Beete
*Bio
Hergestellt in Deutschland
Eyes, nose, palate, heart: that's how this extraordinary curry blend of the best
organic ingredients conquers you, which has been refined in color and aroma by
the perfect amount of hibiscus flowers. Classic curry flavors, paired with a delicate hint
of hibiscus acidity, make your dishes and guests alike shine. Our Organic Purple Curry is not
a counter-movement to classic curry, but an aromatic and modern continuation of ancient traditions.
Aroma choreography: first the stimulating scent of hibiscus rises to your nose, then the fresh acidity
breaks through the floral aroma and opens the stage for the complex curry spice profile.

***

Augen, Nase, Gaumen, Herz: So erobert einen diese außergewöhnliche Currymischung
aus besten Bio-Zutaten, die farblich und aromatisch durch die perfekte Menge Hibiskusblüten
veredelt wurde. Klassische Curryaromen, gepaart mit einem zarten Hauch von Hibiskus-Säure,
lassen deine Gerichte und Gäste gleichermaßen erstrahlen. Unser Bio Purple Curry ist keine Gegenbewegung
zu klassischem Curry, sondern eine aromatische und moderne Fortsetzung alter Traditionen.
Aromen-Choreografie: Erst steigt einem der anregende Hibiskusduft in die Nase, dann durchbricht
die frische Säure das blumige Aroma und eröffnet dem komplexen Curry-Würzprofil die Bühne.
Brand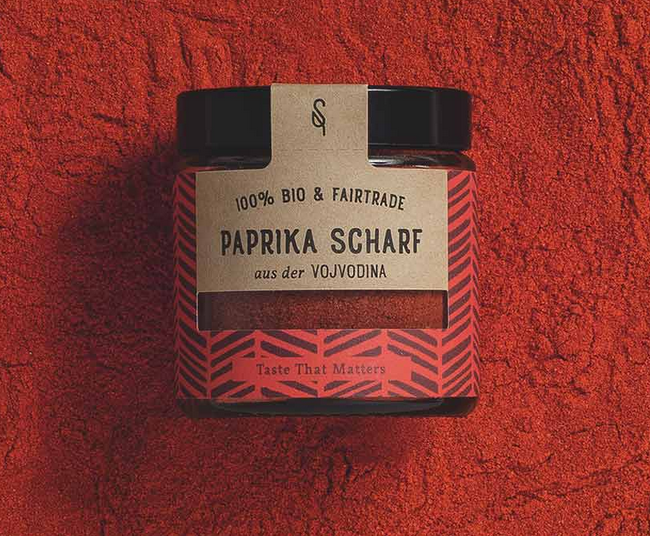 Soul Spice
Nachdem die Gründer von Soul Spice mehrere Jahre in Großkonzernen gearbeitet haben, wollten sie selbst Verantwortung übernehmen:
Deshalb gründeten sie eine Firma, die auf Prinzipien aufbaut, an die sie glauben.
Soul Spice sind überzeugt, dass man anders denken und arbeiten muss, als es viele Konzerne tun.
Einseitiges Streben nach maximalem Profit ohne Rücksicht auf Verluste, ökologische wie soziale, führt die Menschheit zu den heutigen immensen Herausforderungen wie Klimawandel,
soziale Ungerechtigkeit, Artensterben, Ressourcen-Knappheit etc.
Soul Spice möchten beweisen, dass es auch anders geht. Die Firma will die Profite mit allen Partnern in der Wertschöpfungskette teilen, die Umwelt schützen und Ressourcen schonen.
Soul Spice denken langfristig und nehmen deshalb keine Abkürzungen zum Erfolg. Soul Spice machen keine Kompromisse bei der Qualität, bei den Produktionsbedingungen für die Bauern und beim Umweltschutz.
Soul Spice ist eine Deutsche Firma.


After working for several years in large corporations, the Soul Spice founders wanted to take on responsibility themselves, so they started a company based on principles that they believe in.
Soul Spice are convinced that you have to think and work differently than many corporations do. Unilateral pursuit of maximum profit regardless of losses, both ecological and social, is leading humanity to today's immense challenges such as climate change, social injustice, species extinction, resource scarcity, etc.
Soul Spice wants to prove that there is another way. The company wants to share profits with all partners in the value chain, protect the environment and conserve resources.
They think long term and therefore do not take shortcuts to success.
Soul Spice do not compromise on quality, production conditions for farmers and environmental protection.
Soul Spice is a german company.