HAKO Incense Leaf Set Sleep
SKU
HAKO.BLACK.SET.OF.6.SLEEP
---
Sustainable
Small Producer
Black No. 03 Sleep - Unwind after a long day and drift into sleep with a blend of fragrances that promote peaceful slumber. Lavender calms the nerves, and cedar brings peace.
Where the original collection of HA KO Paper Incense showcase a singular fragrance, the essential oils in this special offering were individually selected for their ability to promote relaxation, increase focus, and lull you into a deep sleep.
Notes of: lavender, cedarwood, patchouli.
This special set of 6 incense comes in a sleek black container and includes a non-flammable felt mat.
Place one on your desk, in your car, near the entryway or anywhere a touch of fragrance is desired. A HA KO Paper Incense makes a welcome gift for friends and family.
How to use: After lighting your HA KO Paper Incense, extinguish the flame and place it on the felt burner mat, and onto a non-flammable surface. Do not allow to burn unsupervised. Avoid placing in drafty areas or near any flammable materials.
Each leaf will burn for 5 - 7 mins.
Winner of the 2019 Good Design Award.
Materials: Paper, Felt
Dimensions: Diameter: 3.82", Height: 1.42"
Care:
- When burning, always use a non-flammable felt mat on a non-flammable plate or surface.
- Do not allow to burn unsupervised.
- Prior to disposal, ensure the flame is completely extinguished.
- Use caution when handling the flame.
- Avoid placing in drafty areas or near any flammable materials.
- Do not put in mouth.
- Keep out of reach of children.
- Do not use for purposes other than incense.
Awaji, Japan
Schwarz Nr. 03 Schlaf - Entspannen Sie sich nach einem langen Tag und treiben Sie mit einer Duftmischung, die einen friedlichen Schlaf fördert, in den Schlaf. Lavendel beruhigt die Nerven, und Zedernholz bringt Ruhe.
Wo die Originalkollektion der HA KO Papier-Räucherstäbchen einen einzigartigen Duft aufweist, wurden die ätherischen Öle in diesem speziellen Angebot individuell nach ihrer Fähigkeit ausgewählt, die Entspannung zu fördern, die Konzentration zu steigern und Sie in einen tiefen Schlaf zu wiegen.
Noten von: Lavendel, Zedernholz, Patchouli.
Dieses spezielle Set mit 6 Räucherstäbchen wird in einem eleganten schwarzen Behälter geliefert und enthält eine nicht entflammbare Filzmatte.
Legen Sie es auf Ihren Schreibtisch, in Ihr Auto, in die Nähe des Eingangs oder überall dort, wo ein Hauch von Duft gewünscht wird. Ein HA KO Papier-Räucherstäbchen ist ein willkommenes Geschenk für Freunde und Familie.
Wie man ihn benutzt: Nachdem Sie Ihren HA KO Papier-Räucherstäbchen angezündet haben, löschen Sie die Flamme und legen Sie sie auf die Filzbrennmatte und auf eine nicht brennbare Oberfläche. Lassen Sie es nicht unbeaufsichtigt brennen. Vermeiden Sie das Aufstellen in zugigen Bereichen oder in der Nähe von brennbaren Materialien.
Jedes Blatt brennt 5 - 7 Minuten lang.
Gewinner des Preises für gutes Design 2019.
Materialien: Papier, Filz
Abmessungen: Durchmesser: 3,82", Höhe: 1,42"
Pflege:
- Verwenden Sie beim Verbrennen immer eine nicht brennbare Filzmatte auf einer nicht brennbaren Platte oder Oberfläche.
- Nicht unbeaufsichtigt verbrennen lassen.
- Vor der Entsorgung sicherstellen, dass die Flamme vollständig gelöscht ist.
- Beim Umgang mit der Flamme ist Vorsicht geboten.
- Vermeiden Sie das Aufstellen in zugigen Bereichen oder in der Nähe von brennbaren Materialien.
- Nicht in den Mund nehmen.
- Außerhalb der Reichweite von Kindern aufbewahren.
- Nicht für andere Zwecke als Weihrauch verwenden.
Awaji, Japan
Brand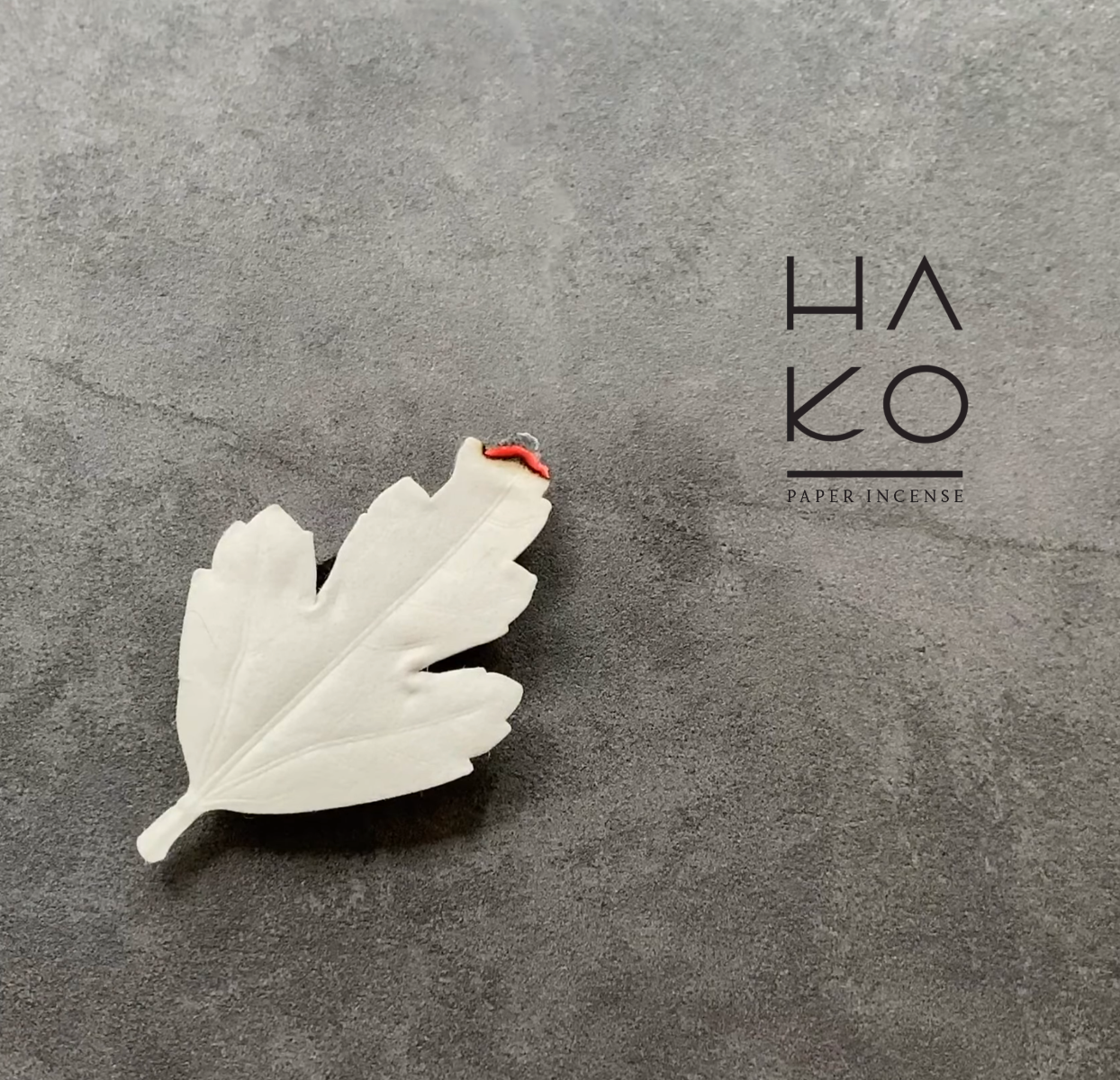 HA KO
(EN) Legend says that the tradition of incense in Japan was born from a single piece of fragrant agarwood that drifted onto the rocky coast of Awaji Island in the 6th century. Today, despite centuries of change, Awaji remains the epicenter of fine fragrance in Japan.
Founded over 120 years ago, Koushou-do's skilled craftsmen have been manufacturing some of the world's finest incense and evolving an artform considered one of Japan's three classical arts of refinement. Building on their years of experience, they introduce a new type of incense.HA KO is a leaf-shaped incense that is crafted from Japanese washi paper and imbued with natural essential oils that have the ability to transform your mood.
A single fragrant leaf can be used like a modern version of potpourri to create a halo of fragrance for up to three months. When burned, they throw a light wisp of fragrant smoke that cleanses and deodorizes your space for up to seven minutes.
(DE) Die Legende besagt, dass die Tradition des Weihrauchs in Japan aus einem einzigen Stück duftenden Agarholzes entstand, das im 6. Jahrhundert an die felsige Küste der Awaji-Insel trieb. Auch heute noch, trotz jahrhundertelanger Veränderungen, ist Awaji das Epizentrum der feinen Düfte in Japan.
Vor über 120 Jahren gegründet, haben die geschickten Handwerker von Koushou-do einige der feinsten Räucherstäbchen der Welt hergestellt und eine Kunstform entwickelt, die als eine der drei klassischen Veredelungskünste Japans gilt.
HA KO ist ein blattförmiger Weihrauch, der aus japanischem Washi-Papier hergestellt wird und mit natürlichen ätherischen Ölen getränkt ist, die die Fähigkeit haben, Ihre Stimmung zu verändern.
Ein einzelnes duftendes Blatt kann wie eine moderne Version von Potpourri verwendet werden, um einen Dufthauch für bis zu drei Monate zu erzeugen. Wenn sie verbrannt werden, werfen sie einen leichten Hauch von duftendem Rauch, der Ihren Raum bis zu sieben Minuten lang reinigt und desodoriert.