HA KO Paper Incense - Wooden Box Set of 6 With Incense Mat and Dish
SKU
HAKO.WOODEN.BOX.SET.OF.6
---
Sustainable
Small Producer
Materials: Wood, Paper, Ceramic, Felt
Dimensions: ca. 8cm x 11cm x 3cm
-Materialien: Holz, Papier, Keramik, Filz
Abmessungen: ca. 8cm x 11cm x 3cm
A curated sampling of HA KO incense
in a gift-worthy box.
This special wooden box set comes with 6 individual HA KO Paper Incense
and includes both a felt mat and a burning dish so you can enjoy them right away.
Fragrances included:
No. 01 Spicy Jasmine, No. 03 Elegant Citrus, No. 05 Smoky Cinnamon, No.
06 White Floral, No. 07 Green Grass, and No. 08 True Aqua.
***
Eine kuratierte Auswahl von HA KO Räucherstäbchen
in einer geschenkwürdigen Box.
Dieses spezielle Holzbox-Set enthält 6 einzelne HA KO Papier-Räucherstäbchen
und enthält sowohl eine Filzmatte als auch eine Brennschale, damit Sie sie sofort genießen können.
Enthaltene Düfte:
Nr. 01 Spicy Jasmine, Nr. 03 Elegant Citrus, Nr. 05 Smoky Cinnamon, Nr.
06 White Floral, Nr. 07 Green Grass, und Nr. 08 True Aqua.
Brand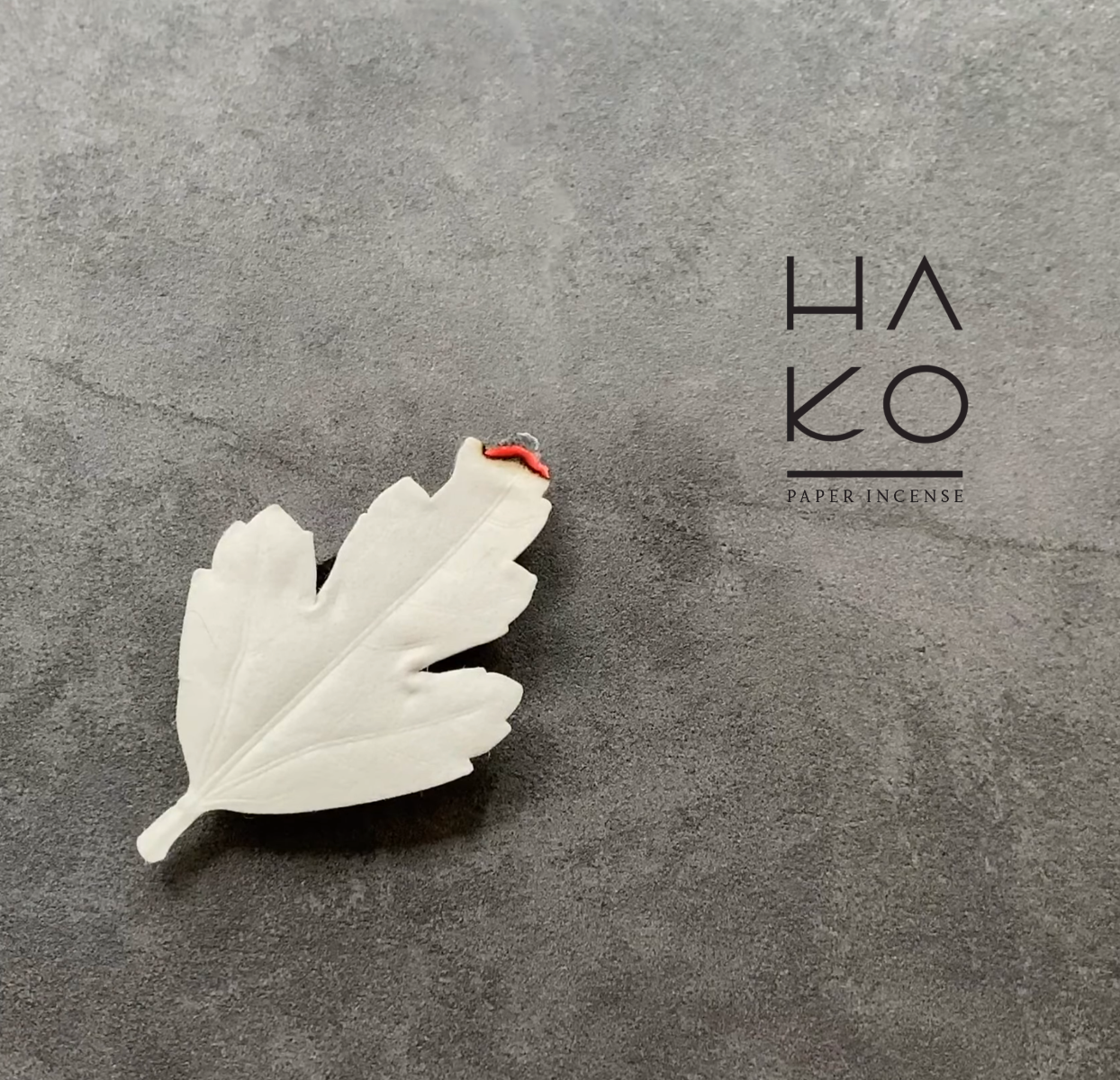 HA KO
(EN) Legend says that the tradition of incense in Japan was born from a single piece of fragrant agarwood that drifted onto the rocky coast of Awaji Island in the 6th century. Today, despite centuries of change, Awaji remains the epicenter of fine fragrance in Japan.
Founded over 120 years ago, Koushou-do's skilled craftsmen have been manufacturing some of the world's finest incense and evolving an artform considered one of Japan's three classical arts of refinement. Building on their years of experience, they introduce a new type of incense.HA KO is a leaf-shaped incense that is crafted from Japanese washi paper and imbued with natural essential oils that have the ability to transform your mood.
A single fragrant leaf can be used like a modern version of potpourri to create a halo of fragrance for up to three months. When burned, they throw a light wisp of fragrant smoke that cleanses and deodorizes your space for up to seven minutes.
(DE) Die Legende besagt, dass die Tradition des Weihrauchs in Japan aus einem einzigen Stück duftenden Agarholzes entstand, das im 6. Jahrhundert an die felsige Küste der Awaji-Insel trieb. Auch heute noch, trotz jahrhundertelanger Veränderungen, ist Awaji das Epizentrum der feinen Düfte in Japan.
Vor über 120 Jahren gegründet, haben die geschickten Handwerker von Koushou-do einige der feinsten Räucherstäbchen der Welt hergestellt und eine Kunstform entwickelt, die als eine der drei klassischen Veredelungskünste Japans gilt.
HA KO ist ein blattförmiger Weihrauch, der aus japanischem Washi-Papier hergestellt wird und mit natürlichen ätherischen Ölen getränkt ist, die die Fähigkeit haben, Ihre Stimmung zu verändern.
Ein einzelnes duftendes Blatt kann wie eine moderne Version von Potpourri verwendet werden, um einen Dufthauch für bis zu drei Monate zu erzeugen. Wenn sie verbrannt werden, werfen sie einen leichten Hauch von duftendem Rauch, der Ihren Raum bis zu sieben Minuten lang reinigt und desodoriert.