HA KO Paper Incense - Black, Set of 6 (Focus)
SKU
HAKO.BLACK.NO2.SET.FOCUS
---
Sustainable
Small Producer
Black No. 02 Focus - Refreshing and invigorating,this scent is designed to improve concentration. Lemongrass stimulates body and mind while cloves enhance feelings. Notes of clove, lemongrass, peppermint, geranium.
-Black No. 02 Focus - Erfrischend und belebend ist dieser Duft, um die Konzentration zu verbessern. Zitronengras stimuliert Körper und Geist, während Gewürznelken die Gefühle verbessern. Noten von Nelken, Zitronengras, Pfefferminze, Geranie.
Whereas the original collection of HA KO Paper Incense
showcases one fragrance at a time, the scents used in this special offering
were carefully selected and blended to promote relaxation,
increase focus, and lull you into a deep sleep.
Each leaf can be used as subtle potpourri,
giving off fragrance for up to three months, or as incense that burns for approximately seven minutes
while cleansing and deodorizing an area.
This special set of six leaves comes in a sleek black container and includes a non-flammable felt mat.
Materials: Paper case, washi paper, essential oils, natural dye, felt mat
Dimensions (packaging): 3.5" L x 3.5" W
Awaji, Japan
***
Während die ursprüngliche Kollektion von HA KO Paper Incense
jeweils einen Duft vorstellt, wurden die Düfte für dieses spezielle Angebot
wurden sorgfältig ausgewählt und gemischt, um die Entspannung zu fördern,
ie Konzentration zu steigern und Sie in einen tiefen Schlaf zu wiegen.
Jedes Blatt kann als subtiles Potpourri verwendet werden,
das bis zu drei Monate lang seinen Duft verströmt, oder als Räucherwerk, das etwa sieben Minuten lang brennt
und dabei einen Raum reinigt und desodoriert.
Dieses spezielle Set mit sechs Blättern wird in einem eleganten
schwarzen Behälter geliefert und enthält eine nicht brennbare Filzmatte.
Materialien: Papphülle, Washi-Papier, ätherische Öle, natürlicher Farbstoff, Filzmatte
Abmessungen (Verpackung): 3,5" L x 3,5" W
Awaji, Japan
Brand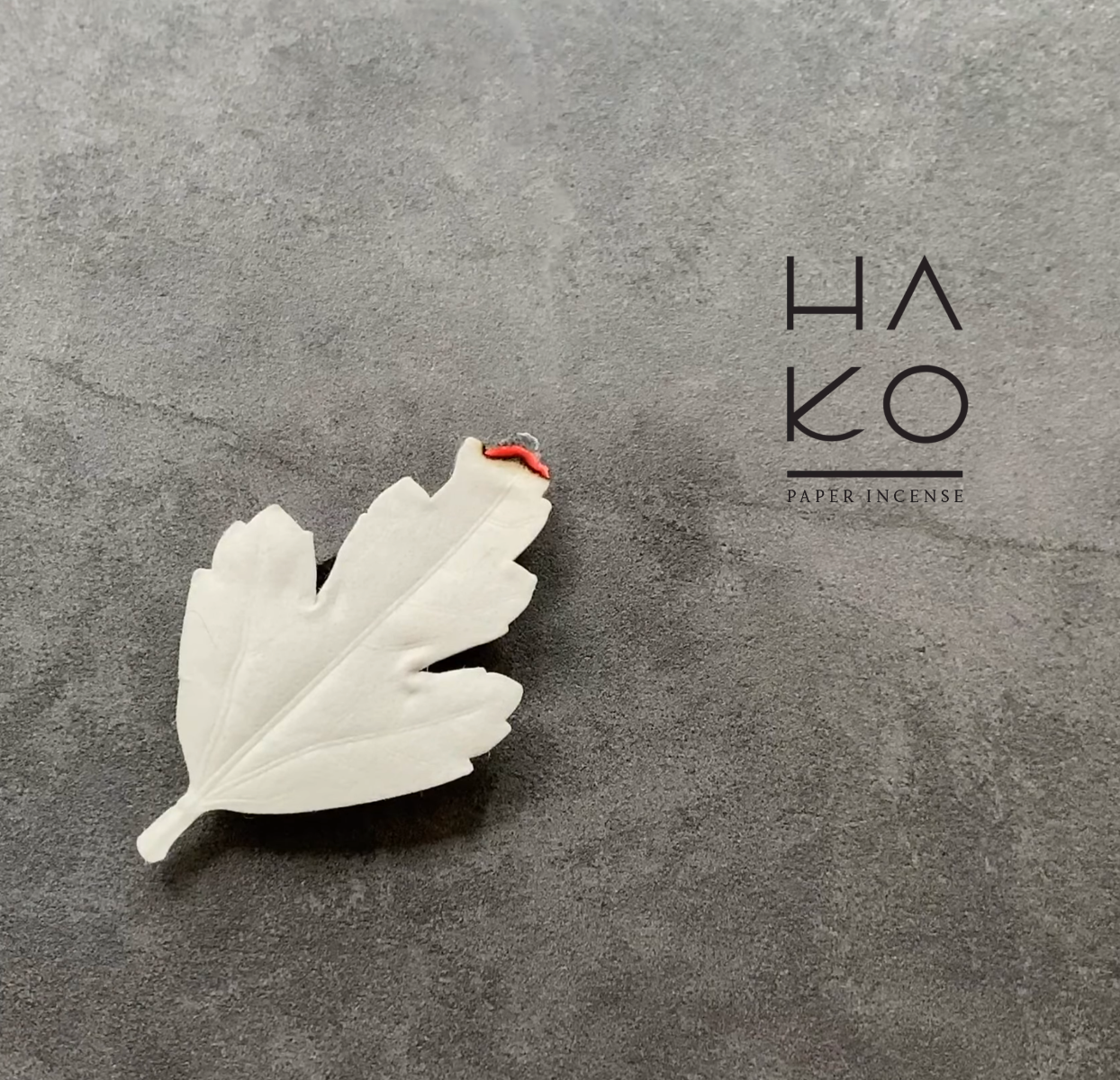 HA KO
(EN) Legend says that the tradition of incense in Japan was born from a single piece of fragrant agarwood that drifted onto the rocky coast of Awaji Island in the 6th century. Today, despite centuries of change, Awaji remains the epicenter of fine fragrance in Japan.
Founded over 120 years ago, Koushou-do's skilled craftsmen have been manufacturing some of the world's finest incense and evolving an artform considered one of Japan's three classical arts of refinement. Building on their years of experience, they introduce a new type of incense.HA KO is a leaf-shaped incense that is crafted from Japanese washi paper and imbued with natural essential oils that have the ability to transform your mood.
A single fragrant leaf can be used like a modern version of potpourri to create a halo of fragrance for up to three months. When burned, they throw a light wisp of fragrant smoke that cleanses and deodorizes your space for up to seven minutes.
(DE) Die Legende besagt, dass die Tradition des Weihrauchs in Japan aus einem einzigen Stück duftenden Agarholzes entstand, das im 6. Jahrhundert an die felsige Küste der Awaji-Insel trieb. Auch heute noch, trotz jahrhundertelanger Veränderungen, ist Awaji das Epizentrum der feinen Düfte in Japan.
Vor über 120 Jahren gegründet, haben die geschickten Handwerker von Koushou-do einige der feinsten Räucherstäbchen der Welt hergestellt und eine Kunstform entwickelt, die als eine der drei klassischen Veredelungskünste Japans gilt.
HA KO ist ein blattförmiger Weihrauch, der aus japanischem Washi-Papier hergestellt wird und mit natürlichen ätherischen Ölen getränkt ist, die die Fähigkeit haben, Ihre Stimmung zu verändern.
Ein einzelnes duftendes Blatt kann wie eine moderne Version von Potpourri verwendet werden, um einen Dufthauch für bis zu drei Monate zu erzeugen. Wenn sie verbrannt werden, werfen sie einen leichten Hauch von duftendem Rauch, der Ihren Raum bis zu sieben Minuten lang reinigt und desodoriert.