The Humble Co. Totthpaste in Glass Jar with Spatula - Charcoal with Fluoride 50ml
SKU
TOOTHPASTE.GLASS.JAR.SPATULA_*_CHARCOAL
The Humble Co. are constantly challenging the status-quo and this time around they've brought back an all time favorite, glass.
Take your brushing game to the next level with gentle yet effective ingredients,
packaged in all-natural, time tested goodness.
✔️ zero waste
✔️ vegan
✔️ SLS-free
✔️ dentist approved

Die Humble Co. stellt den Status quo ständig in Frage, und dieses Mal haben sie einen Dauerbrenner mitgebracht: Glas.
Bringen Sie Ihr Pinselspiel auf die nächste Stufe mit sanften, aber wirksamen Inhaltsstoffen,
verpackt in ganz natürlicher, altbewährter Güte.
✔️ null Abfall
✔️ vegan
✔️ SLS-frei
✔️ Zahnarzt zugelassen
Brand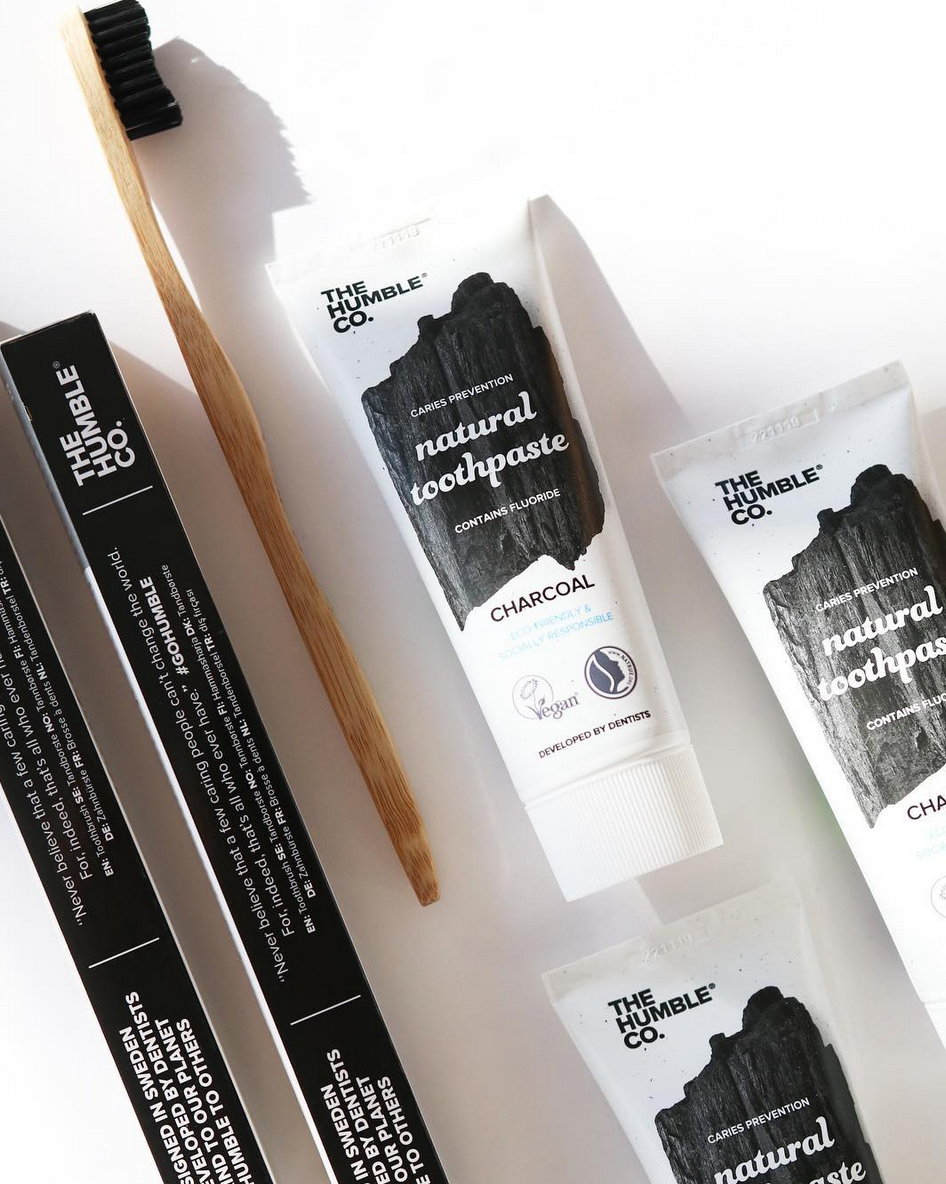 The Humble co.
the humble vision!

"When we are lucky enough to be born in an affluent part of the world it should be our duty to take care of the less fortunate. Many children will never own any oral care products and we're depleting natural resources and filling up the oceans with used products.
Can we change our ways of production and consumption? Can we help provide oral care products to those that need it most? The answer is yes!"

As a dentist, The Humble Co. was founded to create products that are good for you and kind to our planet. Every Humble purchase goes towards funding projects for the benefit of children in need.

Humble co. are a bulldog in the fight against the plastic toothbrushes. Humble choose to call it a fight since the world consumes more than 3.6 billion plastic toothbrushes every year – most of which end up in landfills and oceans! With a beautiful and simple design, Humble Brush is a serious alternative to regular plastic toothbrushes. No disadvantages! Why would you ever want to buy a plastic toothbrush again? Stop plastics. Be Humble.