Sasawashi Face Scrub Towel
SKU
SASAWASHI.FACE.SCRUB.TOWEL
---
Sustainable
Small Producer
Natural exfoliating face scrub towel
made from Sasawashi fabric.
Designed to cleanse and revitalize your complexion,
this functional face scrub towel reveals beautiful skin from within.
Sasawashi fabric is made from absorbent washi and deodorizing kumazasa plant fibers
that keep this face scrub towel fresh and powerfully absorbent.
Perfect for dry or combination skin, the Sasawashi terry softens when submerged in water,
and effortlessly buffs away everyday impurities from the face.
This cleansing essential is designed for daily use
and features a corner accent loop to hang dry after use.

Materials: Sasawashi fabric, cotton piping
Dimensions: 18cm x 21cm
Care: Machine wash in a garment bag with similar colors.
Do not bleach or tumble dry.
Osaka, Japan

Natürliches Peeling-Gesichtsreinigungstuch
hergestellt aus Sasawashi-Gewebe.
Entwickelt, um Ihren Teint zu reinigen und zu revitalisieren,
Dieses funktionelle Gesichtspeeling-Handtuch enthüllt schöne Haut von innen.
Der Sasawashi-Stoff besteht aus saugfähigem Washi und desodorierenden Kumazasa-Pflanzenfasern
die dieses Gesichtswaschhandtuch frisch und saugstark halten.
Perfekt für trockene Haut oder Mischhaut, wird das Sasawashi-Frottier weich, wenn es in Wasser getaucht wird,
und entfernt mühelos alltägliche Unreinheiten aus dem Gesicht.
Dieses Reinigungstuch ist für den täglichen Gebrauch konzipiert
und verfügt über eine Aufhängeschlaufe zum Trocknen nach dem Gebrauch.

Materialien: Sasawashi-Stoff, Baumwoll
Abmessungen: 18cm x 21cm
Pflege: Maschinenwäsche in einem Kleidersack mit ähnlichen Farben.
Nicht bleichen und nicht im Trockner trocknen.
Osaka, Japan
Brand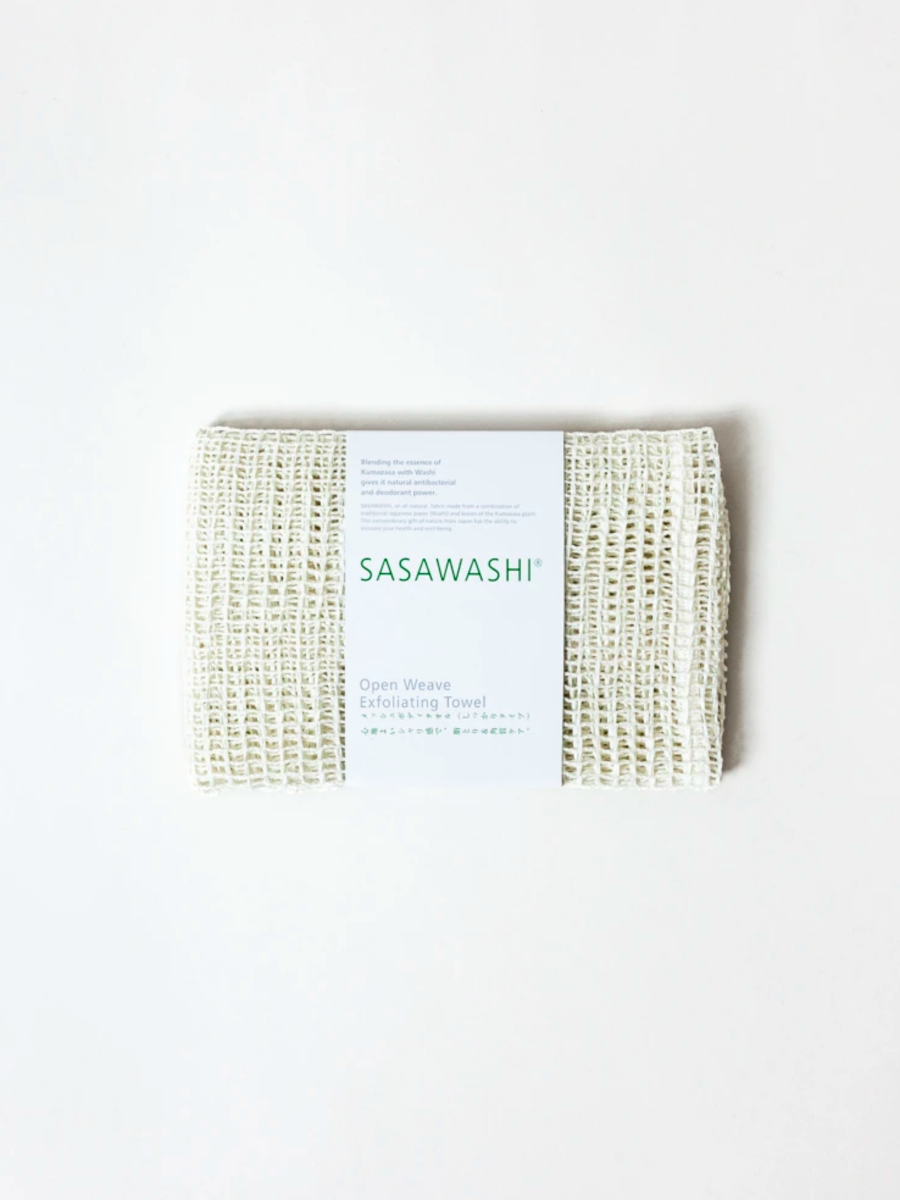 Sasawashi

(EN) Sasawashi was founded as a reaction to the wastefulness and ephemeral lifespan of the textile industry. Made from absorbent washi (Japanese paper) threads infused with antibacterial kumazasa plant fibers, this innovative fabric contains natural deodorizing properties that prevent mildew growth and fiber deterioration. From room shoes to scrub towels, every piece in the Sasawashi collection stays true to its founding principles: comfort, longevity, and simplicity.
"From a desire to live a comfortable and healthy way of life, our products show a diligence in bringing you all the best characteristics of the unique SASAWASHI. What we take for granted today may become increasingly difficult tomorrow because of our changing environment & lifestyles. What is truly good is that which you will want to use for a lifetime. Our simple designs are a result of an emphasis on comfort and natural feeling while using our products. Strive to be better without changing. Our goal is dedication in creativity."
Read more on this incredible fiber and how is is made.
(DE) Sasawashi wurde als Reaktion auf die Verschwendungssucht und die vergängliche Lebensdauer der Textilindustrie gegründet. Hergestellt aus absorbierenden Washi-Fäden (japanisches Papier), die mit antibakteriellen Kumazasa-Pflanzenfasern durchtränkt sind, enthält dieser innovative Stoff natürliche desodorierende Eigenschaften, die Schimmelbildung und Faserzerfall verhindern. Von Zimmerschuhen bis hin zu Scheuertüchern - jedes Stück der Sasawashi-Kollektion bleibt seinen Grundprinzipien treu: Komfort, Langlebigkeit und Einfachheit.
"Aus dem Wunsch heraus, eine bequeme und gesunde Lebensweise zu leben, zeigen unsere Produkte den Fleiß, Ihnen die besten Eigenschaften des einzigartigen SASAWASHI zu vermitteln. Was wir heute als selbstverständlich ansehen, kann morgen aufgrund unserer sich verändernden Umwelt und Lebensweise immer schwieriger werden. Was wirklich gut ist, ist das, was Sie ein Leben lang nutzen wollen. Unsere einfachen Designs sind das Ergebnis der Betonung von Komfort und natürlichem Gefühl bei der Benutzung unserer Produkte. Wir streben danach, besser zu sein, ohne uns zu verändern. Unser Ziel ist Hingabe in der Kreativität".
Lesen Sie mehr über diese unglaubliche Faser und wie sie hergestellt wird.