Pallarès Kitchen Knife Carbon Steel - Boxwood Handle 11cm
SKU
2121.11.KITCHEN.BOXWOOD.11
---
Made in Europe
Small Producer
Handle: Boxwood
Blade: Carbon Steel
11cm
-Griff: Buchsbaum
Klinge: Karbonstahl
11cm
Why Should You Choose Carbon Steel?
Although stainless steel is the most common material for kitchen knives,
carbon steel is often the preferred choice of culinary professionals.
That's because a carbon steel blade, when properly cared for,
holds a sharp edge better than stainless steel.
The flip side is that "proper care" of carbon steel involves a bit more day-to-day maintenance.
Clean While You Cook
One of the most important steps in taking care of your carbon steel is keeping the blade clean.
That means wiping down your knife while you cook.
It may seem tedious at first, but it will keep your blade from rusting.
This is especially true when working with acidic foods, like lemons and tomatoes,
which tend to be particularly tough on carbon steel.
Patina vs. Rust
Over time, your knife will develop a gray-blue patina.
Don't freak!
There's a difference between patina and rust.
Patina = good; rust = bad.
A healthy patina actually protects your knife from rust.
***
Warum sollten Sie Carbonstahl wählen?
Obwohl rostfreier Stahl das am häufigsten verwendete Material für Küchenmesser ist,
ist Carbonstahl oft die bevorzugte Wahl von Küchenprofis.
Das liegt daran, dass eine Klinge aus Carbonstahl, wenn sie richtig gepflegt wird,
eine scharfe Klinge besser hält als rostfreier Stahl.
Die Kehrseite der Medaille ist, dass die "richtige Pflege" von Carbonstahl etwas mehr Aufwand im täglichen Gebrauch bedeutet.
Reinigen Sie beim Kochen
Einer der wichtigsten Schritte bei der Pflege Ihres Carbonstahls besteht darin, die Klinge sauber zu halten.
Das bedeutet, dass Sie Ihr Messer während des Kochens abwischen müssen.
Das mag auf den ersten Blick mühsam erscheinen, aber es verhindert, dass die Klinge rostet.
Das gilt vor allem, wenn Sie mit säurehaltigen Lebensmitteln wie Zitronen und Tomaten arbeiten,
die besonders hart zu Carbonstahl sind.
Patina vs. Rost
Mit der Zeit wird Ihr Messer eine graublaue Patina entwickeln.
Aber keine Panik!
Es gibt einen Unterschied zwischen Patina und Rost.
Patina = gut; Rost = schlecht.
Eine gesunde Patina schützt Ihr Messer tatsächlich vor Rost.
Brand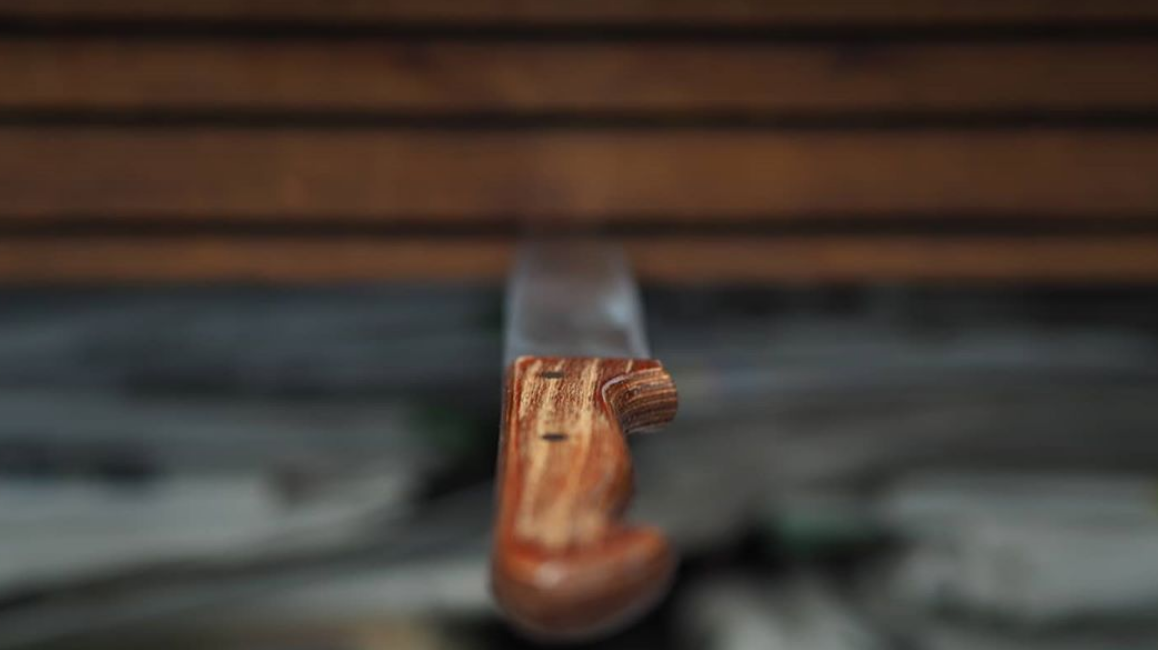 Pallarès
(EN) The Pallarès company, as the only current witness of the important Solsona knife industry and with 100 years of experience behind us, is specialized in the manufacture of knives and pocket knives. They also have a wide range of products focused on other areas, such as agricultural tools, sharpeners, gardening tools, scissors and barbecues.
Their professional knives and kitchen knives, Ganiveteria Pallarès offers customers the highest quality products, where the materials used in the manufacture of each one of the products have been very careful to obtain a cut of high quality.
Throughout its history, Cuchillería Pallarès has chosen and still chooses the materials to be used by always seeking out the highest quality, and its main aim has been and still is the quality of the cutting edge, which is why all knives are sharpened by hand. Despite all the difficulties, Pallarès has managed to adapt to changing times without relinquishing its origins in the traditional knife-making craft of the town of Solsona.
Pallarès 1917
(DE) Die Firma Pallarès, als einziger aktueller Zeuge der bedeutenden Messerindustrie von Solsona und mit 100 Jahren Erfahrung im Rücken, ist auf die Herstellung von Messern und Taschenmessern spezialisiert. Wir verfügen auch über eine breite Produktpalette, die sich auf andere Bereiche konzentriert, wie z.B. landwirtschaftliche Werkzeuge, Wetzstöcke, Gartengeräte, Scheren und Grillgeräte.
Besonders hervorzuheben sind unsere Berufs- und Küchenmesser. Die Ganiveteria Pallarès bietet ihren Kunden Produkte von höchster Qualität, bei denen bei der Herstellung jedes einzelnen Produkts sehr sorgfältig darauf geachtet wurde, einen Schnitt von hoher Qualität zu erzielen.
Im Laufe ihrer Geschichte hat die Cuchillería Pallarès bei der Auswahl der zu verwendenden Materialien stets auf höchste Qualität geachtet, und ihr Hauptziel war und ist die Qualität der Schneide, weshalb alle Messer von Hand geschliffen werden. Trotz aller Schwierigkeiten ist es Pallarès gelungen, sich dem Wandel der Zeit anzupassen, ohne seine Ursprünge im traditionellen Messermacherhandwerk der Stadt Solsona aufzugeben.
Pallarès 1917.