Macon&Lesquoy - Cobras - Hand Embroidered Painting
Brooch/Brosche: 11.4x14.3cm
Frame/Rahmen: 20x30cm
Designed and embroidered by hand with care,
these pictures are like M&Ls brooches:
the essential accessory of your home.
Technical feat, symbol of the know-how of their craftsmen,
the "high embroidery" of their wall decorations will surprise
and their colorful patterns will seduce your guests.
And thanks to their pin, you can also wear the embroideries as a brooch!
M&Ls embroideries are entirely handmade in canetilla thread,
according to a very old Indo-Pakistani technique.
The frame is made in France by a specialized craftsman,
using wood from French forests.
These handmade embroideries are fragile.
Avoid rubbing and water!
To make them last, keep them carefully in their frame.
The frames can be hung with the rings on the back.
But don't hang them in a place with too much sunlight or moonlight,
as the color of the threads may fade.
The glass can hurt a child, so keep the object away from smaller children.
***
Mit Sorgfalt von Hand entworfen und bestickt,
sind diese Bilder wie M&Ls Broschen:
das unverzichtbare Accessoire für Ihr Zuhause.
Eine technische Meisterleistung, ein Symbol für das Know-how der Handwerker,
die "Hochstickerei" ihrer Wanddekorationen wird Sie überraschen
und ihre farbenfrohen Muster werden Ihre Gäste verführen.
Und dank der Anstecknadel können Sie die Stickereien auch als Brosche tragen!
Die Stickereien von M&Ls werden vollständig in Handarbeit aus Canetillagarn hergestellt,
nach einer sehr alten indisch-pakistanischen Technik.
Der Rahmen wird in Frankreich von einem spezialisierten Handwerker hergestellt,
unter Verwendung von Holz aus französischen Wäldern.
Diese handgefertigten Stickereien sind zerbrechlich.
Vermeiden Sie Reibung und Wasser!
Damit sie lange halten, bewahren Sie sie sorgfältig in ihrem Rahmen auf.
Die Rahmen können mit den Ringen auf der Rückseite aufgehängt werden.
Hängen Sie sie jedoch nicht an einem Ort mit zu viel Sonnen- oder Mondlicht auf,
da sonst die Farbe der Fäden ausbleichen kann.
Das Glas kann ein Kind verletzen, halten Sie das Objekt also von kleineren Kindern fern.
Brand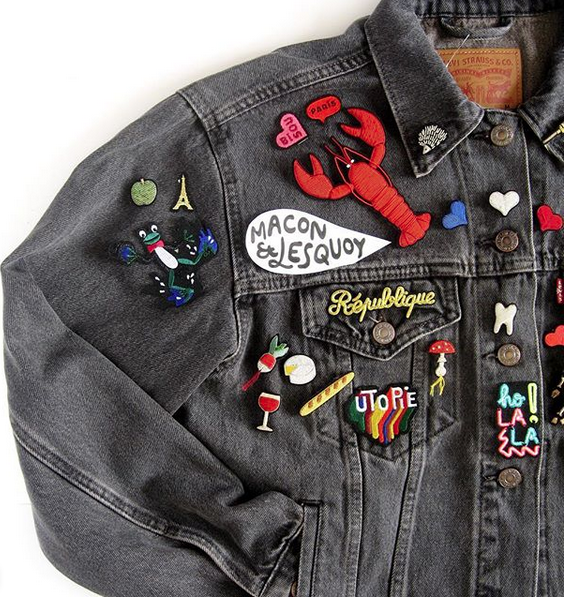 Macon & Lesquoy
Wenn die Tochter eines Antiquitätenhändlers die Tochter eines Astrophysikers trifft, dann erzählen sie sich Geschichten über Geschichten und das Schicksal von Macon & Lesquoy nimmt seinen Lauf.
So zusammenfassen könnte man die Geschichte von Marie Macon und Anne-Laure Lesquoy und ihrem gemeinsamen Label.

Jede Saison entsteht eine neue Kollektion wunderbarer Broschen, Patches und Pins.
Die Sujets werden von den beiden Frauen gezeichnet und in einem Handwerksbetrieb in Pakistan gefertigt.

"A touch of humor and luxury for the young girls, handsome boys, gorgeous mums and old dandies around the world who always
enjoy a good laugh!"

EN: When the daughter of an antique dealer and the daughter of an astrophysicist come together, they tell each other stories and some more stories and the fate of Macon & Lesquoy takes its course. This is how you would summarise the story of Marie Macon and Anne-Laure Lesquoy on their joint label. Each season a new collection of wonderful brooches, patches and pins is created. The sujets are designed by the two women and manufactured in a handicraft shop in Pakistan.