---
Plastic free
For a good cause
Local
Fair
Small Producer
-.30 Depot
After numerous tastings and fiddling around with Markus, the guardian of the secret Lola recipe, Lola present you with a zero cola that will make you want more:
The nuances of cinnamon, caramel, cola nut and herbs are wonderfully balanced and slightly tart, which are rounded off with a hint of secret ingredients. Lola Cola Zero gets by without sugar and is therefore a little lighter than the original with the fair-trade cane sugar.
Lola Cola Zero again bears a particularly beautiful label and is bottled exclusively in returnable bottles.

Nach zahlreichen Degustationen und Tüfteleien von Markus, dem Hüter der geheimen Lola-Rezeptur, präsentieren Lola euch ein Cola Null, die Lust auf mehr erzeugt:
Wunderbar ausgewogen und leicht herb sind die Nuancen von Zimt, Caramel, Kola-Nuss und Kräutern, welche auch wieder mit einem Hauch geheimer Ingredienzien abgerundet werden. Lola Cola Null kommt ganz ohne Zucker aus und ist deshalb ein wenig heller als das Original mit dem fair gehandelten Rohrzucker.
Lola Cola Null trägt wieder ein besonders schönes Etikett und wird ausschliesslich in Mehrwegflaschen abgefüllt.
Brand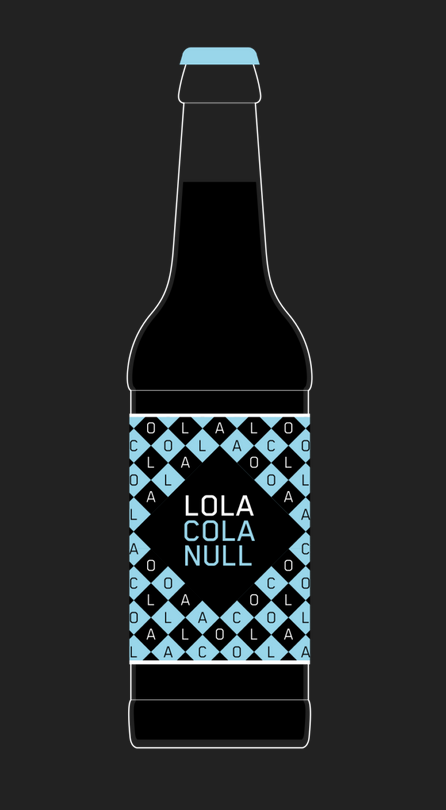 Lola Cola
Kurze Transportwege, fair gehandelter Zucker aus Costa Rica und Solarenergie - nie wurde eine Cola näher und umweltfreundliche Produziert als die von Lola. Der Vertrieb im Berner Lorraineladen wird organisiert von CONTACT – Stiftung für Suchtprobleme, welche die Gesundheit, persönliche Kompetenzen und Integration von Menschen mit Drogenabhängigkeit fördern. Bitte noch eine Lola, da liegt nämlich mehr drin als nur Durstlöschen.
EN: Short transport routes, fair traded sugar from Costa Rica and solar energy - never a coke was produced closer and more environmentally friendly than that of Lola. Sales in the Bernese Shop are organized by CONTACT - Addiction Issues Foundation, which promotes the health, personal skills and inclusion of people with drug addiction. Can I get another Lola please ? , because there is more in it than just thirst quenching.