La Belle-Iloise Sauce Rouille Ail & Piment
SKU
S774.SAUCE.ROUILLE.AIL.PIMENT

In this sauce, garlic, extra virgin olive oil and chilli reveal all their character. Specially designed to accompany your soups of rock fish with flavors of Provence, it can also be served as an accompaniment to all the white fish cooked in the court-bouillon. For an aperitif, it can be enjoyed on toast alone or topped with cooked vegetables.
Sauce Rouille Ail & Piment
Spécialement conçue pour accompagner vos soupes de poissons de roche aux saveurs de Provence

Cette sauce met l'accent sur l'ail, l'huile d'olive et le piment doux afin de révéler tout le caractère de la soupe de poissons de roche.
Elle peut aussi être utilisé en accompagnement de tous les poissons blancs cuits au court bouillon.
Pour l'apéritif, elle peut être étalée sur des toasts seule ou garnie de légumes cuits.


Brand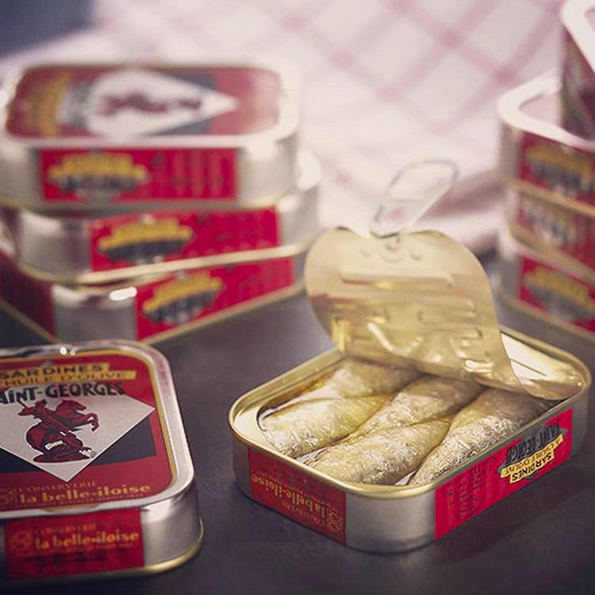 La Belle-iloise
La belle-illoise, is a family run fish conserver from Brittany. Since 1932 they are true to their values that are being a local company ,working with the local fishermen and solely fishing in the fish grounds around the village of Qiberon. Depending on the season up to 600 people from the region work for la belle-illoise. Today the company is run by the founders grand daughter. Independency runs deep in the veins of every Breton so it's not astonishing that beside being a very local company they did not want to relay on others to do business. Therefore they opened their first store 1967 which gave them independency from distributors and big chain stores and a direct contact to the customers. The local fish is brought in in the morning and immediately proceeded. A lot of the work is still done by hand and only the finest ingredients are used. Respecting the environment is a core value at la belle-illoise so you only find local sustainable fish in their tins. They recycle everything they can from fish to the water used for the production. The oil used for the sardine production becomes bio fuel. The historic establishment of the company on the peninsula of Quiberon gives it a privileged link with the resource, the marine world, its rules and seasons. On a day-to-day basis, the Conserverie reliably uses the resources at its disposal in all areas: environmental, social and societal. Kitchener note: We are big fans of tinned fish like sardine and mackerel. Not only are these fish that not at all endangered but they have a lot of omega 3 fats and are besides being super yummy also very healthy. Having some tinned fish in the cupboard is essential, be it to through together a quick and delicious dinner when you just had no time for shopping or when you wake up with a hangover and need some serious breakfast. Nothing beats a hangover like anchovy or sardine on toast and some black coffee. With la belle-illoise we know that we have a producer we can trust that they take care that there will be fish for many more generations to come. And we love to support local businesses. "Tinned fish makes a lovely gift and la belle-illoise tins are especially beautifull gifts. We have tried many tins of fish and to us la belle-illoise are among the best. " sarah , buyer