Clearspring Organic Japanese Yaemon Tamari Soya Sauce
SKU
7805.YAEMON.TAMARI.150ML
---
Vegan
Small Producer
Organic
150ml
Double Strength - aged in Wooden Kegs
Doppelte Stärke - in Holzfässern gereift
Clearspring Organic Tamari is a double-strength, gluten free soya sauce
made using organic whole soya beans and uses twice as many beans for each bottle as ordinary soya sauces.
This high proportion of soya beans results in a smoother and more balanced flavour.
Made to a 500 year old recipe using traditional processes and equipment handed down
from generation to generation and naturally fermented and aged in cedarwood kegs over two summers.
Clearspring Organic Japanese Tamari Soya Sauce has an award-winning flavour
that's rich, full bodied, complex and concentrated – but never overpowering.
It's perfect as a dipping sauce, as a traditional accompaniment to sushi and sashimi,
and can be used as a condiment to give depth of savoury flavour to salad dressings,
marinades, sauces, stir fries and cooked vegetable dishes.
***
Clearspring Organic Tamari ist eine doppelt so starke, glutenfreie Sojasauce
Sie wird aus ganzen Bio-Sojabohnen hergestellt und verwendet pro Flasche doppelt so viele Bohnen wie herkömmliche Sojasaucen.
Dieser hohe Anteil an Sojabohnen sorgt für einen sanfteren und ausgewogeneren Geschmack.
Hergestellt nach einem 500 Jahre alten Rezept mit traditionellen Verfahren und Geräten, die von
von Generation zu Generation weitergegeben, natürlich fermentiert und über zwei Sommer in Zedernholzfässern gereift.
Clearspring Organic Japanese Tamari Soya Sauce hat einen preisgekrönten Geschmack
der reichhaltig, vollmundig, komplex und konzentriert ist - aber niemals übermächtig.
Sie eignet sich perfekt als Dip-Sauce, als traditionelle Beilage zu Sushi und Sashimi,
und kann als Würzmittel verwendet werden, um Salatdressings einen intensiven Geschmack zu verleihen,
Marinaden, Saucen, Pfannengerichten und gekochten Gemüsegerichten.
Brand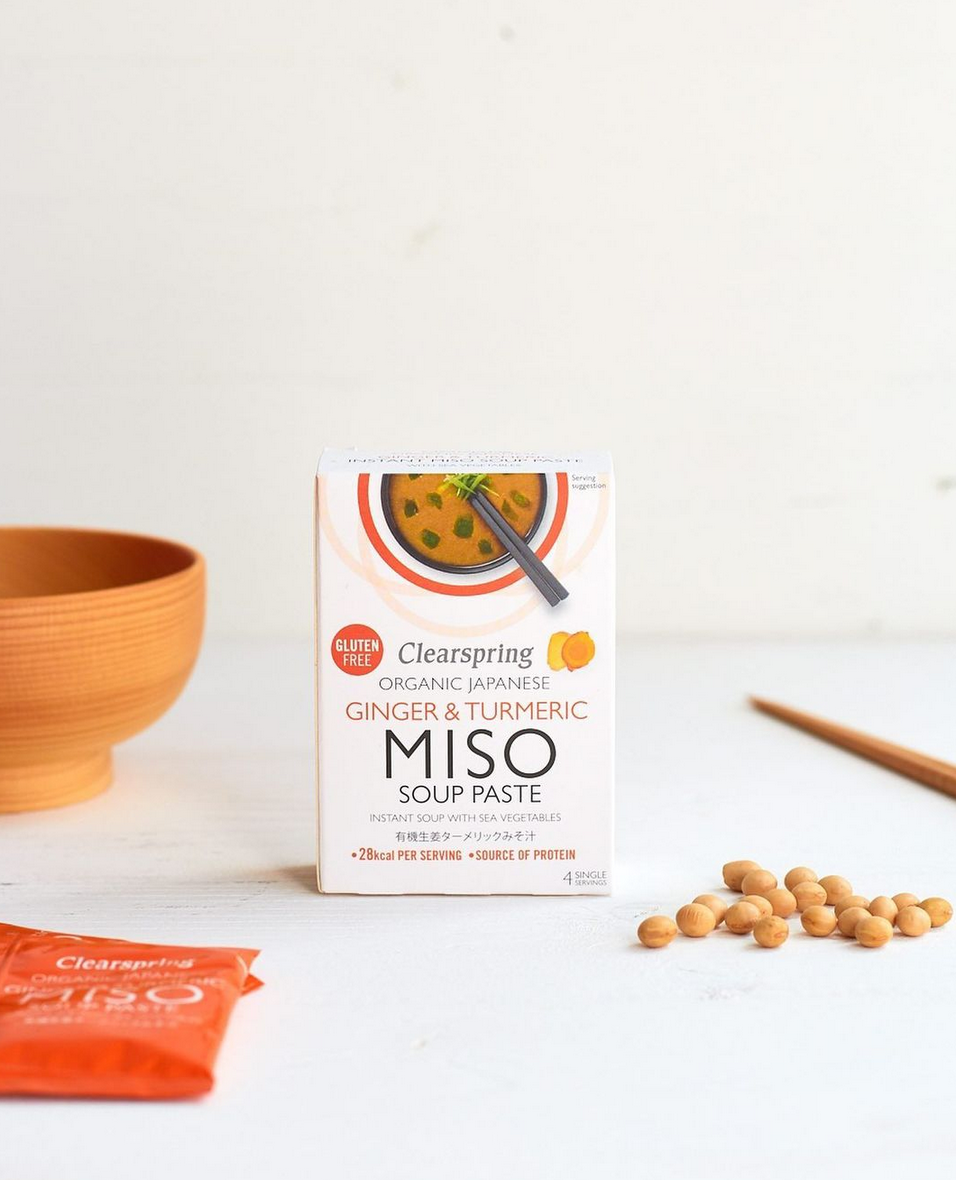 Clearspring
(EN) Clearspring is a family-owned business and for over 25 years have been committed to pioneering authentic Japanese specialities and organic fine foods. Their core belief is that everyone should have access to quality organic food to eat well. Clearspring products make a valuable contribution to sustainable agriculture, by supporting organic farmers and artisan food producers.
From the humble beginnings of Japanese miso soup, to over 260 products today, the range continues to grow. Continuously inspired to bring diversity, innovation and the art of wellness through food to their offering. All Clearspring products have a distinctive flavour, made with authentic recipes and by traditional methods. They never use any artificial additives or add refined sugars. Their passion is to show you just how delicious and abundant a plant-based diet can be, not only how it tastes, but also how it keeps us healthy and thriving.
(DE) Clearspring ist ein Familienunternehmen, das sich seit über 25 Jahren der Pionierarbeit für authentische japanische Spezialitäten und biologische Feinkost verschrieben hat. Ihre Grundüberzeugung ist, dass jeder Zugang zu qualitativ hochwertigen Bio-Lebensmitteln haben sollte, um sich gut ernähren zu können. Clearspring-Produkte leisten einen wertvollen Beitrag zur nachhaltigen Landwirtschaft, indem sie Biobauern und handwerkliche Lebensmittelhersteller unterstützen.
Von den bescheidenen Anfängen der japanischen Miso-Suppe bis zu über 260 Produkten heute wächst das Angebot ständig weiter. Kontinuierlich inspiriert, Vielfalt, Innovation und die Kunst des Wohlbefindens durch Lebensmittel in ihr Angebot aufzunehmen. Alle Clearspring-Produkte haben einen unverwechselbaren Geschmack und werden nach authentischen Rezepten und mit traditionellen Methoden hergestellt. Sie verwenden niemals künstliche Zusatzstoffe oder fügen raffinierten Zucker hinzu. Ihre Leidenschaft ist es, Ihnen zu zeigen, wie köstlich und reichhaltig eine Ernährung auf pflanzlicher Basis sein kann, nicht nur, wie sie schmeckt, sondern auch, wie sie uns gesund und blühend erhält.