ZigZag Zürich - Bengali Wool Blanket By Sophie Probst & Michele Rondelli
SKU
BENGALI.SOPHIE.PROBST.WOOL.BLA
---
Local
Made in Europe
Sustainable
Fair
Small Producer
140 x 200cm / 55" x 79"
100% Woven Cotton Jacquard
STANDARD 100 by OEKO-TEX certified meaning no harmful chemicals or synthetics used during production
-100% gewebter Baumwoll-Jacquard
STANDARD 100 by OEKO-TEX-zertifiziert, d.h. bei der Herstellung werden keine schädlichen Chemikalien oder Kunststoffe verwendet
A classic jungle for any home
- the Bengali wool blanket inspired by the jungles of Asia
adds a unique twist of design and humour combined with warm earthy colours
from the native lands designed by Sophie Probst & Michele Rondelli,
creative director for ZigZagZurich.
The ZigZagZurich Artist Wool blanket collections
celebrate original art woven in New Zealand Wool blankets.
ZigZags unique development of these artist blankets in conjunction
with their global artist roster, give your home something unique to add.
These real New Zealand wool blankets will keep you warm at home
or out ( they make super ponchos as well! )
Pure New Zealand Wool
Hand Wash Cold / Dry Clean
Woven in Europe
***
Ein klassischer Dschungel für jedes Zuhause
- Die vom asiatischen Dschungel inspirierte bengalische Wolldecke
kombiniert mit warmen, erdigen Farben einen einzigartigen Twist von Design und Humor
aus den Heimatländern, entworfen von Sophie Probst & Michele Rondelli,
Kreativdirektorin für ZigZagZurich.
Die ZigZagZurich Artist Wool-Decken-Kollektionen
zelebrieren originelle Kunst, die in Decken aus neuseeländischer Wolle gewebt wird.
ZigZags einzigartige Entwicklung dieser Künstler-Decken in Verbindung
in Verbindung mit ihrer globalen Künstlerliste, geben Sie Ihrem Zuhause etwas Einzigartiges hinzu.
Diese Decken aus echter neuseeländischer Wolle halten Sie zu Hause warm
oder draußen (sie eignen sich auch hervorragend als Ponchos!)
Reine neuseeländische Wolle
Handwäsche kalt / chemische Reinigung
In Europa gewebt
Brand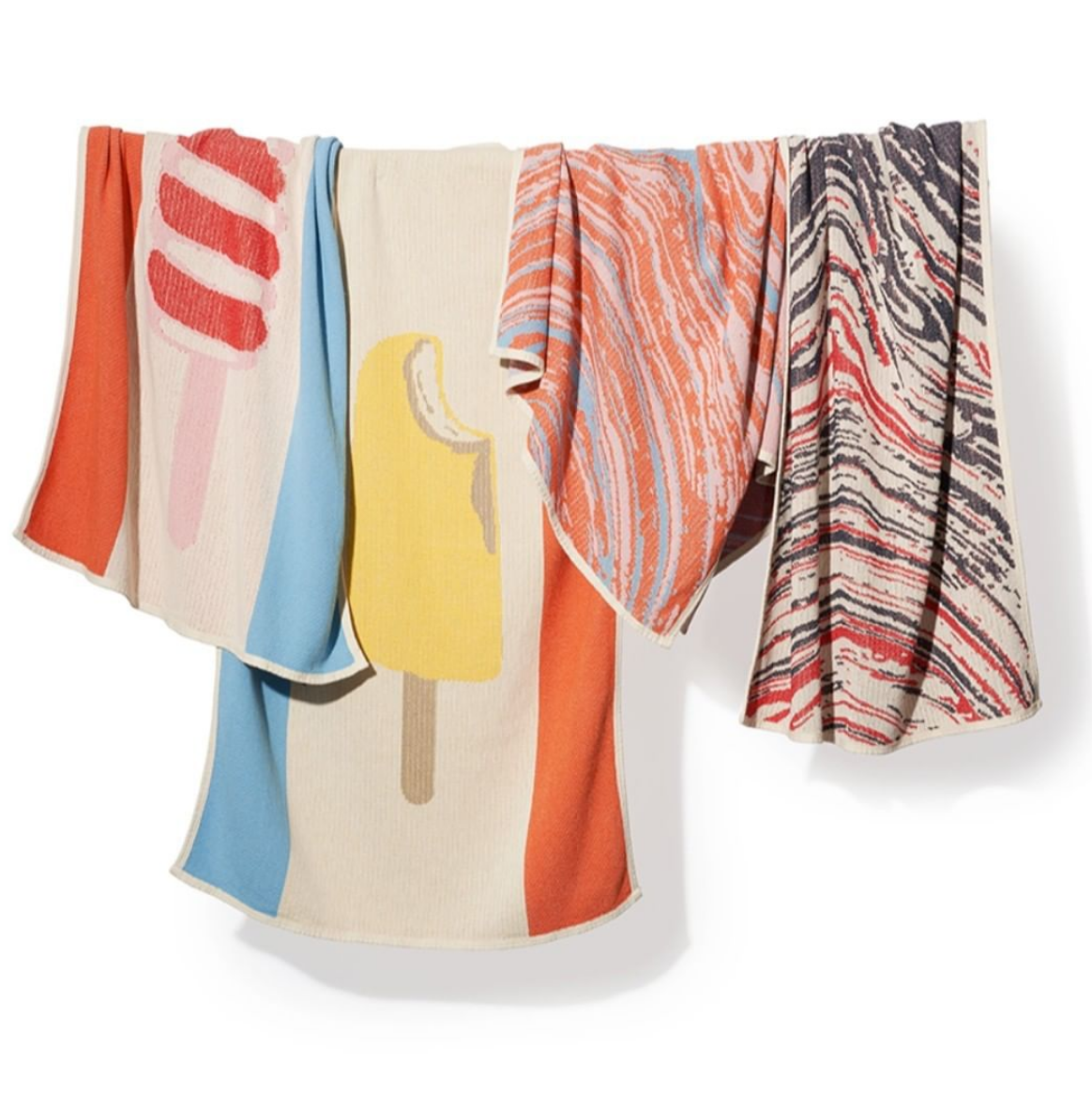 Zig Zag Zürich
(EN) ZigZagZurich was founded in Switzerland in 2013. Our interest in off-stream, our passion for textile design, as well as a high standard of quality formed the basis on which we started our journey. We produce unique home textiles, which represent the combination of artistic skills with high quality materials.
ZigZagZurich is part of the art and design community. Through ZigZagZurich, consumers rediscover artistic creation in the form of home textiles. We work with established as well as previously unknown artists from a broad spectrum of art, design, illustration, and craft. From this diversity and multitude of creative ideas and inspirations, we hope for new impulses for the textile industry. ZigZagZurich is happy to take on many a challenge.
Monitoring the production chain from raw material extraction to the finished product makes it possible to guarantee the use of the highest quality materials. Our main production is located in Italy, which means that we have direct control over the social and ecological conditions under which our goods are produced.
(DE) ZigZagZurich wurde 2013 in der Schweiz gegründet. Unser Interesse am Off-Stream, unsere Leidenschaft für textiles Design, sowie ein hoher Anspruch an Qualität bildeten die Grundlage, auf der wir unsere Reise begannen. Wir stellen einzigartige Heimtextilien her, welche die Verbindung von künstlerischen Fähigkeiten mit hochwertigen Materialien repräsentieren.
ZigZagZurich ist Teil der Kunst- und Design-Community. Durch ZigZagZurich entdecken Konsumenten künstlerisches Schaffen neu, in Form von Heimtextilien. Wir arbeiten mit etablierten sowie bisher unbekannten Künstlern aus einem breiten Spektrum von Kunst, Design, Illustration, Handwerk zusammen. Aus dieser Diversität und Vielzahl an kreativen Ideen und Inspirationen erhoffen wir uns neue Impulse für die Textilindustrie. ZigZagZurich packt hierfür gerne so manche Herausforderung an.
Eine Überwachung der Produktionskette von der Rohstoffgewinnung bis hin zum fertigen Produkt macht es möglich die Verwendung hochwertigster Materialien zu garantieren. Unsere Hauptproduktion befindet sich in Italien, was bedeutet, dass wir eine direkte Kontrolle darüber haben unter welchen sozialen und ökologischen Bedingungen unsere Waren hergestellt werden.