TRAVELER'S notebook - 010 Kraft Paper Folder (Passport Size)
SKU
14334006.REFILL.PASS.KRAFT.HOL
This is a folder you place in your passport size TRAVELER'S
notebook. You can use this by covering one of your passport
sized refills or by attaching it to the connecting rubber band.
An impregnated paper is used for this folder, so it goes
perfectly well with the leather cover of TRAVELER'S notebook.
***
Dies ist eine Mappe, die Sie in Ihr TRAVELER'S Notebook
im Reisepassformat einlegen können. Sie können sie verwenden,
indem Sie eine Ihr Refill in Passgröße überziehen oder ihn an
dem Verbindungsgummiband befestigen. Für diese Mappe wird ein
imprägniertes Papier verwendet, so dass sie perfekt zum Ledereinband
des TRAVELER'S notebook passt.
Brand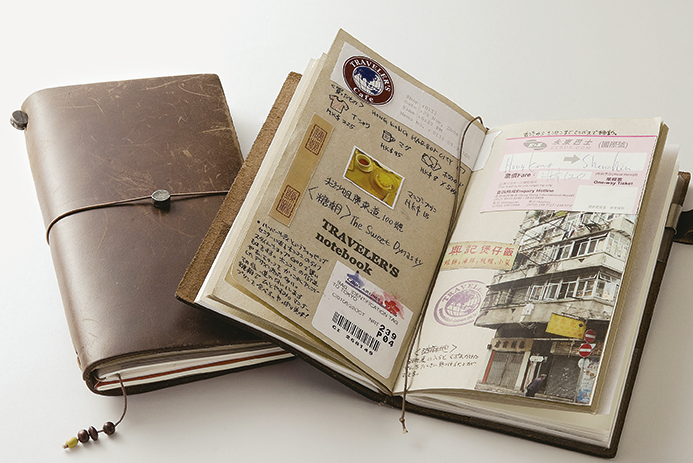 Midori
MIDORI ist eine japanische Schreibwarenmarke, die 1950 als Hersteller von Schreibpapier und Kuverts begann. Seitdem haben sie eine Reihe von designorientierten Produkten entwickelt, die den Alltag der Menschen bereichern und mit Farbe füllen werden. MIDORI hat seine Basis in Design und Papier beibehalten und sich zu einem umfassenden Hersteller von Schreibwaren entwickelt. Wir lieben ihre Reise Notebook-Serie - Travelers notebook. Es gibt keinen besseren Ort, um Erinnerungen aufzubewahren, als das Notizbuch des TRAVELER'S COMPANY TRAVELER'S. Es besteht aus glattem, cremigem Papier und ist von einem edlen Lederbezug umgeben, der mit Gebrauch und Zeit wunderschön altert. Mit einer Vielzahl von Nachfülloptionen und Zubehör kann man sein eigenes, individuelles Notebook zusammenstellen. Jeder Ledereinband wird in Chiang Mai, der nördlichen Stadt Thailands, von Hand gefertigt. Er besticht durch seine Einfachheit; grob geschnittenes Leder und ein Gummiband mit dem Verschluss aus Zinn. Das Innen-Notebook wird in Japan sorgfältig hergestellt aus Midori Original MD Papier, um den höchsten Komfort beim Schreiben zu gewährleisten. Das Innenleben kann mit refills verändert werden. Mit der Zeit, wenn sich die Lederqualität ändert und verkratzt ist, bleiben Ihre Erinnerungen bestehen.
(EN) MIDORI is a Japanese stationery brand that began as a producer of writing paper and envelopes in 1950. Since then, they have continued to develop a range of design-focused products that will enrich and add color to people's daily lives. MIDORI has maintained its base in design and paper while evolving into a comprehensive manufacturer of stationery items We love their travellers notebook range. There's no better place to keep your memories than the TRAVELER'S COMPANY TRAVELER'S notebook. This high-quality notebook features smooth, creamy paper and is encased in a luxurious leather cover that ages beautifully with use and time. With a variety of refill options and accessories, you can personalize and build your own custom notebook that fits your lifestyle. Each leather cover is made by hand in Chiang Mai, northern city of Thailand. It appeals its own raison d'etre by the simplicity; roughly cut leather and a rubber band with the clasp made of tin. The inside notebook is made in Japan carefully and has Midori original MD Paper made to pursue the highest comfort in writing. The inside can be changed with refills for this notebook. After using for a long time when the leather quality changes and scratches remain as memories.