Soul Spice Schwarzer Urwaldpfeffer Bio
SKU
1300391.URWALD.PFEFFER.SCHWARZ
---
Sustainable
Fair
Small Producer
55g
*Black pepper from Kerala
*Organic
Made in Germany

*Schwarzer Pfeffer aus Kerala
*Bio
Hergestellt in Deutschland
This unique highland pepper has a particularly noble aroma and a very fine, complex flavor.
Black pepper is hotter than green and aromatic-piquant, but milder than white pepper.
All types of pepper are obtained from the same plant and differ in taste only due to
ripeness and the way they are processed. For black pepper, the green pepper fruits are harvested
just before they ripen and stored in piles for a few days. The fermentation processes turn them black
and they shrink while drying in the sun. The harvest quantities are rather modest, but the aroma of
this pepper is incredibly intense. Only the indigenous, endangered and extremely aromatic pepper
varieties of those farmers are used, who have been cultivating traditional spices
in tribal communities for generations.
***
Dieser einzigartige Hochland-Pfeffer hat ein besonders edles Aroma und einen sehr feinen,
vielschichtigen Geschmack. Schwarzer Pfeffer ist schärfer als grüner und aromatisch-pikanter,
jedoch milder als weißer Pfeffer.
Alle Pfefferarten werden von derselben Pflanze gewonnen und unterscheiden sich in ihrem Geschmack
nur aufgrund von Reifegrad und der Art ihrer Verarbeitung. Für schwarzen Pfeffer werden
die grünen Pfefferfrüchte kurz vor ihrer Reifephase geerntet und auf Haufen einige Tage gelagert.
Durch die Fermentationsprozesse werden sie schwarz und schrumpfen während des Trocknens in der Sonne.
Die Erntemengen sind eher bescheiden, dafür ist das Aroma dieses Pfeffers unglaublich intensiv.
Es werden ausschließlich die indigenen, vom Aussterben bedrohten und extrem aromatischen
Pfeffersorten jener Bauern verwendet, die seit Generationen in Stammgemeinschaften
traditionellen Gewürzanbau betreiben.
Brand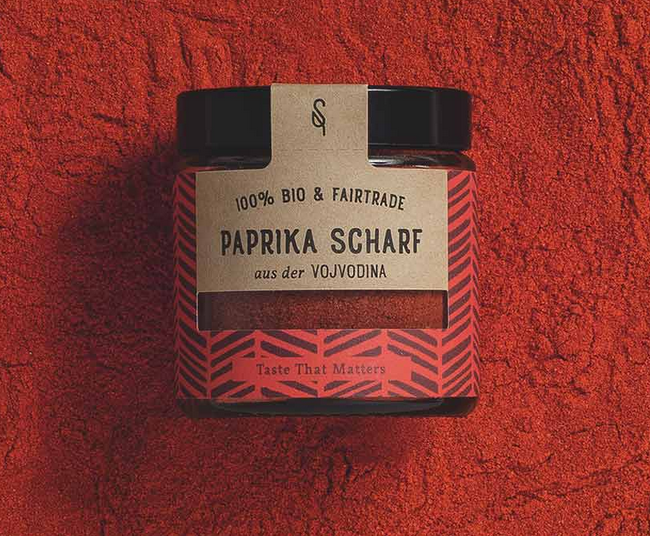 Soul Spice
Nachdem die Gründer von Soul Spice mehrere Jahre in Großkonzernen gearbeitet haben, wollten sie selbst Verantwortung übernehmen:
Deshalb gründeten sie eine Firma, die auf Prinzipien aufbaut, an die sie glauben.
Soul Spice sind überzeugt, dass man anders denken und arbeiten muss, als es viele Konzerne tun.
Einseitiges Streben nach maximalem Profit ohne Rücksicht auf Verluste, ökologische wie soziale, führt die Menschheit zu den heutigen immensen Herausforderungen wie Klimawandel,
soziale Ungerechtigkeit, Artensterben, Ressourcen-Knappheit etc.
Soul Spice möchten beweisen, dass es auch anders geht. Die Firma will die Profite mit allen Partnern in der Wertschöpfungskette teilen, die Umwelt schützen und Ressourcen schonen.
Soul Spice denken langfristig und nehmen deshalb keine Abkürzungen zum Erfolg. Soul Spice machen keine Kompromisse bei der Qualität, bei den Produktionsbedingungen für die Bauern und beim Umweltschutz.
Soul Spice ist eine Deutsche Firma.


After working for several years in large corporations, the Soul Spice founders wanted to take on responsibility themselves, so they started a company based on principles that they believe in.
Soul Spice are convinced that you have to think and work differently than many corporations do. Unilateral pursuit of maximum profit regardless of losses, both ecological and social, is leading humanity to today's immense challenges such as climate change, social injustice, species extinction, resource scarcity, etc.
Soul Spice wants to prove that there is another way. The company wants to share profits with all partners in the value chain, protect the environment and conserve resources.
They think long term and therefore do not take shortcuts to success.
Soul Spice do not compromise on quality, production conditions for farmers and environmental protection.
Soul Spice is a german company.