Soeder* Natural Soap - Hinoki Yuzu 500ml
SKU
SOAP.HINOKI.YUZU.500ML
---
Local
Made in Europe
Sustainable
Fair
Small Producer
Organic
500ml
LIMITED EDITION
100% biodegradable Swiss soap
-100% biologisch abbaubar Schweize Seife
Among the citrus fruits, the yuzu takes on a special role,
because it has two rather great characteristics:
First of all, it doesn't mind the cold very much, even tolerating frost down to temperatures of -10 degrees Celsius.
But above all, its fruits, which are somewhat reminiscent of lemons that have gone out of shape,
have a very interesting and complex flavour that carries both the sweetness of the mandarin
and the acidity of the lime, but adds a tart note on top that is somewhat reminiscent of bergamot.
Which brings us to SOEDERs new soap: for this one, they teamed up with Izakaya Ooki,
a restaurant not too far from their shop on Ankerstrasse,
where you can eat just as well as in an izakaya in Tokyo, Osaka or Fukuoka.
Side note: you can find the yuzu on the menu there if you do a little searching!
Soap made from 100% natural ingredients
saponified, cold-pressed oils from organic farming, wheat protein and honey protect and regenerate the skin
naturally antibacterial
scented with essential oils extracted from plants
naturally preserved
glass bottle with dispenser pump
produced in the Soeder soap factory in Schwerzenbach, Switzerland
*Refill available instore in Bern & Zürich!
***
Unter den Zitrusfrüchten nimmt die Yuzu eine besondere Rolle ein,
denn sie hat zwei ganz besondere Eigenschaften:
Zum einen ist sie sehr kälteverträglich und verträgt sogar Frost bis zu Temperaturen von -10 Grad Celsius.
Vor allem aber haben ihre Früchte, die ein wenig an aus der Form geratene Zitronen erinnern,
haben einen sehr interessanten und komplexen Geschmack, der sowohl die Süße der Mandarine
und die Säure der Limette in sich trägt, aber auch eine säuerliche Note hinzufügt, die ein wenig an die Bergamotte erinnert.
Das bringt uns zu SOEDERs neuer Seife: Für diese Seife haben sie sich mit Izakaya Ooki zusammengetan,
einem Restaurant nicht weit von ihrem Laden in der Ankerstraße,
wo man genauso gut essen kann wie in einem Izakaya in Tokyo, Osaka oder Fukuoka.
Nebenbei bemerkt: Wenn Sie ein bisschen suchen, finden Sie die Yuzu dort auf der Speisekarte!
Seife aus 100% natürlichen Inhaltsstoffen
verseifte, kaltgepresste Öle aus biologischem Anbau, Weizenprotein und Honig schützen und regenerieren die Haut
natürlich antibakteriell
parfümiert mit ätherischen Ölen, aus Pflanzen extrahiert
natürlich konserviert
Glasflasche mit Dispenserpumpe
produziert in der Soeder Seifenfabrik in Schwerzenbach, Schweiz
*Refill möglich in Bern & Zürich!
Brand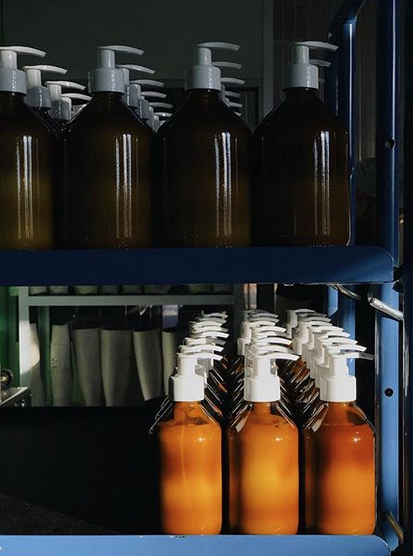 Soeder
Hinter Soeder* steckt ein kreatives Kollektiv, das eine sehr ähnliche Auffassung von Ästhetik und Ideologie der Nachhaltigkeit verbindet. Ihnen ist wichtig, welche Produkte sie selbst verwenden und erst recht, welche sie in ihren Läden sowie online verkaufen. Sie wollen zeitgemässe Entwürfe, die durch hohe Qualität, schlichtes Design und einfache Funktionalität unser Leben möglichst lange bereichern.
Da wir diese Ansicht mit dem Team von Soeder* teilen, freuen wir uns, ihr neues Steckenpferd, nämlich die in Zürich hergestellte Naturseife, bei uns im Sortiment zu führen.

Im Sinne unserer gängigen Produktionsweisen werden für die Seife nur biologische Bestandteile verwendet. So kommen ätherische Öle, destilliertes Wasser und Meersalz zum Einsatz, wobei Letzteres der Seife eine antibakterielle Wirkung verleiht. Die Seife besteht zu einem grossen Teil aus Glyzerin, was sie besonders feuchtigkeitsspendend macht. Für angenehme Pflege sorgen nachhaltiges Palmöl sowie natürliche Öle aus Kokos, Rizinus, Hanf, Olive und Jojoba. Honig aus dem Zürcher Oberland sowie Bio-Weizen werden für ihre regenerierende Wirkung beigefügt. Alle Inhaltsstoffe stammen aus kontrolliertem Anbau und sind Bio-zertifiziert.

Mehr zu Soeder Seifen HIER

Soeder* is a creative collective that shares a common sense for aesthetics and ecological ideology. "We care a lot about the products we buy and even more about the ones we sell at our stores and online. We're looking for contemporary design made from the best resources and items that are easily usable as well as long lasting. That's why we offer selected basics for everyday use and created inspiring places in Zurich's Kreis 4 and at Spalenberg in Basel where they are available. An increasing number of our products we design and produce ourselves. They are manufactured in Switzerland and all of Europe, by craftsmen that are among the best in their respective fields. That's why we enjoy working closely with them."