PI Project Luminaris Oaxaca Lampshade - Large Natural
Niedriger Bestand
SKU
LO2002.LUMINARIS.OAXACA_Beige
100% palm Lampshade - ø 45cm / H 32cm approx.
Electric system not included
Craftswomen from San Luis are celebrated for the quality of their work
and the ability of their goods to transcend space and time.
New ideas have emerged and together with the craftswomen,
PI Project have started a creative dialogue in order to create new handmade lampshades.
If their palm leaf baskets are mainly seen as functional elements,
the idea of making a lamp out of a basket has been well perceive.
Each one of them has responded to the challenge with an impressive range of work,
combining technical expertise and imaginative power, exploring new forms and styles.
« luminarias » reflect the identity and handcraft technique of each craftswoman.

100% Palme Lampenschirm - ø 45cm / H 32cm ca.
Elektrisches System nicht inbegriffen
Handwerkerinnen aus San Luis werden für die Qualität ihrer Arbeit gefeiert
und die Fähigkeit ihrer Güter, Raum und Zeit zu transzendieren.
Neue Ideen sind entstanden und gemeinsam mit den Handwerkerinnen,
PI-Projekt haben einen kreativen Dialog begonnen, um neue handgefertigte Lampenschirme zu schaffen.
Wenn ihre Palmblattkörbe hauptsächlich als funktionelle Elemente gesehen werden,
die Idee, aus einem Korb eine Lampe zu machen, ist gut angekommen.
Jeder einzelne von ihnen hat auf die Herausforderung mit einer beeindruckenden Bandbreite an Arbeiten geantwortet,
technische Kompetenz und Vorstellungskraft zu kombinieren und neue Formen und Stile zu erforschen.
Die " Luminarias " spiegeln die Identität und die handwerkliche Technik jeder einzelnen Handwerkerin wider.
Brand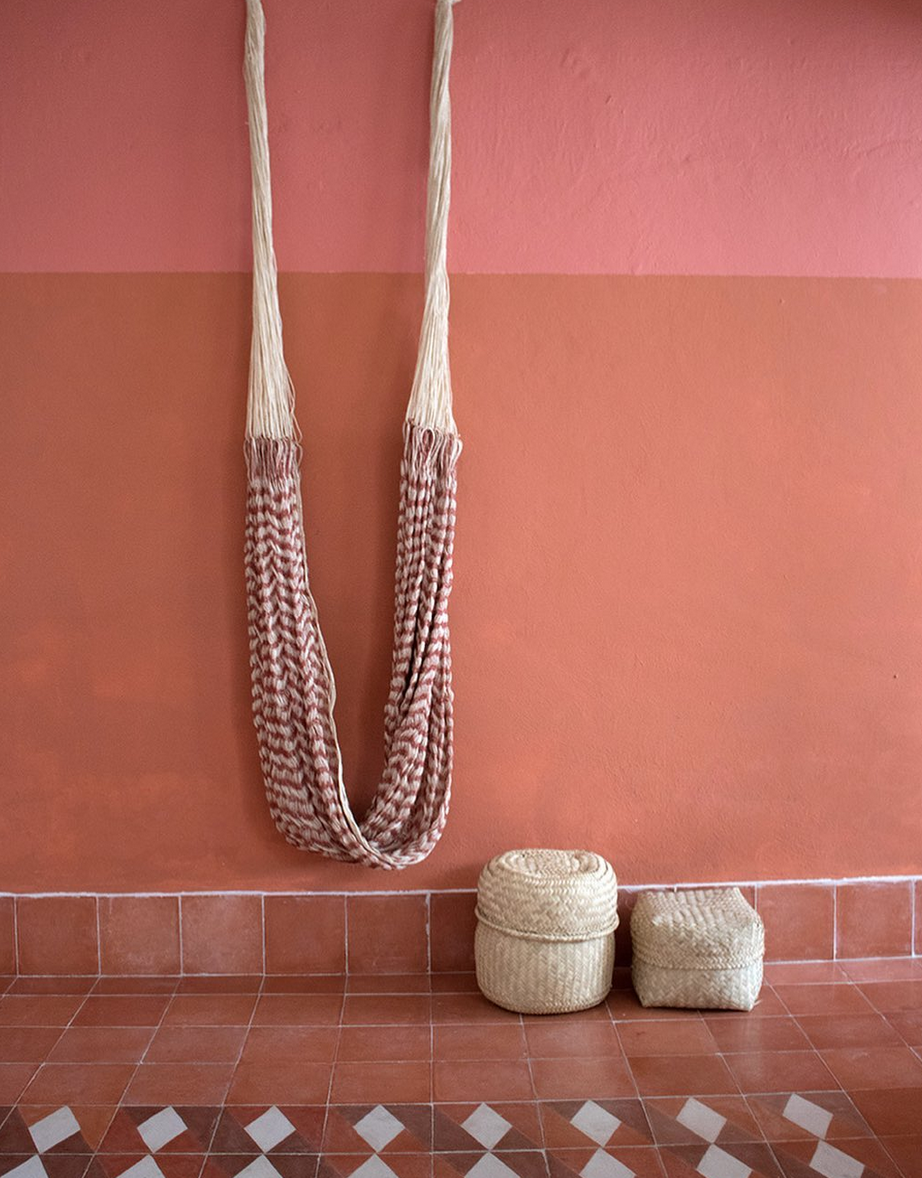 P.I Project
(EN) P.I. refers to "Intangible Heritage" (in spanish "Patrimonio Inmaterial") as a concept that involves knowledge and techniques inherited by generations which are crystallized in handcrafted pieces that express the talent of Mexican communities. We work with organized groups of Indigenous and Mestizo communities in Mexico, searching the essential knowledge that forge ethnic identity and resist the cultural standardization.

P.I.Project are a French-Mexican couple with experience in community development projects and heritage education. Fascinated by Mexico's multiculturalism, they seek to support and promote these communities and their unique handcrafted pieces.


(DE) P.I. bezeichnet "Immaterielles Erbe" (auf Spanisch "Patrimonio Inmaterial") als ein Konzept, das von Generationen geerbtes Wissen und Techniken beinhaltet, die sich in handgefertigten Stücken kristallisieren, die das Talent der mexikanischen Gemeinschaften zum Ausdruck bringen. Wir arbeiten mit organisierten Gruppen von indigenen und mestizischen Gemeinschaften in Mexiko zusammen und suchen das wesentliche Wissen, das die ethnische Identität schmiedet und sich der kulturellen Standardisierung widersetzt.

Bei P.I.Project handelt es sich um ein französisch-mexikanisches Ehepaar mit Erfahrung in Gemeindeentwicklungsprojekten und Erberziehung. Fasziniert von Mexikos Multikulturalismus, versuchen sie, diese Gemeinschaften und ihre einzigartigen handgefertigten Stücke zu unterstützen und zu fördern.