Petromax Hänge- Feuerschale / Hanging Fire Bowl
SKU
H.FS56.HAENGE.FEUERSCHALE
---
Made in Europe
Sustainable
Fair
Petromax cast iron is heavy! Extra shipping costs may occure after check out.
Pick up in Bern or Zürich is free :)
Petromax Gusseisen ist schwer! Es können zusätzliche Versandkosten nach dem Check-out anfallen.
Abholung in Bern oder Zürich ist kostenlos :)
In Kombination mit dem Petromax Dreibein garantiert saftige Bratergebnisse:
Die Hänge-Feuerschale wird einfach und direkt über eine Stab-Öse an den Haken
des Dreibeins angehangen und bietet viel Fläche für Fleisch, Gemüse & Co.
Die stählerne Schale Made in Germany kommt über
dem Feuer schnell auf die passende Temperatur und ist nach kurzer Zeit einsatzbereit.
Nach dem Prinzip der Petromax Grill- und Feuerschalen gehen die Speiseflüssigkeiten nicht verloren.
So gelingt die Zubereitung von besonders saftigen Filets oder
Burger Patties, Bratkartoffeln und Spiegelei ebenso gut wie buntes Grillgemüse in eigenem Sud.
Dank der unterschiedlichen Hitzezonen können Burger Buns oder fertiges Fleisch
am Rand warmgehalten werden, während in der Schalenmitte das Fleisch brät.
Der Abstand zum Feuer kann über die Kette passgenau reguliert werden
und so wird das Dreibein mit der Hänge-Feuerschale
zur leistungsstarken Draußen-Kochstelle für jede Gelegenheit.
Material Hänge-Feuerschale: Stahl
Durchmesser: 56 cm
Höhe (insgesamt): 28,7 cm
Gewicht (insgesamt): 6,4 kg

In combination with the Petromax tripod guarantees juicy frying results:
The hanging fire bowl is simply and directly attached to the hook via a rod eyelet
of the tripod and offers plenty of space for meat, vegetables & Co.
The steel bowl Made in Germany comes over
The fire quickly reaches the right temperature and is ready for use after a short time.
According to the principle of Petromax grill and fire bowls, the food liquids are not lost.
This makes it possible to prepare particularly juicy fillets or
Burger patties, fried potatoes and fried egg as well as colourful grilled vegetables in their own broth.
Thanks to the different heat zones, Burger Buns or ready-to-cook meat can be prepared in a variety of ways.
kept warm at the edge while the meat is roasting in the middle of the shell.
The distance to the fire can be regulated precisely via the chain
and so the tripod with the hanging fire bowl
to a powerful outdoor cooking unit for every occasion.
Material hanging fire bowl: steel
diameter: 56 cm
height (total): 28,7 cm
Weight (total): 6,4 kg
Brand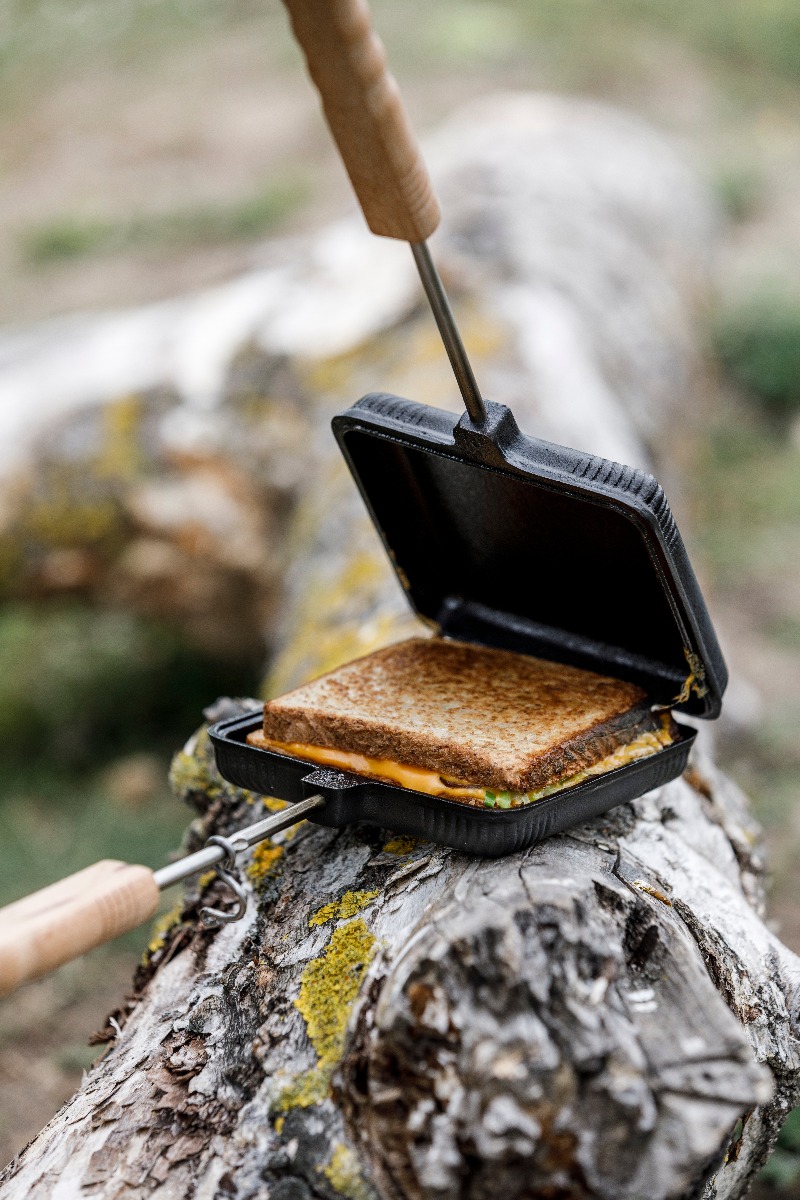 Petromax

(EN) The Petromax lamp was developed in 1910 by Max Graetz, who also gave the brand its name, on the basis of an already well-known incandescent spirit lamp. At a time when electricity was far from being available in every household, it was a great step forward to make such a bright light available and affordable for everyone. Graetz secured the rights to the name "Petromax", which was derived from "Petroleum Maxe", as his friends and confidants lovingly called him. Eventually, the lamp, in various designs, became a worldwide bestseller.
After a long break, the trademark rights are now in the hands of an innovative young company that has revived the production. The Petromax lamp is experiencing a renaissance that would certainly have made its inventor Max Graetz proud.
For some time now, the product portfolio has been expanded towards outdoor, bushcraft and survival, as well as camping and the lifestyle of outdoor life. We love the cast-iron cooking utensils in various designs, the barbecues and cooking plates.
The claim for the renewed Petromax brand: innovation, tradition and quality are both goal and motivation. This inspires us to continuously develop the Petromax brand and to introduce innovative ideas in the areas of outdoor cooking and camping life. Thus the Petromax team feels strengthened every day to make a contribution so that in the future adventurers and globetrotters will continue to come together in the light of Petromax products to report on their experiences.

(DE) Entwickelt wurde die Petromax Lampe 1910 von Max Graetz, der auch zum Namengeber der Marke wurde, auf der Grundlage einer bereits bekannten Spiritusglühlampe. Für die damalige Zeit, in der Elektrizität noch lange nicht in jedem Haushalt zur Verfügung stand, war es ein großer Fortschritt ein so helles Licht für jedermann verfügbar und erschwinglich zu machen. Graetz sicherte sich die Rechte am Namen "Petromax", der sich von "Petroleum Maxe" ableitete, wie ihn seine Freunde und Vertrauten liebevoll nannten. Schließlich wurde die Lampe, in unterschiedlichen Ausführungen, zum weltweiten Verkaufsschlager.
Nach einer lange Pause liegen die Markenrechte in den Händen einer Innovativen jungen Truppe die die Produktion wieder habe aufleben lassen. Die Petromax Lampe erlebt eine Renaissance, die ihren Erfinder Max Graetz sicher stolz gemacht hätte.
Seit einiger Zeit wurde Produktportfolios in Richtung Outdoor erweitert, Bushcraft und Survival, sowie Camping und den Lifestyle des Draußenlebens. Wir lieben die gusseisernen Kochutensilien in verschiedenen Ausführungen, die Grills und Kochstellen.
Der Anspruch für die erneuerte Marke Petromax: Innovation, Tradition und Qualität sind Ziel und Motivation zugleich. Dies inspiriert, die Marke Petromax stetig weiter zu entwickeln und innovative Ideen in den Bereichen Outdoor-Küche und Camping-Leben einzubringen. So fühlt sich das Team von Petromax täglich darin gestärkt darin einen Beitrag zu leisten, damit auch in Zukunft Abenteurer und Weltenbummler im Licht der Petromax Produkte zusammenkommen um über ihre Erlebnisse zu berichten.