Petromax - Dreibein-Ring / Tripod Lashing
---
Made in Europe
Sustainable
Fair
Tripod lashing set with hooks and chain
-Dreibein-Zurrset mit Haken und Kette
The Tripod Lashing is a versatile cooking and bush- craft tool:
combined with three long branches and the mounted hook with chain it becomes
a full- fledged cooking place on which one can easily hang Dutch Ovens and Tea Kettles.
In addition, the Tripod Lashing made of 3 mm stainless steel can also be used to build a tipi.
Thanks to the small packing size it fits into any backpack and is easily transported.
H xW x D 0.3 x 10.5 x 9.7 cm
Diameter of branches (max.) 3.5 cm
Overall length (with hook and chain) 80 cm
Material stainless steel, steel
Overall weight: 450 g
***
Der Dreibein-Ring ist ein vielseitiges Koch- und Bushcraft Werkzeug:
Kombiniert mit drei langen Ästen und eingeschraubtem Haken mit Kette wird er zur vollwertigen Kochstelle,
an der Feuertöpfe und Teekessel problemlos angehängt werden können.
Zusätzlich lässt sich der Dreibein-Ring aus 3 mm Edelstahl auch für den Bau z. B. eines Tipis verwen- den.
Dank des geringen Packmaßes passt das Set in jeden Rucksack
und ist leicht zu transportieren. Lieferung mit Kette und Haken.
H x B x T 0,3 x 10,5 x 9,7 cm
Durchmesser der Äste (max.) 3,5 cm
Gesamtlänge (mit Haken und Kette) 80 cm
Material: rostfreier Stahl, Stahl
Gesamtgewicht: 450 g
Brand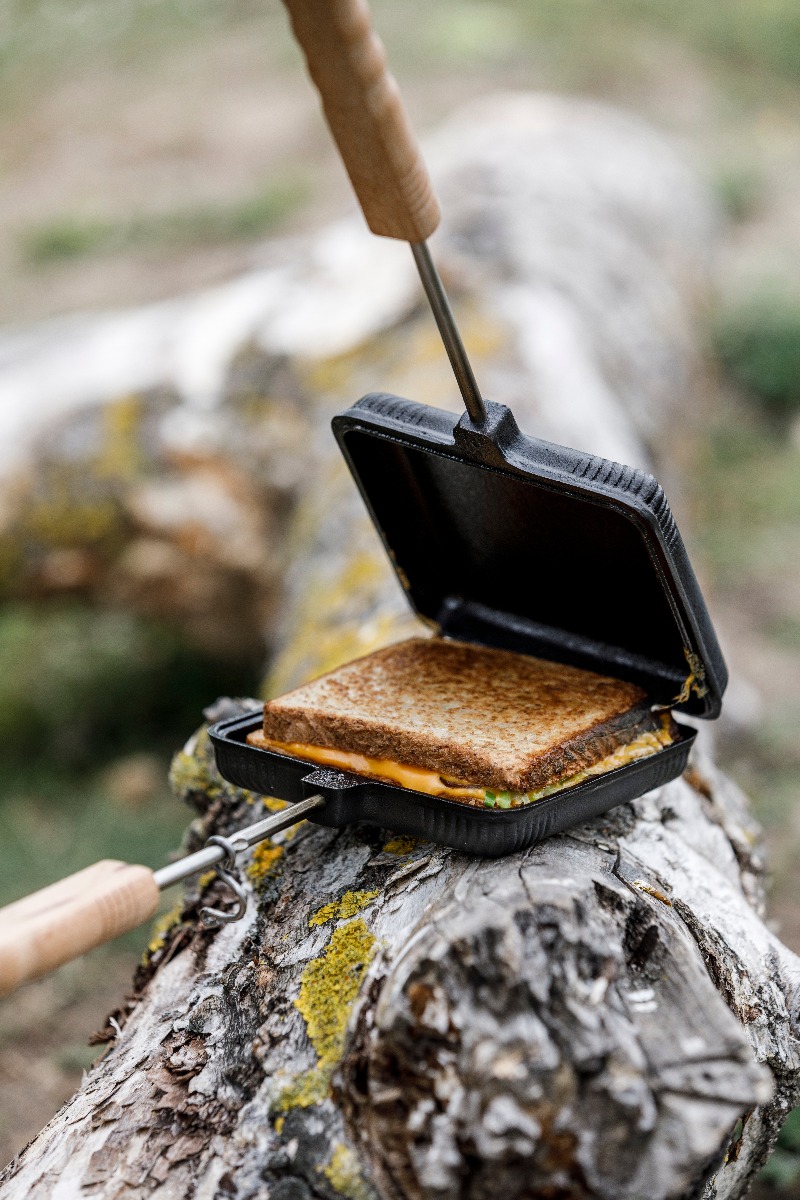 Petromax

(EN) The Petromax lamp was developed in 1910 by Max Graetz, who also gave the brand its name, on the basis of an already well-known incandescent spirit lamp. At a time when electricity was far from being available in every household, it was a great step forward to make such a bright light available and affordable for everyone. Graetz secured the rights to the name "Petromax", which was derived from "Petroleum Maxe", as his friends and confidants lovingly called him. Eventually, the lamp, in various designs, became a worldwide bestseller.
After a long break, the trademark rights are now in the hands of an innovative young company that has revived the production. The Petromax lamp is experiencing a renaissance that would certainly have made its inventor Max Graetz proud.
For some time now, the product portfolio has been expanded towards outdoor, bushcraft and survival, as well as camping and the lifestyle of outdoor life. We love the cast-iron cooking utensils in various designs, the barbecues and cooking plates.
The claim for the renewed Petromax brand: innovation, tradition and quality are both goal and motivation. This inspires us to continuously develop the Petromax brand and to introduce innovative ideas in the areas of outdoor cooking and camping life. Thus the Petromax team feels strengthened every day to make a contribution so that in the future adventurers and globetrotters will continue to come together in the light of Petromax products to report on their experiences.

(DE) Entwickelt wurde die Petromax Lampe 1910 von Max Graetz, der auch zum Namengeber der Marke wurde, auf der Grundlage einer bereits bekannten Spiritusglühlampe. Für die damalige Zeit, in der Elektrizität noch lange nicht in jedem Haushalt zur Verfügung stand, war es ein großer Fortschritt ein so helles Licht für jedermann verfügbar und erschwinglich zu machen. Graetz sicherte sich die Rechte am Namen "Petromax", der sich von "Petroleum Maxe" ableitete, wie ihn seine Freunde und Vertrauten liebevoll nannten. Schließlich wurde die Lampe, in unterschiedlichen Ausführungen, zum weltweiten Verkaufsschlager.
Nach einer lange Pause liegen die Markenrechte in den Händen einer Innovativen jungen Truppe die die Produktion wieder habe aufleben lassen. Die Petromax Lampe erlebt eine Renaissance, die ihren Erfinder Max Graetz sicher stolz gemacht hätte.
Seit einiger Zeit wurde Produktportfolios in Richtung Outdoor erweitert, Bushcraft und Survival, sowie Camping und den Lifestyle des Draußenlebens. Wir lieben die gusseisernen Kochutensilien in verschiedenen Ausführungen, die Grills und Kochstellen.
Der Anspruch für die erneuerte Marke Petromax: Innovation, Tradition und Qualität sind Ziel und Motivation zugleich. Dies inspiriert, die Marke Petromax stetig weiter zu entwickeln und innovative Ideen in den Bereichen Outdoor-Küche und Camping-Leben einzubringen. So fühlt sich das Team von Petromax täglich darin gestärkt darin einen Beitrag zu leisten, damit auch in Zukunft Abenteurer und Weltenbummler im Licht der Petromax Produkte zusammenkommen um über ihre Erlebnisse zu berichten.