Palmkörbe, Tenates de Palma aus Oaxaca Red M
ø 20cm / H 27 cm approx. - 100% natural palm
Pi Project ist ein franco-mexikanisches Ehepaar, das sich zum Ziel gemacht hat, lokale Gemeinschaften zu unterstützen und das lokale Handwerk zu erhalten. Sie arbeiten mehrheitlich mit den indigenen Mestizo-Gemeinschaften, die ihren einzigartigen Stil über Generationen entwickelt und bewahrt haben.
Tenates de Palma, Palmblätter, werden dank ihrer Flexibilität seit Jahrhunderten zum Flechten verwendet. Die Mixtec Gemeinschaft von San Luis Amatlan in Oaxaca flechtet seit Generationen Haushaltskörbe mit Deckel. Sie demonstrieren auf anschauliche Weise welch komplexe Muster mit diesen Palmblättern gewoben werden können. Die Körbe sind robust, leicht und vielseitig einsetzbar.
Brand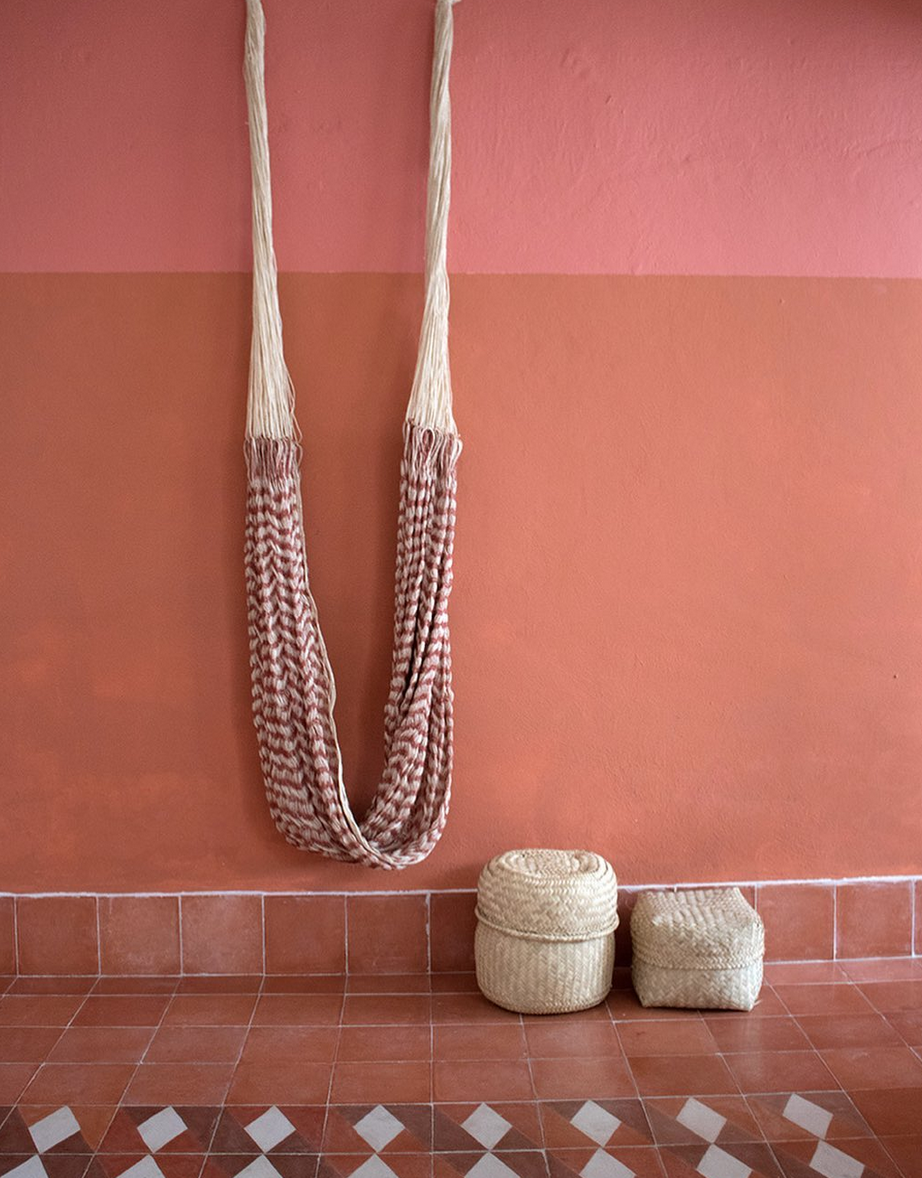 P.I Project
(EN) P.I. refers to "Intangible Heritage" (in spanish "Patrimonio Inmaterial") as a concept that involves knowledge and techniques inherited by generations which are crystallized in handcrafted pieces that express the talent of Mexican communities. We work with organized groups of Indigenous and Mestizo communities in Mexico, searching the essential knowledge that forge ethnic identity and resist the cultural standardization.

P.I.Project are a French-Mexican couple with experience in community development projects and heritage education. Fascinated by Mexico's multiculturalism, they seek to support and promote these communities and their unique handcrafted pieces.


(DE) P.I. bezeichnet "Immaterielles Erbe" (auf Spanisch "Patrimonio Inmaterial") als ein Konzept, das von Generationen geerbtes Wissen und Techniken beinhaltet, die sich in handgefertigten Stücken kristallisieren, die das Talent der mexikanischen Gemeinschaften zum Ausdruck bringen. Wir arbeiten mit organisierten Gruppen von indigenen und mestizischen Gemeinschaften in Mexiko zusammen und suchen das wesentliche Wissen, das die ethnische Identität schmiedet und sich der kulturellen Standardisierung widersetzt.

Bei P.I.Project handelt es sich um ein französisch-mexikanisches Ehepaar mit Erfahrung in Gemeindeentwicklungsprojekten und Erberziehung. Fasziniert von Mexikos Multikulturalismus, versuchen sie, diese Gemeinschaften und ihre einzigartigen handgefertigten Stücke zu unterstützen und zu fördern.