Nutscene Candy Twist Twine Black & White 50m
Niedriger Bestand
SKU
CT.CANDY.TWIST.TINES.50MT_*_BLACK-WHITE
---
Plastic free
Made in Europe
Sustainable
Small Producer
These small spools of Candy Twist Twines
are brilliant for craft projects,
gift wrapping, household or even garden use.
Let your creative juices flow and enter our world
of colourful Baker's Twines™, made in the UK.
Try out Candy Twist Twines when making friendship bracelets,
string pictures or card-making they
are also great for gift wrapping or
for the use in Christmas decorations.
Add some of this fantastic twine to your stash today!

Diese kleinen Spulen mit Candy Twist Zwirnen
eignen sich hervorragend für handwerkliche Projekte,
Geschenkverpackung, Haushalts-
oder sogar Gartengebrauch.
Lassen Sie Ihre kreativen Säfte fließen
und betreten Sie unsere Welt
von farbenfrohen Baker's Twines™, hergestellt in Großbritannien.
Probieren Sie Candy Twist Twins aus,
wenn Sie Freundschaftsarmbänder herstellen,
String-Bilder oder deren Kartenherstellung
eignen sich auch hervorragend zum Verpacken von Geschenken oder
für die Verwendung in der Weihnachtsdekoration.
Fügen Sie noch heute etwas von
diesem fantastischen Garn zu Ihrem Vorrat hinzu!
Brand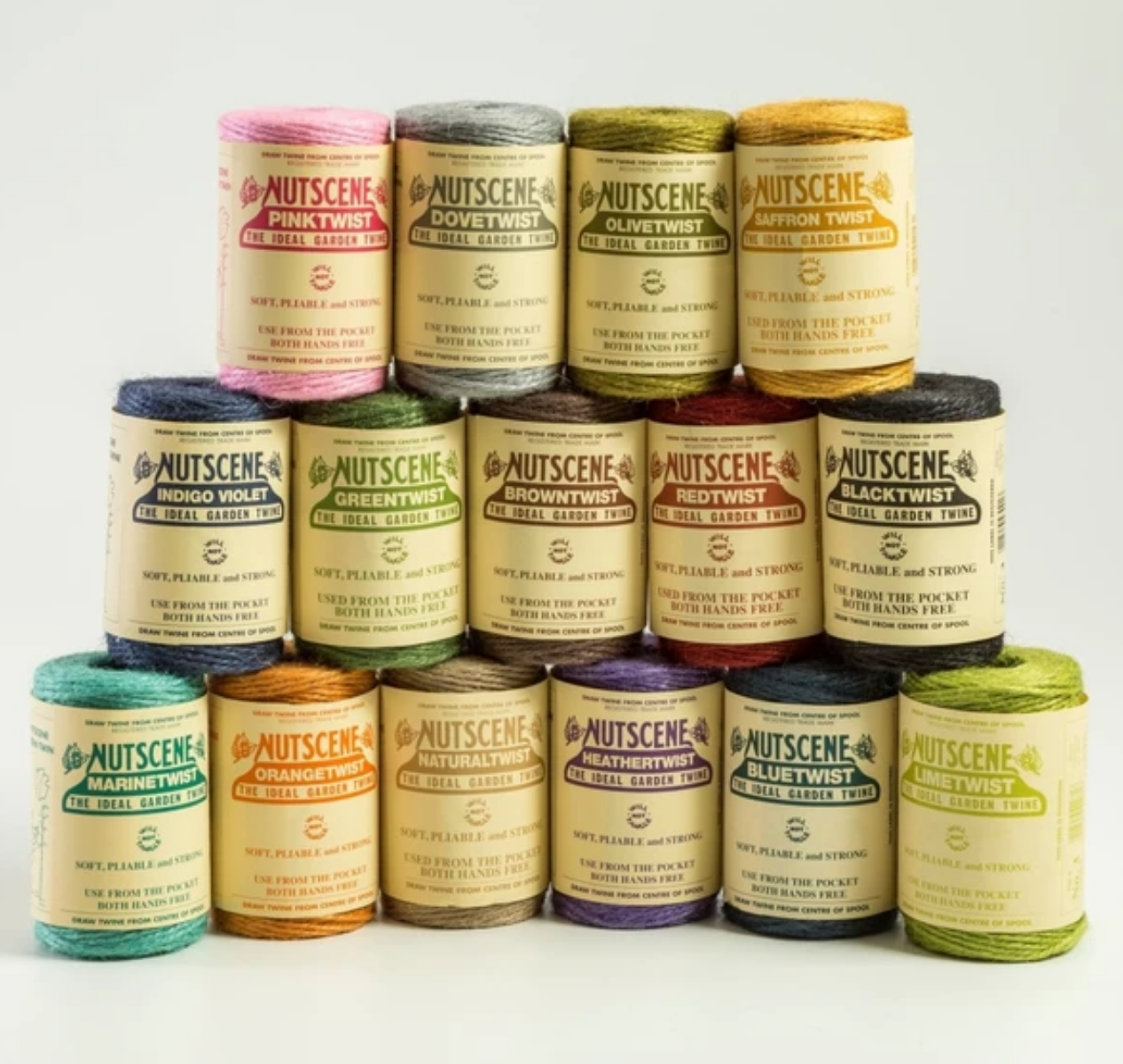 Nutscene Twines
(EN) The Company-Nutscene Twines Ltd
The Company-Nutscene Twines Ltd, Produces the Nutscene brand with pride. The patented "Greentwist" centre pull lock tie spool of twine was first produced in Dundee, Scotland. When this wonderful green twine was used to tie up plants it was, of course, 'not seen' giving rise to "Nutscene!"
Nutscene are very much seen today, with an offering of 22 colours of Jute twine, we like to call the offering a twine fest!
Today, Nutscene is located a short drive away from the city of Dundee, in the rural county of Angus. Still using the original machinery first used by them back in 1922, Nutscene still produces its own range of high quality garden twines and employs local people to do so.
In recent years Nutscene has continued to pride itself in product development and innovation. In 1999, Nutscene first launched a wonderful range of high quality design-led giftware for gardeners, and it was at this time that the iconic "Tin of' Twine™" was first showcased. It now sells worldwide and has remained just as popular as it first did on its launch date.
Ethically sourced materials, from sustainable crops. Jute in particular is an environmentally beneficial crop, Rain fed, fast growing , will grow on wastelands and improves the soil for future crops, it also reduces CO2.
The offering of products has grown significantly since that first launch, and its popularity increases-across the globe.
Nutscene's eclectic range of practical gifts utilises natural materials where possible, incorporating FSC wood, Biodegradable jute and recylced cotton twines.

(EN) Nutscene Twines Ltd
Die Firma Nutscene Twines Ltd. produziert mit Stolz die Marke Nutscene. Die patentierte "Greentwist"-Spule mit Mittelzugverschluss wurde zuerst in Dundee, Schottland, hergestellt. Als dieser wunderbare grüne Zwirn zum Binden von Pflanzen verwendet wurde, wurde er natürlich "nicht gesehen", was zu "Nutscene" führte!
Nutscene sind heute sehr häufig zu sehen, mit einem Angebot von 22 Farben Jutegarn, wir nennen das Angebot gerne ein Garnfest!
Heute befindet sich Nutscene nur eine kurze Autofahrt von der Stadt Dundee entfernt in der ländlichen Grafschaft Angus. Nutscene verwendet noch immer die ursprünglichen Maschinen, die 1922 zum ersten Mal eingesetzt wurden, und produziert immer noch seine eigene Palette hochwertiger Gartenzwirne und beschäftigt dafür einheimische Mitarbeiter.
In den letzten Jahren war Nutscene weiterhin stolz auf seine Produktentwicklung und Innovation. 1999 brachte Nutscene zum ersten Mal ein wunderbares Sortiment hochwertiger, designorientierter Geschenkartikel für Gärtner auf den Markt, und zu dieser Zeit wurde auch die ikonische "Tin of' Twine™" zum ersten Mal vorgestellt. Sie verkauft sich heute weltweit und ist genauso beliebt wie zu ihrem Einführungsdatum.
Materialien aus ethisch vertretbarer Herkunft, von nachhaltigen Nutzpflanzen. Vor allem Jute ist eine umweltfreundliche Kulturpflanze, die durch Regen gefüttert wird, schnell wächst, auf Ödland wächst und den Boden für zukünftige Kulturen verbessert, außerdem reduziert sie CO2.
Das Angebot an Produkten hat seit dieser ersten Einführung erheblich zugenommen, und seine Popularität nimmt zu - weltweit.
Nutscene's eklektische Palette praktischer Geschenke verwendet, wo immer möglich, natürliche Materialien, wie FSC-Holz, biologisch abbaubare Jute und recycelte Baumwollzwirne.

Übersetzt mit www.DeepL.com/Translator (kostenlose Version)