Notem UMA Notebook, Small - Dark Green
Niedriger Bestand
SKU
0201011.UMA.FLAT.LAY.A6_GruenDunkel
---
Made in Europe
Fair
Small Producer
This small UMA notebook is a size A6,
so it fits right in to your pocket.
The open notebook presents lined sheets
- leaving space for ideas, to do's and notes on the go.
The notebook is made with a flat-lay binding;
it is sown along the back so that, when open,
the notebook presents a perfectly flat surface,
with a seamless transition between left and right.
Contents:
Notes
Size: 105 x 148 mm
Colour: Dark Green
Interior: 160 pages / Notes (ruled)
Exterior: Waterproof softcover

Dieses kleine UMA-Notebook hat die Größe A6,
damit er in Ihre Tasche passt.
Das geöffnete Notizbuch präsentiert linierte Blätter
- Raum für Ideen, Do's und Notizen für unterwegs lassen.
Das Notizbuch ist mit einem Flat-Lay-Band gebunden;
Er ist auf der Rückseite entlang genäht, so dass er, wenn er geöffnet ist,
das Notizbuch eine perfekt flache Oberfläche aufweist,
mit einem nahtlosen Übergang zwischen links und rechts.
Der Inhalt des Notizbuchs:
Anmerkungen
Format: 105 x 148 mm
Farbe: Dunkelgrün
Innen: 160 Seiten / Anmerkungen (liniert)
Äußeres: Wasserdichtes Softcover
Brand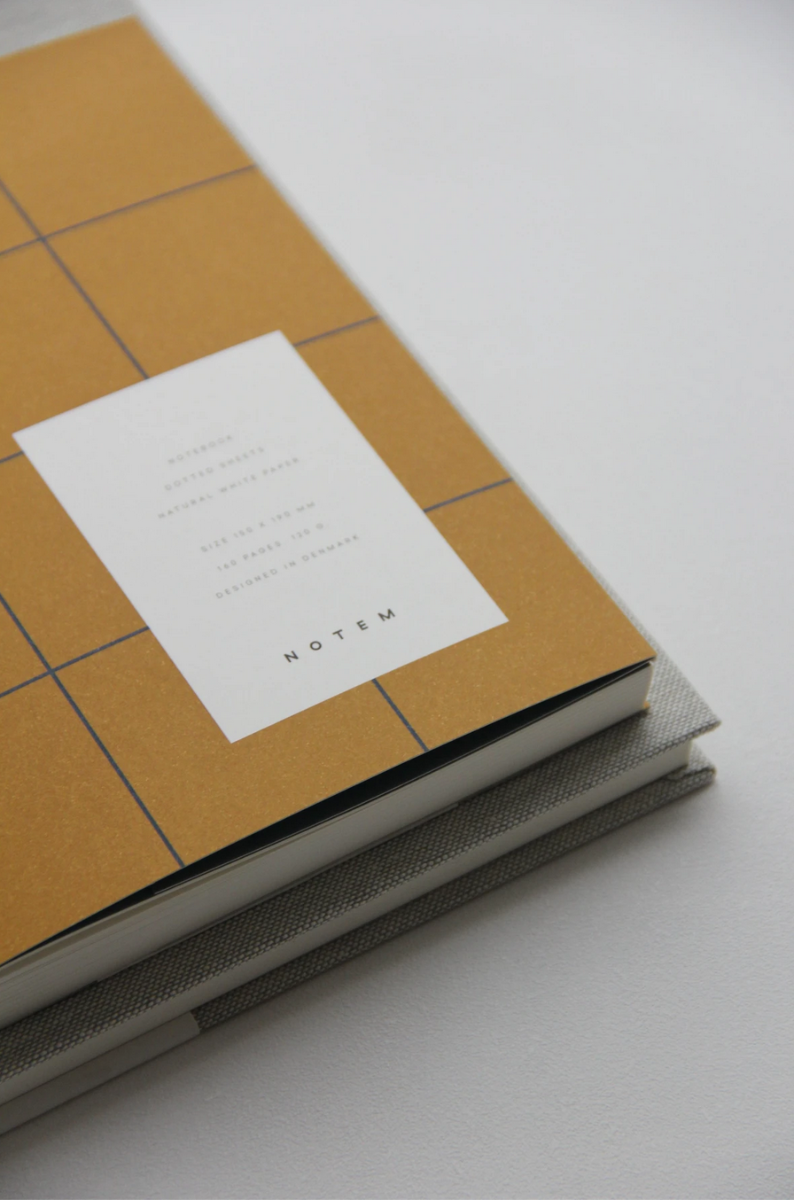 Notem
(EN) NOTEM reflects a straightforward and functional approach to design. Rooted in the Scandinavian
design tradition of space and light, our products are simple, aesthetic and easy to use.
The NOTEM collection is a result of a comprehensive exploration of the intrinsic purpose of
every single product.
We are inspired by human nature, by the way we keep track of things, by our sense of time
and our memory. It is our mission to make paper add new value to your daily habits and
your everyday tasks.
NOTEM was established in 2017 in Copenhagen. All products are designed in Denmark and
manufactured using the best quality Scandinavian paper.
(DE) NOTEM spiegelt einen geradlinigen und funktionalen Ansatz für das Design wider. Verwurzelt in der skandinavischen
Design-Tradition von Raum und Licht, unsere Produkte sind einfach, ästhetisch und leicht zu bedienen.
Die NOTEM-Kollektion ist das Ergebnis einer umfassenden Erforschung des eigentlichen Zwecks von
jedes einzelne Produkt.
Wir lassen uns von der menschlichen Natur inspirieren, von der Art und Weise, wie wir die Dinge verfolgen, von unserem Zeitgefühl.
und unser Gedächtnis. Unsere Mission ist es, Papier zu einem neuen Wert für Ihre täglichen Gewohnheiten und
Ihre täglichen Aufgaben.
NOTEM wurde 2017 in Kopenhagen gegründet. Alle Produkte werden in Dänemark entwickelt und
hergestellt unter Verwendung des besten skandinavischen Qualitätspapiers.