Nilamaye: Las Flores Del Sol

A contemporary group, but one that draws upon a huge tradition of Afro-Colombian sounds – pulled together by its members through travels that have taken them through all the many different regions of their diverse nation, and served up in a very spare style that mostly just features voice and percussion! Instrumentation includes totuma, guasa, llamador, alegre, and marimbas – and the presentation is wonderfully without cliche – no easy world music cash-in, and instead just a superbly-recorded document of the richly-intertwining cultures that have taken place in the centuries of African influence in Colombia. Titles include "Tierra", "La Sirenita", "El Manguito", "La Plegaria", "Regresa Pues", and "La Juga Del Nazareno".
Brand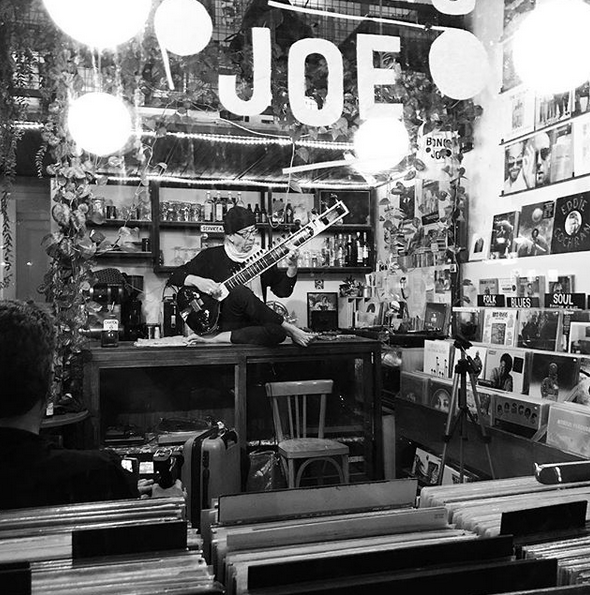 Bongo Joe
In der selben Tradition wie Honest Jon's aus London steht auch der 2013 gegründete Record Shop Bongo Joe in Genf. Nebst einer grossartigen Auswahl an musikalischen Leckerbissen dient Bongo Joe mit seiner Terrasse und einer Bar mit seinem monatlichem Programm auch als Treffpunkt für Musikliebhaber. Das Label bringt immer wieder grossartige Platten auf den Markt, von anatomischem Psych-Pop bis afro-kubanischem Space Sound.
EN: The Record Shop Bongo Joe in Geneva, founded in 2013, follows the same tradition as Honest Jon's from London. In addition to a great selection of musical gems, Bongo Joe, with its terrace and bar, also serves as a gathering place for music lovers with a monthly programme. The label regularly releases great records, from anatomical psych-pop to Afro-Cuban space sound.