Mississippi Records Grabbag Mixed Tapes Cassette
SKU
GRABBAG.MIXED.MIXTAPES
Mississippi Grab Bags Cassettes - the best thing that ever happened ( to the writter )
The Mississippi tape series began in 2005. Karen Antunes, who worked the counter at the Mississippi shop, suggested the idea to Eric Isaacson, owner of the Mississippi shop and label at the time. Karen thought customers at the shop would enjoy some mix's based on the esthetics of the record store. Eric thought this was an incredibly weird idea - who would want to pay for a mix tape?

When Eric was a kid growing up in LA, all the latchkey kids roamed the streets in packs picking up garbage and causing trouble. They all had specialties, such as pornography, half eaten candy bars and so on, and they would trade among each other. Eric's pack consisted of just him and his best friend Doug. Doug was big on picking up cigarette butts for smoking and anything else that stunk of sin. Eric was very geared towards finding cassette tapes. It was strange - there was an enormous amount of discarded cassettes on the streets of LA in the early 1980's. Folks just tossed them out of their car windows once they were sick of them.
Eric's dad taught him the trick where you could take a manufactured cassette not meant to be taped over, cover one hole on the top with scotch tape, and then use the cassette as a blank. Eric would lay in bed curled up with my boom box the way most kids curled up with a teddy bear and insert whatever tape he found that day in it. With his left hand he would toggle the radio dial and his right hand would be poised above the record button, ready to strike if a song he liked came on. He made a massive amount of mix tapes this way - always just getting partial recordings of the songs.
Mostly Eric taped classic rock and oldies. He hated saxophone solo's, so he would go back over the tapes, time out the length of the sax solo and then record over it with his own scat singing. Eric actually thought this was improving the songs at the time. No humor was intended.
Eric continued to make tapes throughout his life. Whenever he met someone with an interesting record collection, he would go over to their house with his tape deck, systematically go through their records and record every song that appealed to him. Eric could not afford to blow money on records himself, so he never had much of a collection, but his mix tape archive grew pretty healthy.

Back to 2005. Karen kept insisting that selling mix tapes would be the salvation of the record store and Eric kept on poo pooing the idea. One day a nice customer named Ben came in the shop and handed Eric a beautiful mono multiple tape duping unit. Eric had never seen one before and was fascinated as Ben showed him how easy and fast it could be to duplicate tapes en masse. Ben gave Eric the machine free of charge with the same idea as Karen - A Mississippi Records tape series. That night Eric went home with the machine. He decided to try an experiment. Eric got some whiskey, and sat in his room and made 5 mix tapes in one night. Eric did this in 12 hours at home making the first 5 Mississippi Records cassettes - drawing the covers as he made the tapes. He used the duper to make 5 copies of each (Eric had 25 blanks at home, so this was the O.G run by default.) The next morning Eric drove to kinkos and xerox'd the covers. When he arrived at the record store for his shift, he cutout the covers, folded them and placed the tapes inside. Eric put them on a shelf next to the counter and priced them at $3. Sure enough, they sold out by the end of the day! People seemed weirdly excited about these shoddily made mix's.
The series continued to grow pretty rapidly. Eric started tapping store employees and customers at the shop who had good taste to make mixes. As a result of their efforts, some of the best titles came to be (Men With Broken Hearts, Petrified Like Stone, It Happened, Samba Trista, the Halloween series, Spirit Haunted Water, and so on). Of the tapes Eric produced, many of the early ones filled him with shame. They are sloppy affairs with some mediocre choices based on what records happened to have on hand that week. Eric had never been much of a record collector, so the tapes are based largely on what happens to come through the Mississippi Records shop at the time of making the tape!
The tapes produced for the series, are all based on very honest emotions. Eric was absolutely feeling every song on them as they were recorded. Eric never approached a tape as a historical survey of a given genre. The tapes were always a very personal diary. Eric opted to never go back and "fix" tapes he was ashamed of.He did not want to be like George Lucas and go back and make Han shoot second, even though it makes him look better. The damage was done and the tapes were what they were. The past is past so let the lying lie and the dying die. Eric is overall proud of the series and, more than that, honored that people seem to like these tapes a lot and actually listen to them.
A NOTE ON CASSETTE SERIES CATALOG NUMBERS, MISSING TAPES, ODDITIES AND THE ETHERIAL NATURE OF ALL THINGS
The tape series totals at around 131 releases at this writing. Of those, a good 40 of these are near impossible to find. 4 were re-purposed as part of the Little Axe Cassette series after Warren, founder of Little Axe, split off from the Mississippi label and started his own company. You can still purchase these from the Little Axe website (http://littleaxerecords.com)
Some of the tape series were produced in very small editions as give aways at special events. The Portland Museum of Modern Art tape was made for their booth at the NY Art book fair. The "Thing" tape was produced for a Mississippi event at their gallery. 3 tapes were made as giveaways for the Mississippi Records "Bad Vibe Dispelling Party". Their was a Japanese only tape with a fancy gold cover printed by Stumptown Printers. There's even one tape that was produced only as a give away for employees of the ill fated Mississippi cover making factory ( Titled "What have I done? - Music to manufacture record covers too").
Some tapes have been deleted from the series due to the master being lost and some were deleted because they just felt unnecessary, even by our low standards.
Catalog numbers are an absolute mess, with many tapes sharing the same catalog number and some missing completely from the series. Honestly, we cannot remember what some of the missing tapes were. It is therefore near impossible to collect a "complete" series of the Mississippi Tapes. Who has seen the wind?
Brand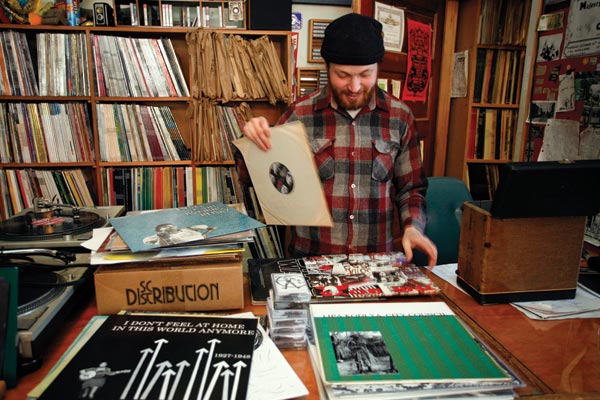 Mississippi Records
Selber waren wir leider noch nie bei Mississippi Records aber das Label hat sich in den letzten 12 Jahren ein Namen gemacht durch Veröffentlichungen von obskuren Raritäten, wunderbaren Blues & Folk Reissues und sensationellen Mix-Kasetten. Allesamt mit den grossartigsten Covers überhaupt. Mississippi Records-Releases werden nur auf Vinyl und oft in kleinsten Stückzahlen veröffentlicht.
EN: Unfortunately we have never been there ourselves at Mississippi Records but the label has made a name for itself over the past 12 years with releases of obscure rarities, wonderful Blues & Folk Reissues and sensational mix tapes. All with the greatest covers ever. Mississippi Records are released on vinyl only and often in small quantities.