Mississipi Records / Marissa Anderson : Mercury LP
Niedriger Bestand
SKU
MRP049.MARISA.ANDERSON.MERCURY
Mercury is the brilliant new album of acoustic and electric whirlwinds from Portland, Ore., guitarist Marisa Anderson. Through its 16 tracks, Anderson unfolds as a master of stylistic swivels, pushing from steady-handed blues staggers to open-road pontifications, from understated ragas to psychedelic meditations with a deliberate quality that belies the record's title. She's a fleet, dexterous picker with a broad sense of what her guitar can do...Pitchfork.com May 10 2013 THREE THINGS will happen when you listen to Marisa Anderson's Mercury: you'll instantly get used to it, you'll never get tired of it, and you'll be flooded by your own personal filmstrip of dusty roads, rusty trains, craggy mountains, and weathered faces. -Portland Mercury June 2013 Applying classical technique to a boundless creative imagination and a deep reverence for American folk, blues and country music, Marisa Anderson's guitar playing is fluid, emotional, dexterous and original. Signal to Noise magazine calls Anderson's guitar work "Utterly fabulous", and Time Out London referred to her playing as "Stunning...haunting and evocative". On 'Mercury', out June 5 on Mississippi Records, Anderson channels the history of the guitar and stretches the boundaries of tradition. 'Mercury' picks up where Anderson's acclaimed record 'The Golden Hour' leaves off, featuring sixteen compositions for solo guitar and lap steel, recorded live in single takes, with no overdubs, looping or electronic layering. In the past two years, Anderson's music has landed her festival appearances in Europe and the United States and opening slots for artists including Sharon Van Etten, Daniel Higgs and Thao and Mirah. Before landing in Portland in the late nineties, Anderson dropped out of college at age nineteen to walk across the United States and didn't stop traveling for fifteen years. "Mercury" is a direct result of Anderson's peripatetic existence, reflecting years of living in cars, tents and buses, traveling to Mexico with a circus, walking, hitchhiking and playing guitar.
Brand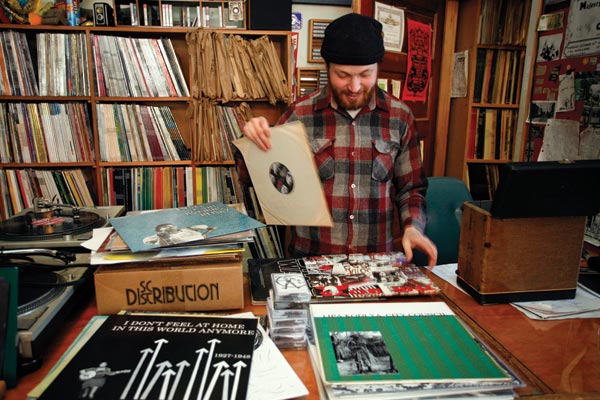 Mississippi Records
Selber waren wir leider noch nie bei Mississippi Records aber das Label hat sich in den letzten 12 Jahren ein Namen gemacht durch Veröffentlichungen von obskuren Raritäten, wunderbaren Blues & Folk Reissues und sensationellen Mix-Kasetten. Allesamt mit den grossartigsten Covers überhaupt. Mississippi Records-Releases werden nur auf Vinyl und oft in kleinsten Stückzahlen veröffentlicht.
EN: Unfortunately we have never been there ourselves at Mississippi Records but the label has made a name for itself over the past 12 years with releases of obscure rarities, wonderful Blues & Folk Reissues and sensational mix tapes. All with the greatest covers ever. Mississippi Records are released on vinyl only and often in small quantities.