Liliput - First Songs 2xLP
SKU
MRP102.KLEENEX.LILIPUT.2XLP
Liliput - First Songs 2xLP
Legendary Swiss punk band from the late 70s. 30th anniversary reissue. 2xLP in a gatefold sleeve.
"You can't dispute Liliput's status as pioneers of feminist art-punk. Along with fellow travelers like the Slits and the Raincoats, this (mostly) female Swiss group took advantage of punk's anything-goes attitude and created jittery, spirited pop that was both in step with the times and completely singular. The early material is a riot of exuberant energy, taking stylistic cues from peers like Gang of Four and Wire— propulsive bass, skittering pop rhythms, slashing guitars— and adding distinctive overlapping vocal patterns, which are sung, shrieked, and hiccupped in three languages and made- up dadaistic slang. More than 20 years on, it still sounds fresh." - Lisa Gidley
Co-release with Water Wing and Kill Rock Stars. Liner notes by Greil Marcus.

Liliput - First Songs 2xLP
Legendäre Schweizer Punkband aus den späten 70ern. Wiederveröffentlichung zum 30-jährigen Jubiläum. 2xLP im Gatefold-Sleeve.
"Der Status von Liliput als Pioniere des feministischen Art-Punk ist unbestritten. Zusammen mit Weggefährten wie den Slits und den Raincoats nutzte diese (meist) weibliche Schweizer Gruppe die Alles-ist-gut-Attitüde des Punks und schuf einen aufgeregten, temperamentvollen Pop, der sowohl mit der Zeit ging als auch völlig einzigartig war. Das frühe Material ist ein Feuerwerk an überschäumender Energie, das stilistische Anleihen bei Gang of Four und Wire nimmt - treibende Bässe, flirrende Pop-Rhythmen, schmetternde Gitarren - und unverwechselbare, sich überschneidende Gesangsmuster hinzufügt, die in drei Sprachen und erfundenem dadaistischem Slang gesungen, gekreischt und geschluckt werden. Mehr als 20 Jahre später klingt das immer noch frisch. - Lisa Gidley
Co-Veröffentlichung mit Water Wing und Kill Rock Stars. Linernotes von Greil Marcus.
Brand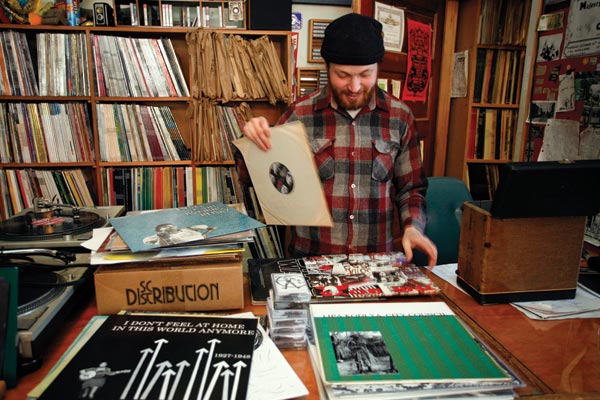 Mississippi Records
Selber waren wir leider noch nie bei Mississippi Records aber das Label hat sich in den letzten 12 Jahren ein Namen gemacht durch Veröffentlichungen von obskuren Raritäten, wunderbaren Blues & Folk Reissues und sensationellen Mix-Kasetten. Allesamt mit den grossartigsten Covers überhaupt. Mississippi Records-Releases werden nur auf Vinyl und oft in kleinsten Stückzahlen veröffentlicht.
EN: Unfortunately we have never been there ourselves at Mississippi Records but the label has made a name for itself over the past 12 years with releases of obscure rarities, wonderful Blues & Folk Reissues and sensational mix tapes. All with the greatest covers ever. Mississippi Records are released on vinyl only and often in small quantities.