SKU
MRI126.WALLAHI.LE.ZEIN.LP
Wallahi Le Zein! LP
Originally released as a double CD in 2010, Wallahi Le Zein! has persisted as a cult classic, a collection of a rarely heard and utterly unique underground music scene, raw and unfiltered.
The LP, cassette & digital version we now present is intended as an immersive entry into this music: gnarled and virtuosic electric guitars weave hypnotically throughout melismatic sung poetry and exclamations, pulsing hand drums, party chatter, buzzing rigged desert sound systems, and all manner of the ambient sounds of Nouakchott wedded to oversaturated cassette in all its swirling, breathing, psychedelic glory.
Operating entirely outside of any local recording industry, these songs were collected from bootleg tape stalls, wedding souveniers, and networks of musicians, expertly curated, researched and produced by Matthew Lavoie.
Drawing from the deep well of Mauritanian classical music, the gamut of musical modes and the tidinitt lute repertoire are transposed to the electric guitar - often with frets removed or additional frets installed, "heavy metal" distortion pedals and phasers built into guitar bodies, blurring the lines between Haratine and Beydane musical cultures, the ancient and the futuristic.
At times transcendent and transfixing, and conversely a furious and cascading intensity that commands jaw-dropping attention.
160 gram black vinyl LP comes packaged in 2 color, reverse-board jacket with 8 page booklet with extensive notes on the musicians and songs, as well as a history of Mauritanian guitar music.

Wallahi Le Zein! LP
Ursprünglich als Doppel-CD im Jahr 2010 veröffentlicht, ist Wallahi Le Zein! bis heute ein Kult-Klassiker, eine Sammlung einer selten gehörten und absolut einzigartigen Underground-Musikszene, roh und ungefiltert.
Die LP, Kassette und digitale Version, die wir nun präsentieren, ist als immersiver Einstieg in diese Musik gedacht: knorrige und virtuose E-Gitarren verweben sich hypnotisch mit melismatisch gesungener Poesie und Ausrufen, pulsierenden Handtrommeln, Partygeschwätz, summenden, aufgetakelten Wüsten-Soundsystemen und allen Arten von Umgebungsgeräuschen von Nouakchott, die in all ihrer wirbelnden, atmenden, psychedelischen Pracht auf eine übersättigte Kassette gepresst wurden.
Völlig losgelöst von der lokalen Aufnahmeindustrie wurden diese Songs von Raubkopierern, Hochzeitssouvenirs und Musikernetzwerken gesammelt und von Matthew Lavoie fachmännisch zusammengestellt, recherchiert und produziert.
Aus dem tiefen Brunnen der klassischen mauretanischen Musik schöpfend, werden die Bandbreite der musikalischen Modi und das Repertoire der Tidinitt-Laute auf die E-Gitarre übertragen - oft mit entfernten oder zusätzlichen Bünden, "Heavy Metal"-Verzerrern und Phasern, die in die Gitarrenkörper eingebaut sind, wodurch die Grenzen zwischen den Musikkulturen der Haratine und der Beydane, dem Alten und dem Futuristischen verwischt werden.
Manchmal transzendent und fesselnd, dann wieder von wütender und kaskadenartiger Intensität, die einem den Atem raubt.
Die 160 Gramm schwere schwarze Vinyl-LP kommt in einem zweifarbigen Reverse-Board-Jacket mit einem 8-seitigen Booklet mit ausführlichen Anmerkungen zu den Musikern und Songs sowie einer Geschichte der mauretanischen Gitarrenmusik.
Brand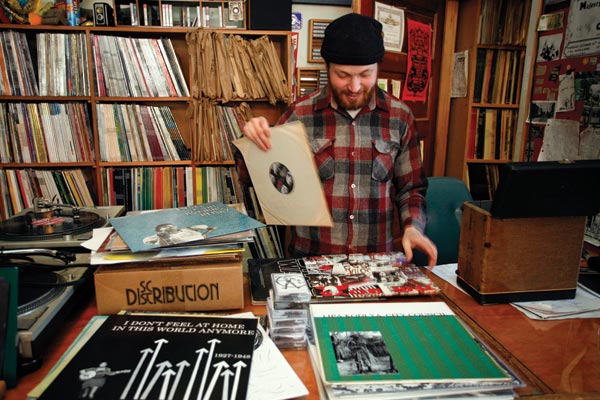 Mississippi Records
Selber waren wir leider noch nie bei Mississippi Records aber das Label hat sich in den letzten 12 Jahren ein Namen gemacht durch Veröffentlichungen von obskuren Raritäten, wunderbaren Blues & Folk Reissues und sensationellen Mix-Kasetten. Allesamt mit den grossartigsten Covers überhaupt. Mississippi Records-Releases werden nur auf Vinyl und oft in kleinsten Stückzahlen veröffentlicht.
EN: Unfortunately we have never been there ourselves at Mississippi Records but the label has made a name for itself over the past 12 years with releases of obscure rarities, wonderful Blues & Folk Reissues and sensational mix tapes. All with the greatest covers ever. Mississippi Records are released on vinyl only and often in small quantities.