LAR Wool Scarf Saharantrip Brown 140 x 140 cm
Niedriger Bestand
SKU
LARCW0008.SAHARANTRIP.CAMEL_Braun-Hell
---
Sustainable
Made in Europe
Fair
Saharantrip:
"I wanted to meet an alchemist, on the bumps of the sands.
I wanted to point my magical finger to draw the curves
of the landscape with smooth infinity of sands.
I wanted to ride camels with 100 humps.
I wanted magic!"
+Colour: Brown
+140x140 cm Wool Scarf
All of LAR Studio's products are illustrated by hand by Laris Kilimci.
Transferred digitally and produced
in small amounts ethically in hometown Turkey.
The corners are hand hemmed by local woman
textile workers that work in %100 ethical conditions.
%100 Crepe de Chine: A matte alternative of silk fabrics
that you can wear easily in your daily combinations.
Dry Cleaning Only for durability.
Sahara-Reise:
"Ich wollte einen Alchemisten treffen,
auf den Unebenheiten des Sandes.
Ich wollte mit dem magischen Finger zeigen,
um die Kurven der Landschaft mit der glatten Unendlichkeit des Sandes zu zeichnen.
Ich wollte Kamele mit 100 Höckern reiten.
Ich wollte Magie!"
+Farbe: Braun
+140x140 cm Wollschal
Alle Produkte von LAR Studio werden von Laris Kilimci von Hand illustriert.
Digital übertragen und in kleinen Mengen ethisch
vertretbar in der Heimatstadt Türkei hergestellt.
Die Ecken werden von lokalen Textilarbeiterinnen,
die unter %100 ethischen Bedingungen arbeiten, von Hand gesäumt.
%100 Crepe de Chine: Eine matte Alternative von Seidenstoffen,
die Sie problemlos in Ihren täglichen Kombinationen tragen können.
Nur chemische Reinigung für lange Haltbarkeit.
Brand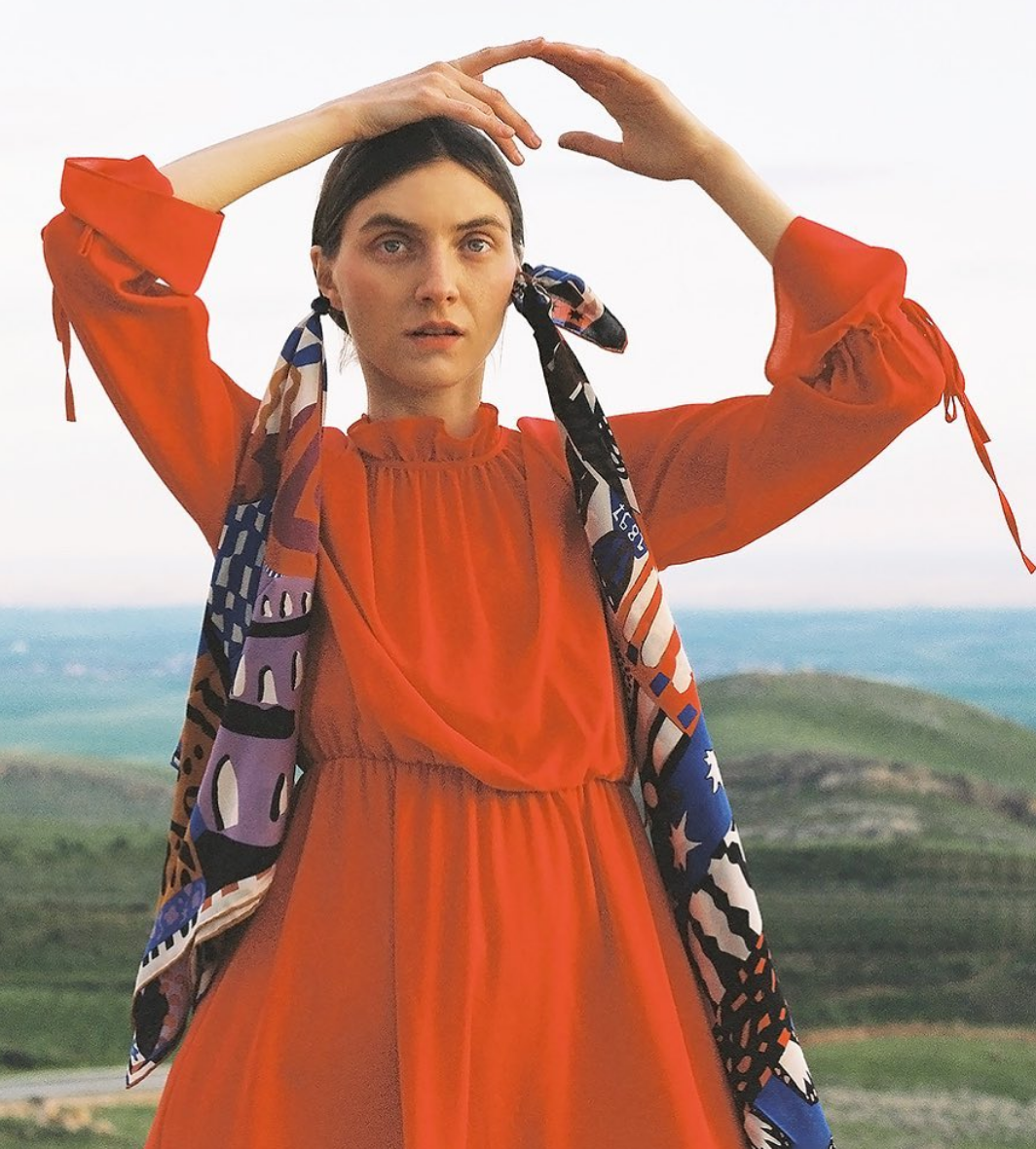 LAR Studio
(EN) LAR Studio is an art accessories brand established by artist/designer Laris Alara Kilimci to spread her array of eclectic, playful world of prints and forms.
Playing with the dynamic flow of colours and curvy ambiguous forms, each collection aims to communicate a different mood whilst always carrying the naive, eclectic and playful spirit. All artwork is hand drawn-painted by Laris Alara Kilimci later to be produced in boutique amounts in designers hometown Turkey, finalized by hand hemmed edges made by ethically working woman manufacturers.
Laris Alara Kilimci
Born in New York, spent majority of her life in Istanbul.
Her flowing and curvy style of image-making might be influenced by her childhood where she spent days in her mother's pottery studio making wobbly shaped funny pieces of clay. The interest in visual play led her to study Moving Image at Central Saint Martins, London. Moving back to her hometown Istanbul, Laris wanted to surround her world with an archive of feel good visual culture, which translated itself into prints full of playful and loose creations.
(DE)LAR Studio wurde von der Künstlerin/Designerin Laris Alara Kilimci gegründet wurde, um ihre eklektische, verspielte Welt der Drucke und Formen zu verbreiten.
Im Spiel mit dem dynamischen Fluss der Farben und kurvigen, mehrdeutigen Formen zielt jede Kollektion darauf ab, eine andere Stimmung zu vermitteln und dabei stets den naiven, eklektischen und spielerischen Geist zu transportieren. Alle Kunstwerke werden von Laris Alara Kilimci handgezeichnet und gemalt, um später in Boutique-Mengen in der Heimatstadt der Designer in der Türkei produziert zu werden, und mit handgesäumten Kanten von ethisch arbeitenden Herstellerinnen vollendet.
Laris Alara Kilimci
Geboren in New York, verbrachte die meiste Zeit ihres Lebens in Istanbul.
Ihr fließender und kurvenreicher Bildstil könnte von ihrer Kindheit beeinflusst sein, in der sie Tage in der Töpferwerkstatt ihrer Mutter verbrachte und wackelig geformte lustige Tonstücke herstellte. Das Interesse am visuellen Spiel führte sie zum Studium des bewegten Bildes in Central Saint Martins, London. Als sie in ihre Heimatstadt Istanbul zurückkehrte, wollte Laris ihre Welt mit einem Archiv der visuellen Wohlfühlkultur umgeben, die sich in Druckgrafiken voller verspielter und lockerer Kreationen niederschlug.