La Muerte Tiene Permiso* Moon Americano Cup - 200ml
SKU
MOON.AMERICA.AMERICANO.200ML_Black
---
Sustainable
For a good cause
Small Producer
Handmade in Oaxaca, a state rich in pre-hispanic pottery tradition, the Barro Negro style is one of the most beautiful textures for clay. The workshop takes the natural clay and cleans it by filtering it for 20 days. The clay is then smoked to create the black colour and burnished rather than glazed, by polishing the surface with a quartz crystal until it has a glossy finish with a warm glow. The pieces are then fired in underground pits or kilns, using a wood fire.
These cups are a special gift even for yourself in your morning coffee, adding a beautiful shine to your coffee.
CARE & INFO
The cup is burnished to create a beautiful shine and waterproof, food safe finish. Hand wash with hot water, organic soup and a sponge.
Due to the item's individual production, there may be small variations from piece to piece.
9cm diameter
6cm high

Handgefertigt in Oaxaca, einem Bundesstaat, der reich an prähispanischer Töpfertradition ist, ist der Barro Negro-Stil eine der schönsten Texturen für Ton. Die Werkstatt nimmt den natürlichen Ton und reinigt ihn, indem sie ihn 20 Tage lang filtriert. Anschließend wird der Ton geräuchert, um die schwarze Farbe zu erzeugen, und dann poliert statt glasiert, indem die Oberfläche mit einem Quarzkristall poliert wird, bis sie ein glänzendes Finish mit einem warmen Schein hat. Die Stücke werden dann in unterirdischen Gruben oder Öfen unter Verwendung eines Holzfeuers gebrannt.
Diese Tassen sind sogar für Sie selbst ein besonderes Geschenk zum Morgenkaffee und verleihen Ihrem Kaffee einen schönen Glanz.
PFLEGE & INFO
Der Becher ist brüniert, um einen schönen Glanz und eine wasserfeste, lebensmittelechte Oberfläche zu erhalten. Handwäsche mit heißem Wasser, Bio-Suppe und einem Schwamm.
Aufgrund der individuellen Herstellung des Artikels kann es von Stück zu Stück kleine Abweichungen geben.
9cm Durchmesser
6cm hoch
Brand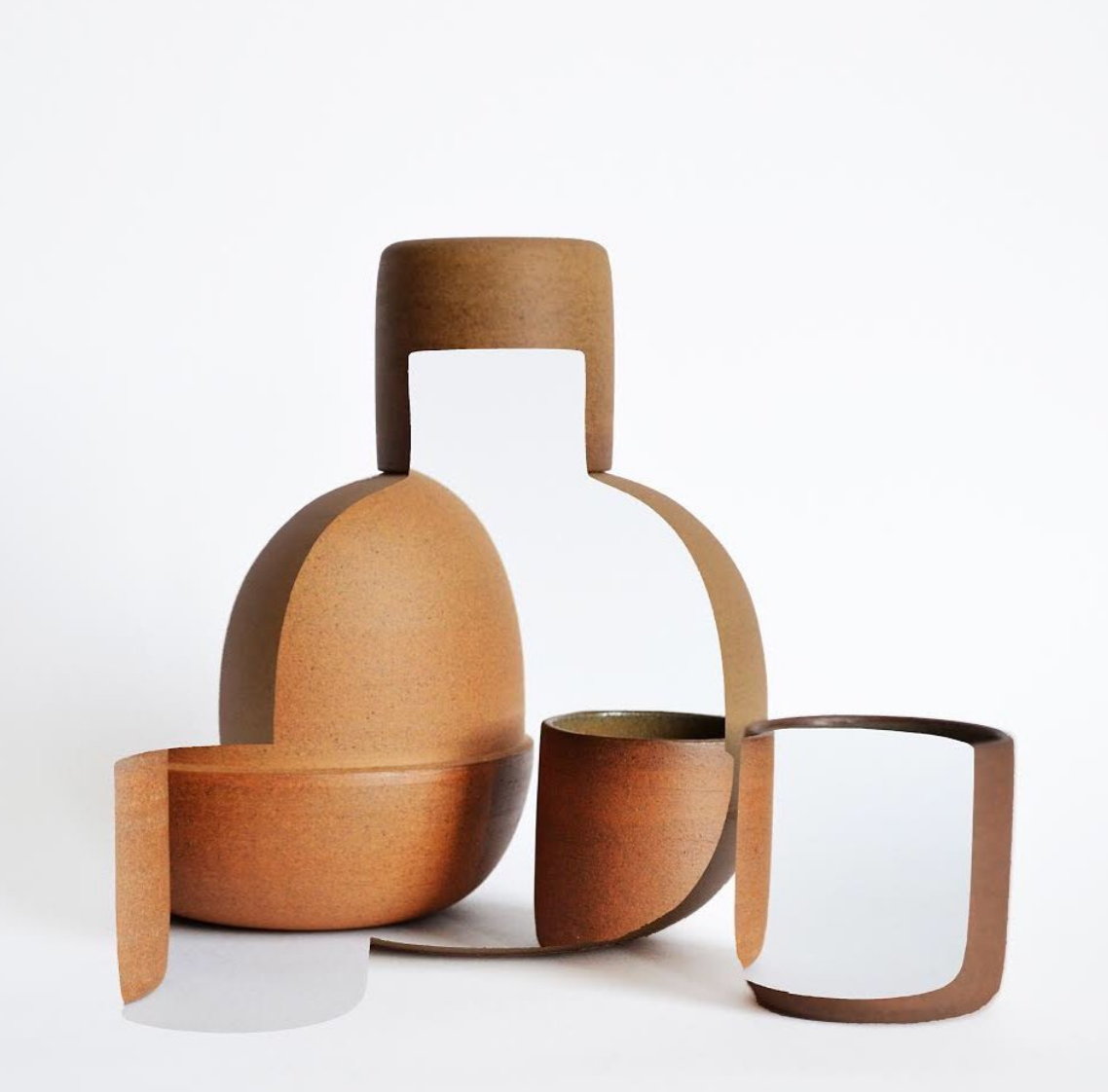 La muerte tiene permiso *
(EN) La Muerte Tiene Permiso* arose from a desire to share a contemporary Mexican design aesthetic in a European context. Travelling through the design capitals of Europe, architect and designer Omar Ortiz Franco found a range of international influences, yet Mexico - World Design Capital in 2018 - was nowhere to be seen.
Omar created La Muerte Tiene Permiso* to celebrate the unique materials and historic traditions of his country with a contemporary finish. His design inspiration comes from the vernacular materials and crafts traditions from around Mexico, histories and folk stories, and Mexican cinema and photography. The collection is equally informed by Omar's architectural design aesthetic, which focuses on clean lines and attention to materials, and his desire to explore what it means to dwell in a home.
We work in partnership with traditional workshops around the country, many of which have been running for generations. Faced with the global environmental crisis, we have taken solace in the ways in which communities across Mexico have for generations created useful objects with natural materials they find around them, and which at the end of the item's useful life can help it to degrade back into the earth. We are proud to be a part of that tradition and believe that an object made with love, thought and knowledge of technique can be reflected in objects that change our way to consume.
(DE) La Muerte Tiene Permiso* entstand aus dem Wunsch heraus, eine zeitgenössische mexikanische Design-Ästhetik in einem europäischen Kontext zu teilen. Auf seinen Reisen durch die Design-Hauptstädte Europas fand der Architekt und Designer Omar Ortiz Franco eine Reihe internationaler Einflüsse, doch Mexiko - Welthauptstadt des Designs 2018 - war nirgendwo zu sehen.
Omar schuf La Muerte Tiene Permiso*, um die einzigartigen Materialien und historischen Traditionen seines Landes mit einem zeitgenössischen Finish zu feiern. Seine Designinspirationen stammen von den volkstümlichen Materialien und Handwerkstraditionen aus ganz Mexiko, von Geschichten und Volksgeschichten sowie vom mexikanischen Kino und der mexikanischen Fotografie. Die Sammlung ist gleichermaßen von Omars architektonischer Design-Ästhetik geprägt, die sich auf klare Linien und die Beachtung der Materialien konzentriert, sowie von seinem Wunsch, zu erforschen, was es bedeutet, in einem Haus zu wohnen.
Wir arbeiten mit traditionellen Werkstätten im ganzen Land zusammen, von denen viele bereits seit Generationen bestehen. Angesichts der globalen Umweltkrise haben wir Trost in der Art und Weise gefunden, wie Gemeinschaften in ganz Mexiko seit Generationen nützliche Gegenstände mit natürlichen Materialien, die sie um sich herum finden und die am Ende ihrer Nutzungsdauer dazu beitragen können, dass die Gegenstände wieder in die Erde zurückverfallen. Wir sind stolz darauf, Teil dieser Tradition zu sein, und glauben, dass ein mit Liebe, Gedanken und technischem Wissen hergestelltes Objekt sich in Objekten widerspiegeln kann, die unsere Art zu konsumieren verändern.