La Rochère Ouessant Tumbler
SKU
633801.OUESSANT.GOBELET
---
Made in Europe
Small Producer
29cl
3" D / 4" H / 10 oz.
A modern take on a classic design,
the Ouessant tumbler has a brilliant luster thanks to its sleek embossed vertical lines.
Ultra-versatile, with a shape and size that lends itself to everything
from water and juice to fine spirits on the rocks.
Dishwasher safe
Avoid severe thermal shocks
***
Eine moderne Interpretation eines klassischen Designs,
Der Becher Ouessant glänzt durch seine schlanken, geprägten vertikalen Linien.
Extrem vielseitig, mit einer Form und Größe, die sich für alles eignet
von Wasser und Saft bis hin zu edlen Spirituosen auf Eis.
Spülmaschinenfest
Vermeidet starke Temperaturschocks
Brand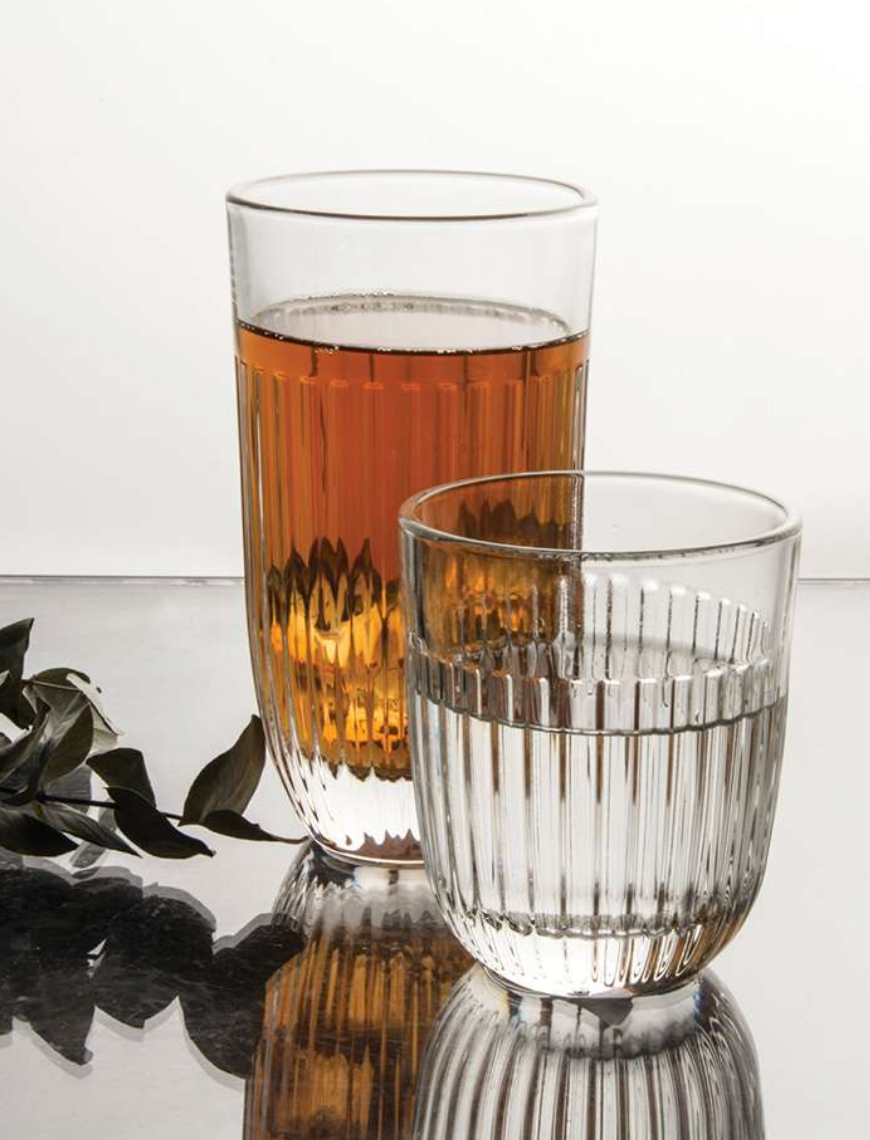 La Rochère
(EN) Located south of the Vosges mountains, in a small village called Passavant La Rochère, the company La Rochère Gläser still produces glass in two different ways:
- The handcrafted, mouth-blown production of glass: La Rochère has never abandoned this form of glassblowing since 1475. It still inspires the many visitors who can look over the shoulders of the old glassblowers at La Rochère when they make drinking glasses and glassware.
- The machine-made glasses of La Rochère: glass is pressed into traditional shapes using modern machines. Whether red wine glasses or white wine glasses, they are all machine-pressed from a drop of glass into shape using traditional techniques.
La Rochère Gläser is an environmentally conscious company that recycles 85% of its waste, saves water through constant technical innovation and does away with glass etching, with its toxic chemicals.
With drinking glasses from La Rochère Glasses you are not just buying a practical drinking vessel, but also always a little journey through time with a touch of French lifestyle.
(DE) Südlich der Vogesen gelegen, in einem kleinen Ort Namens Passavant La Rochère, produziert die Firma La Rochère Gläser auch heute noch Glas auf zwei unterschiedliche Arten:
- Die handwerklich anspruchsvolle mundgeblasene Herstellung von Glas: Diese Form der Glasbläserei hat La Rochère seit 1475 nie aufgegeben. Sie begeistert auch heute noch die vielen Besucher, die bei La Rochère den alten Glasbläsern beim Herstellen von Trinkgläsern und Glaswaren über die Schulter schauen dürfen.
- Die maschinell hergestellten Gläser von La Rochére: Dabei wird Glas in modernen Maschinen in traditionelle Formen gedrückt. Ob Rotweingläser oder Weißweingläser, sie werden alle aus einem Tropfen Glas in alt hergebrachter Technik maschinell in Form gepresst.
La Rochère Gläser ist ein umweltbewußtes Unternehmen, das 85 % ihrer Abfälle recycelt, durch stetige technische Neuerungen Wasser einspart und auf die Glasätztechnik, mit ihren giftigen Chemikalien, ganz verzichtet.Mit Trinkgläsern von La Rochère Gläser kaufen Sie nicht einfach nur ein praktisches Trinkgefäß, sondern auch immer eine kleine Zeitreise mit einem Hauch französischem Lebensstil.