La Muerte Tiene Permiso* Bees Stone Espresso Cup - Wine
Niedriger Bestand
SKU
BEES.STONE.ESPRESSO.CUP.WINE_Bordeaux
This series of clay tableware is made in the town of Reyes, Puebla, by a small community, where the tradition is for women to pick the clay from the mountains around the town. 
The colour of the clay is natural, coming from the mixture of clay and a local stone powder. The pieces are fired with wood in a brick oven, without the use of oil, gas or electricity. They are burnished - an ancient technique which involves polishing the pieces with a hard stone like quartz. This process closes the pores of the clay making it watertight and creates a unique shine and soft texture without any glaze.
To create a vibrant colour and shine the pieces are then showered in liquid beeswax, creating a very thin cover that penetrates the first layers of the clay, to add an extra watertight layer without changing the taste of your food and it is resistant to boiling liquids.
Due to all the natural production process, when the piece is broken it can degrade and return to earth easily.
*This is a natural clay, which is a very good thermal insulator. It does not get hot with boiling water, so it will protect your fingers when your coffee is very hot.

Diese Geschirrserie aus Ton wird in der Stadt Reyes, Puebla, von einer kleinen Gemeinschaft hergestellt, in der es Tradition ist, dass die Frauen den Ton aus den Bergen rund um die Stadt sammeln. 
Die Farbe des Tons ist natürlich und stammt aus der Mischung von Ton und einem lokalen Steinpulver. Die Stücke werden mit Holz in einem gemauerten Ofen gebrannt, ohne den Einsatz von Öl, Gas oder Elektrizität. Sie werden brüniert - eine alte Technik, bei der die Stücke mit einem harten Stein wie Quarz poliert werden. Dieser Prozess schließt die Poren des Tons, macht ihn wasserdicht und erzeugt einen einzigartigen Glanz und eine weiche Textur ohne jegliche Glasur.
Um eine lebendige Farbe und Glanz zu erzeugen, werden die Stücke dann in flüssiges Bienenwachs getaucht, wodurch eine sehr dünne Schicht entsteht, die in die ersten Schichten des Tons eindringt, um eine zusätzliche wasserdichte Schicht hinzuzufügen, ohne den Geschmack Ihrer Speisen zu verändern, und sie ist resistent gegen kochende Flüssigkeiten.
Durch den ganzen natürlichen Produktionsprozess kann das Stück, wenn es zerbrochen wird, leicht zerfallen und zur Erde zurückkehren.
*Das ist ein natürlicher Ton, der ein sehr guter Wärmeisolator ist. Es wird nicht heiß mit kochendem Wasser, so wird es Ihre Finger zu schützen, wenn Ihr Kaffee ist sehr heiß.
Brand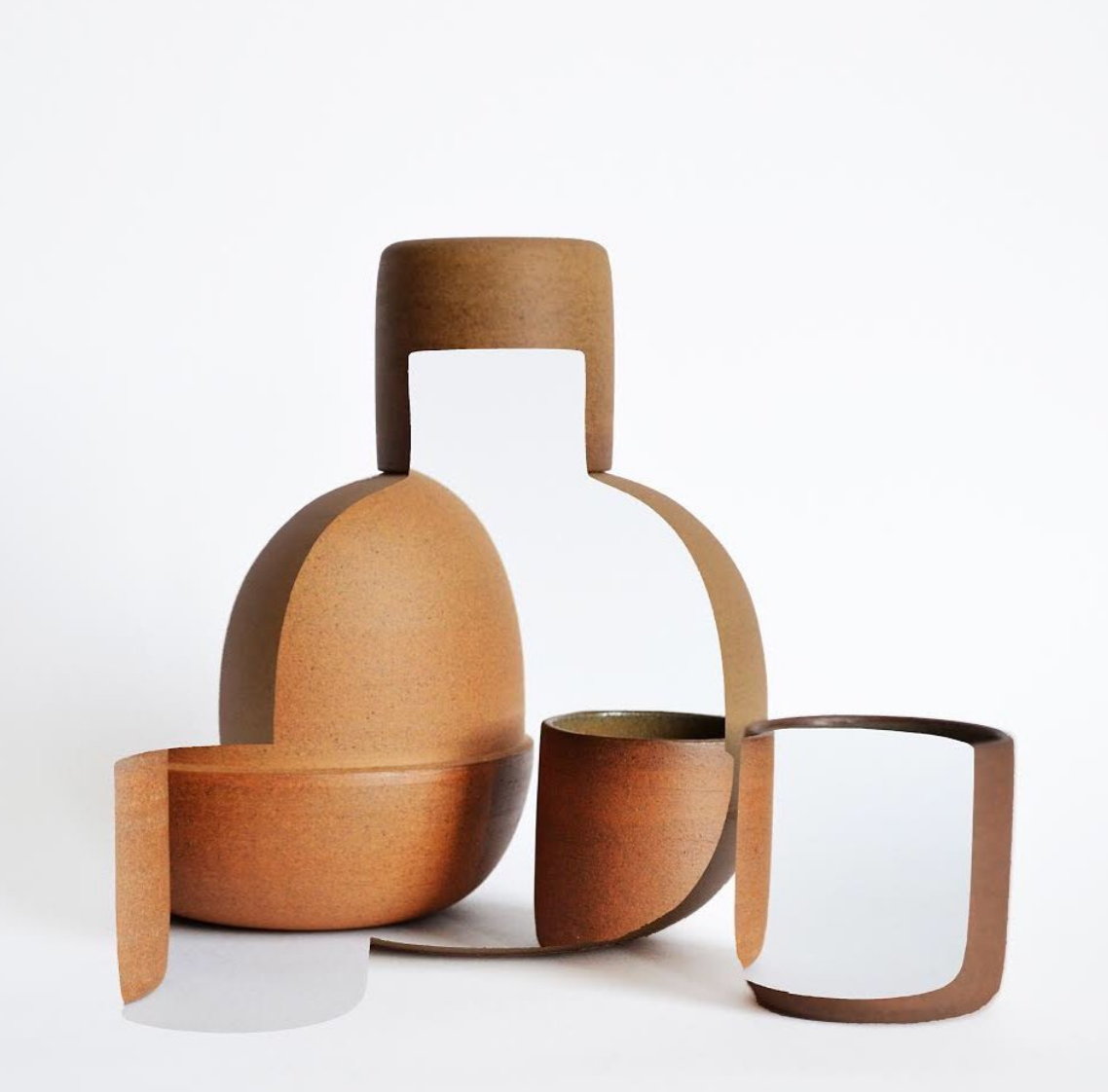 La muerte tiene permiso *
(EN) La Muerte Tiene Permiso* arose from a desire to share a contemporary Mexican design aesthetic in a European context. Travelling through the design capitals of Europe, architect and designer Omar Ortiz Franco found a range of international influences, yet Mexico - World Design Capital in 2018 - was nowhere to be seen.
Omar created La Muerte Tiene Permiso* to celebrate the unique materials and historic traditions of his country with a contemporary finish. His design inspiration comes from the vernacular materials and crafts traditions from around Mexico, histories and folk stories, and Mexican cinema and photography. The collection is equally informed by Omar's architectural design aesthetic, which focuses on clean lines and attention to materials, and his desire to explore what it means to dwell in a home.
We work in partnership with traditional workshops around the country, many of which have been running for generations. Faced with the global environmental crisis, we have taken solace in the ways in which communities across Mexico have for generations created useful objects with natural materials they find around them, and which at the end of the item's useful life can help it to degrade back into the earth. We are proud to be a part of that tradition and believe that an object made with love, thought and knowledge of technique can be reflected in objects that change our way to consume.
(DE) La Muerte Tiene Permiso* entstand aus dem Wunsch heraus, eine zeitgenössische mexikanische Design-Ästhetik in einem europäischen Kontext zu teilen. Auf seinen Reisen durch die Design-Hauptstädte Europas fand der Architekt und Designer Omar Ortiz Franco eine Reihe internationaler Einflüsse, doch Mexiko - Welthauptstadt des Designs 2018 - war nirgendwo zu sehen.
Omar schuf La Muerte Tiene Permiso*, um die einzigartigen Materialien und historischen Traditionen seines Landes mit einem zeitgenössischen Finish zu feiern. Seine Designinspirationen stammen von den volkstümlichen Materialien und Handwerkstraditionen aus ganz Mexiko, von Geschichten und Volksgeschichten sowie vom mexikanischen Kino und der mexikanischen Fotografie. Die Sammlung ist gleichermaßen von Omars architektonischer Design-Ästhetik geprägt, die sich auf klare Linien und die Beachtung der Materialien konzentriert, sowie von seinem Wunsch, zu erforschen, was es bedeutet, in einem Haus zu wohnen.
Wir arbeiten mit traditionellen Werkstätten im ganzen Land zusammen, von denen viele bereits seit Generationen bestehen. Angesichts der globalen Umweltkrise haben wir Trost in der Art und Weise gefunden, wie Gemeinschaften in ganz Mexiko seit Generationen nützliche Gegenstände mit natürlichen Materialien, die sie um sich herum finden und die am Ende ihrer Nutzungsdauer dazu beitragen können, dass die Gegenstände wieder in die Erde zurückverfallen. Wir sind stolz darauf, Teil dieser Tradition zu sein, und glauben, dass ein mit Liebe, Gedanken und technischem Wissen hergestelltes Objekt sich in Objekten widerspiegeln kann, die unsere Art zu konsumieren verändern.