La muerte tiene permiso * Small Carafe with 2 Cups
SKU
CARAFE.02.WITH.2.CUPS.1.125ML_Beige
---
Plastic free
Sustainable
Small Producer
Bottle/Karaffe
14 cm
Ø 13.5 cm
1.125 Litres
Cup/Tasse
5.9 cm
Ø 5.7 cm
Until the 60s in Guadalajara,
a charming traditional city in the heart of the land of mariachi and tequila,
the doors of the houses remained open all day.
Between the street and the interior patio there was a Zagúan, a hall dividing the public from the private,
with a table and two chairs, to receive visits from friends and neighbours.
On the table you could find a hand-woven napkin, a basket with fruit from the trees in the courtyard
and a botellón with agua fresca (water blended with fruit).
The cool air of the hall and the clay from the botellón kept the water naturally fresh all day,
a great relief for visitors arriving from the hot street.
Nowadays you can fill your botellón with water and some rosemary or mint leaves and keep it on your kitchen table,
in the living room or in your bedroom to have a fresh drink during the day or night.
***
Bis in die 60er Jahre in Guadalajara,
einer charmanten traditionellen Stadt im Herzen des Landes der Mariachi und des Tequila,
blieben die Türen der Häuser den ganzen Tag über offen.
Zwischen der Straße und dem Innenhof befand sich ein Zagúan, eine Halle, die das Öffentliche vom Privaten trennte,
mit einem Tisch und zwei Stühlen, um Besuche von Freunden und Nachbarn zu empfangen.
Auf dem Tisch lagen eine handgewebte Serviette, ein Korb mit Früchten von den Bäumen im Innenhof
und ein botellón mit agua fresca (mit Früchten gemischtes Wasser).
Die kühle Luft der Halle und der Ton aus dem botellón hielten das Wasser den ganzen Tag über natürlich frisch,
eine große Erleichterung für Besucher, die von der heißen Straße kamen.
Heutzutage können Sie Ihren botellón mit Wasser und einigen Rosmarin- oder Minzblättern füllen und ihn auf Ihrem Küchentisch aufbewahren,
im Wohnzimmer oder in Ihrem Schlafzimmer aufbewahren, um tagsüber oder nachts ein frisches Getränk zu sich zu nehmen.
Brand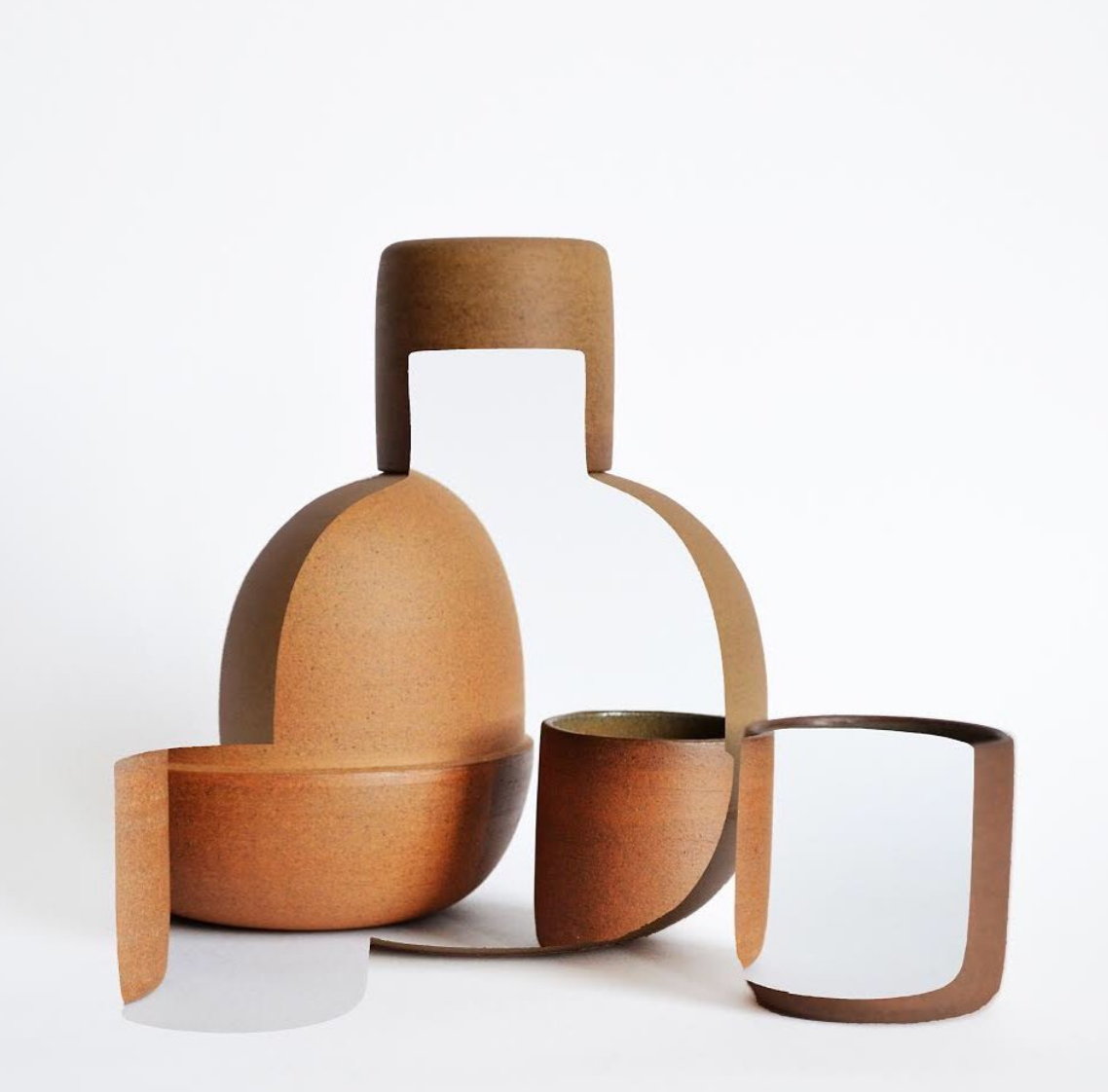 La muerte tiene permiso *
(EN) La Muerte Tiene Permiso* arose from a desire to share a contemporary Mexican design aesthetic in a European context. Travelling through the design capitals of Europe, architect and designer Omar Ortiz Franco found a range of international influences, yet Mexico - World Design Capital in 2018 - was nowhere to be seen.
Omar created La Muerte Tiene Permiso* to celebrate the unique materials and historic traditions of his country with a contemporary finish. His design inspiration comes from the vernacular materials and crafts traditions from around Mexico, histories and folk stories, and Mexican cinema and photography. The collection is equally informed by Omar's architectural design aesthetic, which focuses on clean lines and attention to materials, and his desire to explore what it means to dwell in a home.
We work in partnership with traditional workshops around the country, many of which have been running for generations. Faced with the global environmental crisis, we have taken solace in the ways in which communities across Mexico have for generations created useful objects with natural materials they find around them, and which at the end of the item's useful life can help it to degrade back into the earth. We are proud to be a part of that tradition and believe that an object made with love, thought and knowledge of technique can be reflected in objects that change our way to consume.
(DE) La Muerte Tiene Permiso* entstand aus dem Wunsch heraus, eine zeitgenössische mexikanische Design-Ästhetik in einem europäischen Kontext zu teilen. Auf seinen Reisen durch die Design-Hauptstädte Europas fand der Architekt und Designer Omar Ortiz Franco eine Reihe internationaler Einflüsse, doch Mexiko - Welthauptstadt des Designs 2018 - war nirgendwo zu sehen.
Omar schuf La Muerte Tiene Permiso*, um die einzigartigen Materialien und historischen Traditionen seines Landes mit einem zeitgenössischen Finish zu feiern. Seine Designinspirationen stammen von den volkstümlichen Materialien und Handwerkstraditionen aus ganz Mexiko, von Geschichten und Volksgeschichten sowie vom mexikanischen Kino und der mexikanischen Fotografie. Die Sammlung ist gleichermaßen von Omars architektonischer Design-Ästhetik geprägt, die sich auf klare Linien und die Beachtung der Materialien konzentriert, sowie von seinem Wunsch, zu erforschen, was es bedeutet, in einem Haus zu wohnen.
Wir arbeiten mit traditionellen Werkstätten im ganzen Land zusammen, von denen viele bereits seit Generationen bestehen. Angesichts der globalen Umweltkrise haben wir Trost in der Art und Weise gefunden, wie Gemeinschaften in ganz Mexiko seit Generationen nützliche Gegenstände mit natürlichen Materialien, die sie um sich herum finden und die am Ende ihrer Nutzungsdauer dazu beitragen können, dass die Gegenstände wieder in die Erde zurückverfallen. Wir sind stolz darauf, Teil dieser Tradition zu sein, und glauben, dass ein mit Liebe, Gedanken und technischem Wissen hergestelltes Objekt sich in Objekten widerspiegeln kann, die unsere Art zu konsumieren verändern.