Hailu Mergia - SHEMONMUANAYE
Niedriger Bestand
SKU
ATFALP6.SHEMONMUMUANAYE.2LP
Hailu Mergia HAILU MERGIA & HIS CLASSICAL INSTRUMENT / SHEMONMUANAYE

Beautiful, other-worldly album of reworked Ethiopian traditional melodies for accordion, synth, electric piano and drum machine, from 1985.
Hailu Mergia is a one-man band. In 1985, master accordionist and veteran bandleader, arranger and keyboardist released the Hailu Mergia & His Classical Instrument cassette.
In a nostalgic effort to bring back the vintage accordion sound of his youth, Hailu gave Ethiopian music a sonic makeover. He was already celebrated for his work with the groundbreaking Addis Ababa ethio-jazz and funk outfit Walias Band.
With imagination and a visionary sense of the self-contained possibilities of modern music, he captured the popular sounds of the past using the modern tools of the day.
Hailu Mergia weaves Moog and DX7 synthesizers, Rhodes electric piano and rhythm machine into the rich harmonic layering of his accordion, creating hauntingly psychedelic, elegantly arranged instrumentals.
These tunes draw from famous traditional and modern Ethiopian songs, as Hailu brilliantly matches lush Amhara, Tigrinya and Oromo melodies with otherworldly flavors soaked in jazz and blues, synthesizing a futuristic landscape.
He balances Ethiopian music's signature melodic shape with beautiful analog synth touches, floating upon clouds of hypnotically minimal rhythm tracks.

Hailu Mergia HAILU MERGIA & HIS CLASSICAL INSTRUMENT / SHEMONMUANAYE

Wunderschönes, weltfremdes Album mit überarbeiteten traditionellen äthiopischen Melodien für Akkordeon, Synthesizer, E-Piano und Drum Machine aus dem Jahr 1985.
Hailu Mergia ist eine Ein-Mann-Band. 1985 veröffentlichte der Meisterakkordeonist und erfahrene Bandleader, Arrangeur und Keyboarder die Kassette Hailu Mergia & His Classical Instrument.
In einem nostalgischen Versuch, den alten Akkordeon-Sound seiner Jugend wieder aufleben zu lassen, verpasste Hailu der äthiopischen Musik ein neues Klangbild. Er wurde bereits für seine Arbeit mit der bahnbrechenden Addis Abeba Ethio-Jazz- und Funk-Band Walias Band gefeiert.
Mit Phantasie und einem visionären Gespür für die in sich geschlossenen Möglichkeiten der modernen Musik hat er die populären Klänge der Vergangenheit mit den modernen Mitteln der Zeit eingefangen.
Hailu Mergia verwebt Moog- und DX7-Synthesizer, Rhodes-E-Piano und Rhythmusmaschine mit den reichhaltigen harmonischen Schichtungen seines Akkordeons und schafft so eindringliche psychedelische, elegant arrangierte Instrumentalstücke.
Diese Melodien stammen aus berühmten traditionellen und modernen äthiopischen Liedern, wobei Hailu auf brillante Weise üppige Amhara-, Tigrinya- und Oromo-Melodien mit jenseitigen, in Jazz und Blues getränkten Aromen verbindet und so eine futuristische Landschaft erschafft.
Er balanciert die charakteristische melodische Form der äthiopischen Musik mit wunderschönen analogen Synthesizer-Elementen aus, die auf Wolken von hypnotisch minimalen Rhythmus-Tracks schweben.
Brand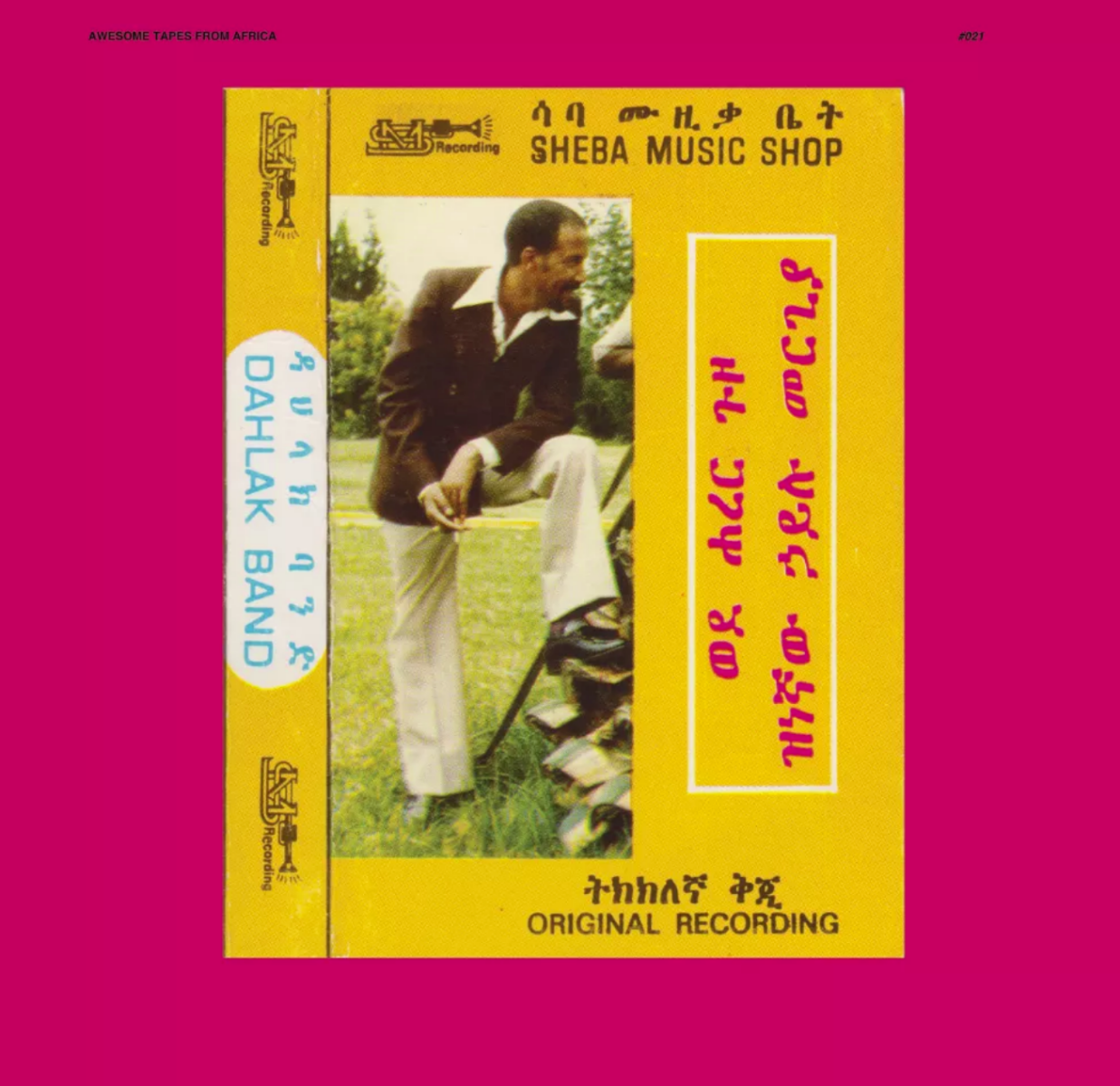 Awesome Tapes from Africa
Awesome Tapes From Africa is a record label and web site operated by Brian Shimkovitz.
The site was founded in 2006 in Brooklyn, New York.
The site was created as a way for Shimkovitz to share music he had come across while on a scholarship in Ghana.
He was interested in the variety of genres and artists he found, distributed largely on cassette tapes at markets, but that he had not come across outside West Africa.
In 2011 he transitioned the site from just a blog with posted recordings of collected tapes posted without the artists' permission to a commercial record label.
The goal of the company is to seed and expand an audience for the artists presented as well as provide opportunities to sell albums and tour.
Artists are paid every six months and receive 50% of the profits from an album.
Tapes presented on Awesome Tapes come from a variety of sources: gathered in Ghanaian street markets, purchased in stores in the US, or sent by others over the internet.
In addition to the website, Shimkovitz DJ's concerts, clubs and at festivals as Awesome Tapes From Africa, as well as hosts a show on Dublab.
Most Awesome Tapes From Africa releases are official rereleases of out-of-print cassettes from African musicians and bands.
SK Kakraba's Songs of Paapieye is the first album to consist of a new release. Although music is distributed in Africa via MP3 on mobile phones, Shimkovitz says the widest variety of music in West Africa is still available on cassette tape.
In the journal Public Culture, Awesome Tapes From Africa, along with record labels Sublime Frequencies and Parallel World, is discussed as being emblematic of "World Music 2.0" for combining the "open source ethics of online networks with long-standing countercultural networks of circulation" within cassette culture and music distribution in developing nations.