Fred McDowell - The Alan Lomax Recordings LP
Niedriger Bestand
SKU
MR074.FRED.MCDOWELL.LP
Fred McDowell - The Alan Lomax Recordings LP

Fred McDowell's first ever recordings—before the folk festivals and blues clubs, before "Mississippi" was inserted in front of his name, before the Rolling Stones covered his "You Got To Move." They're the sound of the music McDowell played on his porch, at picnics, and juke joints; with his friends and family; occasionally for money but always for pleasure. Recorded by Alan Lomax in a meeting of two of American music's great figures. A historic session, and one of our very favorite records.
Remastered from 24-bit digital transfers of Alan Lomax's original tapes, and annotated by Arhoolie Records' Adam Machado and the Alan Lomax Archive's Nathan Salsburg, they are an illustration of the mind-blowing revelation that was Fred McDowell.
On the first day of fall, 1959, in Como, Mississippi, a farmer named Fred McDowell emerged from the woods and ambled over to his neighbor Lonnie Young's front porch with a guitar in hand. Alan Lomax and Shirley Collins were there recording the Young brothers' fife and drum ensemble, as well as the raggy old country dance music of their neighbors, the Pratcher brothers, and they had no idea what to expect from this slight man in overalls.
They certainly didn't expect that Fred would soon become internationally known as one of the most original, talented, and affecting country bluesmen ever recorded.
12" black vinyl LP with double-sided insert with historical information
"Fred McDowell: The Alan Lomax Recordings" is a collaboration by the Alan Lomax Archive, Mississippi Records, Little Axe Records, and Domino Sound.
First pressing 2011, second pressing 2021.
Recorded in Como, Mississippi, September 21-25, 1959
Fred McDowell - Die Alan-Lomax-Aufnahmen LP

Fred McDowells allererste Aufnahmen - vor den Folk-Festivals und Blues-Clubs, bevor "Mississippi" seinem Namen vorangestellt wurde, bevor die Rolling Stones sein "You Got To Move" coverten. Sie sind der Klang der Musik, die McDowell auf seiner Veranda, bei Picknicks und in Kneipen spielte, mit seinen Freunden und seiner Familie, gelegentlich für Geld, aber immer zum Vergnügen. Aufgenommen von Alan Lomax bei einem Treffen zweier großer Persönlichkeiten der amerikanischen Musik. Eine historische Session und eine unserer Lieblingsplatten.
Remastered von 24-Bit-Digitalübertragungen der Originalbänder von Alan Lomax und kommentiert von Adam Machado von Arhoolie Records und Nathan Salsburg vom Alan-Lomax-Archiv, sind sie eine Illustration der umwerfenden Offenbarung, die Fred McDowell war.
Am ersten Herbsttag des Jahres 1959 tauchte in Como, Mississippi, ein Farmer namens Fred McDowell aus dem Wald auf und schlenderte mit einer Gitarre in der Hand zur Veranda seines Nachbarn Lonnie Young hinüber. Alan Lomax und Shirley Collins waren gerade dabei, das Pfeifen- und Trommelensemble der Young-Brüder sowie die lumpige alte Country-Tanzmusik ihrer Nachbarn, der Pratcher-Brüder, aufzunehmen, und sie hatten keine Ahnung, was sie von diesem schmächtigen Mann in Latzhose zu erwarten hatten.
Sie ahnten sicher nicht, dass Fred bald international bekannt werden würde als einer der originellsten, talentiertesten und berührendsten Country-Blueser, die je aufgenommen wurden.
12" schwarze Vinyl-LP mit doppelseitigem Einleger mit historischen Informationen
"Fred McDowell: The Alan Lomax Recordings" ist eine Zusammenarbeit zwischen dem Alan Lomax Archive, Mississippi Records, Little Axe Records und Domino Sound.
Erste Pressung 2011, zweite Pressung 2021.
Aufgenommen in Como, Mississippi, 21. bis 25. September 1959
Brand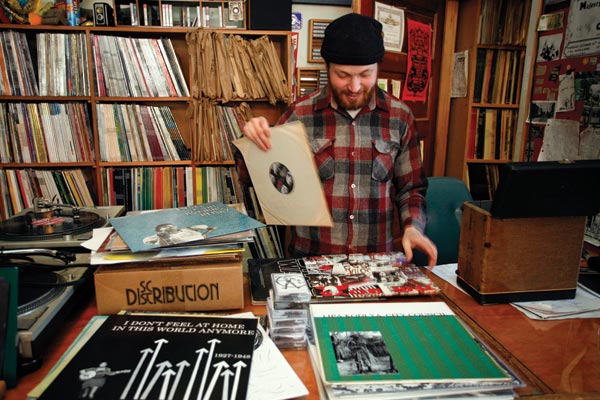 Mississippi Records
Selber waren wir leider noch nie bei Mississippi Records aber das Label hat sich in den letzten 12 Jahren ein Namen gemacht durch Veröffentlichungen von obskuren Raritäten, wunderbaren Blues & Folk Reissues und sensationellen Mix-Kasetten. Allesamt mit den grossartigsten Covers überhaupt. Mississippi Records-Releases werden nur auf Vinyl und oft in kleinsten Stückzahlen veröffentlicht.
EN: Unfortunately we have never been there ourselves at Mississippi Records but the label has made a name for itself over the past 12 years with releases of obscure rarities, wonderful Blues & Folk Reissues and sensational mix tapes. All with the greatest covers ever. Mississippi Records are released on vinyl only and often in small quantities.