Clearspring Organic Japanese Sweet White Miso Paste - Pasteurised
Niedriger Bestand
SKU
7919.MISO.BLANC.DOUX.250G.SACH
---
Vegan
Made in Europe
Fair
Small Producer
Organic
250g
Ingredients: Cultured rice* (42%), water, soya beans* (21%), sea salt. *organically grown
Product of UK
-Zutaten: Kulturreis* (42%), Wasser, Sojabohnen* (21%), Meersalz. *aus biologischem Anbau
Produkt aus dem Vereinigten Königreich
Miso is a traditional fermented Japanese staple food
and seasoning that has been long prized
for its rich taste and concentrated goodness.
Made from whole soya beans and a unique koji fermentation culture
it is naturally aged in cedarwood cegs over many months at ambient temperatures.
This slow fermentation results in a seasoning with rich and complex flavours
and an abundance of umami (referred to as the fifth taste after sweet, sour, bitter and salt).
Clearspring Sweet White Miso is a short-aged Kyoto style miso
with a wonderful creamy richness and a slightly salty sweetness,
traditionally made in small batches to maintain its special quality.
It's light colour may darken over time due to natural ageing but this does not alter its flavour.
Sweet White Miso was historically reserved for the rich and royalty
because it is made with lots of rice koji, which was very expensive at that time.
However, now that rice is less expensive,
Sweet White Miso can be enjoyed by everyone and every day.
Try using a little in mashed potato instead of milk,
or in creamy soups instead of cream.
It is also perfect for party snack foods such
as dips and salad dressings.
***
Miso ist ein traditionelles fermentiertes japanisches Grundnahrungsmittel
und Würzmittel, das seit langem für seinen
für seinen reichen Geschmack und seine konzentrierte Güte geschätzt.
Hergestellt aus ganzen Sojabohnen und einer einzigartigen Koji-Fermentationskultur
wird es über viele Monate bei Raumtemperatur in Zedernholzfässern gereift.
Durch diese langsame Fermentierung entsteht ein Gewürz mit reichhaltigen und komplexen Aromen
und einer Fülle von Umami (dem fünften Geschmack nach süß, sauer, bitter und salzig).
Clearspring Sweet White Miso ist ein kurz gereiftes Miso nach Kyoto-Art
mit einer wunderbar cremigen Fülle und einer leicht salzigen Süße,
Es wird traditionell in kleinen Chargen hergestellt, um seine besondere Qualität zu erhalten.
Seine helle Farbe kann sich im Laufe der Zeit durch die natürliche Reifung verdunkeln, was aber nichts an seinem Geschmack ändert.
Süßes weißes Miso war in der Vergangenheit den Reichen und Königen vorbehalten
weil es mit viel Reiskoji hergestellt wird, der damals sehr teuer war.
Heute ist dieser Reis jedoch nicht mehr so teuer,
kann Sweet White Miso von jedermann und jeden Tag genossen werden.
Versuchen Sie, ein wenig davon in Kartoffelpüree anstelle von Milch zu verwenden,
oder in cremigen Suppen anstelle von Sahne.
Es eignet sich auch perfekt für Party-Snacks wie
Dips und Salatdressings.
Brand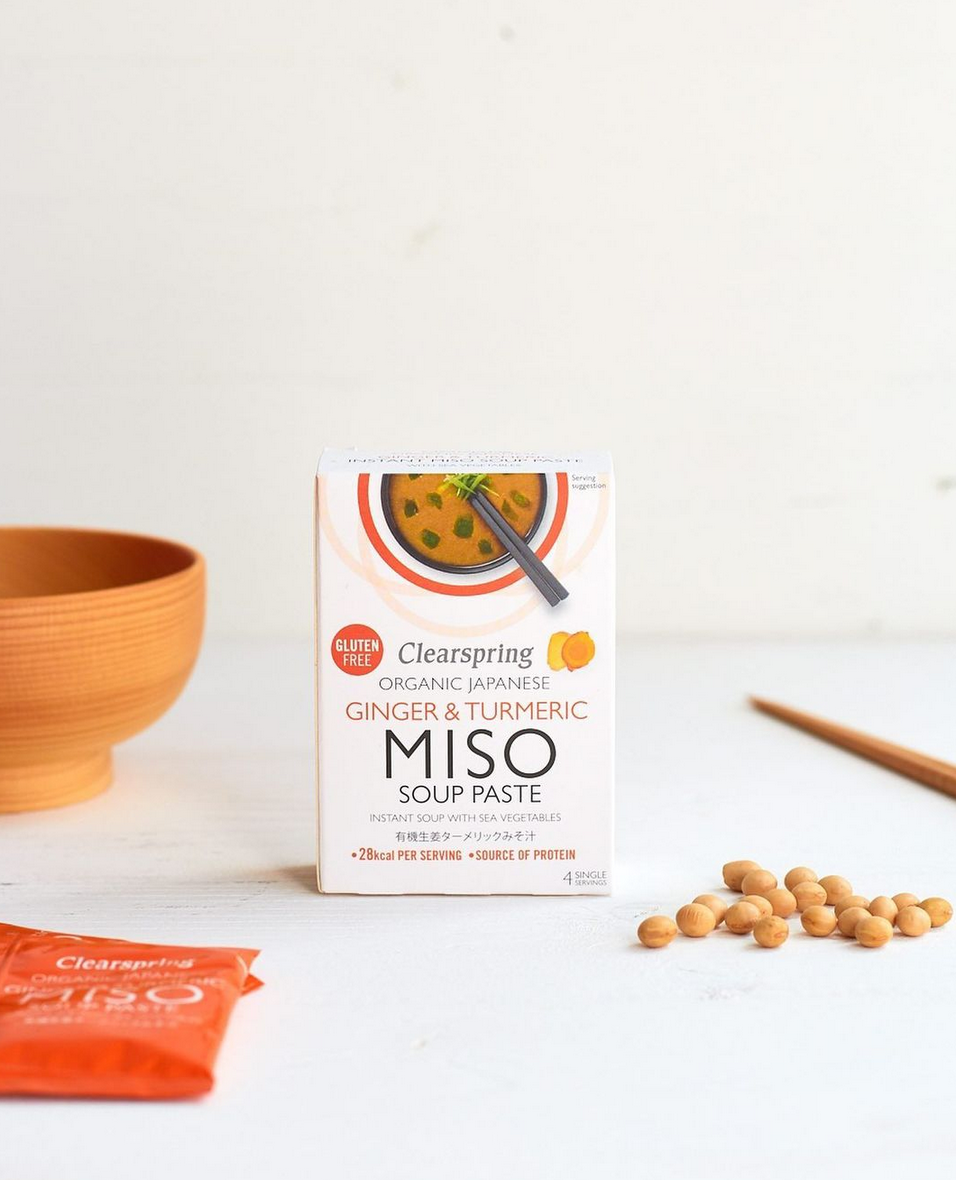 Clearspring
(EN) Clearspring is a family-owned business and for over 25 years have been committed to pioneering authentic Japanese specialities and organic fine foods. Their core belief is that everyone should have access to quality organic food to eat well. Clearspring products make a valuable contribution to sustainable agriculture, by supporting organic farmers and artisan food producers.
From the humble beginnings of Japanese miso soup, to over 260 products today, the range continues to grow. Continuously inspired to bring diversity, innovation and the art of wellness through food to their offering. All Clearspring products have a distinctive flavour, made with authentic recipes and by traditional methods. They never use any artificial additives or add refined sugars. Their passion is to show you just how delicious and abundant a plant-based diet can be, not only how it tastes, but also how it keeps us healthy and thriving.
(DE) Clearspring ist ein Familienunternehmen, das sich seit über 25 Jahren der Pionierarbeit für authentische japanische Spezialitäten und biologische Feinkost verschrieben hat. Ihre Grundüberzeugung ist, dass jeder Zugang zu qualitativ hochwertigen Bio-Lebensmitteln haben sollte, um sich gut ernähren zu können. Clearspring-Produkte leisten einen wertvollen Beitrag zur nachhaltigen Landwirtschaft, indem sie Biobauern und handwerkliche Lebensmittelhersteller unterstützen.
Von den bescheidenen Anfängen der japanischen Miso-Suppe bis zu über 260 Produkten heute wächst das Angebot ständig weiter. Kontinuierlich inspiriert, Vielfalt, Innovation und die Kunst des Wohlbefindens durch Lebensmittel in ihr Angebot aufzunehmen. Alle Clearspring-Produkte haben einen unverwechselbaren Geschmack und werden nach authentischen Rezepten und mit traditionellen Methoden hergestellt. Sie verwenden niemals künstliche Zusatzstoffe oder fügen raffinierten Zucker hinzu. Ihre Leidenschaft ist es, Ihnen zu zeigen, wie köstlich und reichhaltig eine Ernährung auf pflanzlicher Basis sein kann, nicht nur, wie sie schmeckt, sondern auch, wie sie uns gesund und blühend erhält.