Awesome Tapes from Africa: Wede Harer Guzo by Hailu Mergia 2 LP's
SKU
ATFALP21.WEDE.HARER.GUZO_*
By 1978, Addis Ababa's nightlife was facing challenges. The ruling Derg regime imposed curfews, banning citizens from the streets after midnight until 6am. But that didn't stop some people from dancing and partying thorough the night. Bands would play from evening until daybreak and people would stay at the clubs until curfew was lifted in the morning. One key denizen of Addis' musical golden age, Hailu Mergia, was preparing a follow up to his seminal Tche Belew LP with the famed Walias Band. It was the band's only full-length record and it had been a success. But his Hilton house band colleagues were a bit tied up recording cassettes with different vocalists. Still Mergia, amidst recording and gigs with the Walias, was also eager to make another recording of his instrumental-focused arrangements. So he went to the nearby Ghion Hotel, another upmarket outpost with a popular nightclub. Dahlak Band was the house band at Ghion at the time. Together they made this tape Wede Harer Guzo right there in the club during the band's afternoon rehearsal meetings, with sessions lasting three days. "My instrumental music was very in-demand and I could have waited," Mergia recalls. "But I wanted to have a different kind of sound. I had done several recordings with Walias so this time I needed a different sound." Dahlak Band catered to a slightly more youthful, local audiences, while Mergia's main gig with the Walias at Addis swankiest hotel had a mixed audience that included foreign diplomats and older folks from abroad. Therefore their sets varied included lighter fare during dinnertime and a less rollicking selection of jazz and r&b. Meanwhile Dahlak was known more for the mainly soul and Amharic jams they served up for hours two nights a week to a younger crowd. When Mergia entered the Ghion hotel nightclub to record this tape he was teaming up with a seasoned band who were particularly suited to his instrumental sound. Ethiopian popular music at the time combined elements of music from abroad and Dahlak balanced Mergia's traditional song selection with the modern approach of a seasoned soul band. Crucial to the resulting collaboration were Mergia's arrangements which replaced distinctively use vocals for melodies normally played by instruments. His arrangements conjured memorable new flavors out of existing songs already popular with listeners. Before Walias Band's successful gig as house band at the Hilton, Mergia was a young musician hustling from one place to another around Addis. After finishing gigs at the Hilton or on nights off, he would go to good bar where azmari—roving musicians who play traditional songs for tips—and he'd pick up ideas and inspiration. Late night azmari performances revealed for Mergia which songs were moving people in the city. He regularly attended clubs, bars and special private after-hours venues called zigubgn where azmari perform. For Mergia, it was crucial to feature songs he knew people would recognize. Amharic music has a large repertoire of standard songs everyone knows, the original composers and lyricists of which are often unknown or forgotten. Many of the songs Dahlak, Walias and other bands of that era (including Ibex and Shebele) were playing came from the treasury of shared music, which helped ensure a good vibe in the air. Mergia released Wede Harer Guzo ("Travel to Harer,"with Sheba Music Shop, which was located in the Piazza district but has long since shut down. Recalling the audience's positive reaction to Wede Harer Guzo's novel arrangements, he says it sold well and found many fans. However, as no trace of the tape can be found online, there's no indication as to why the cassette appears largely forgotten until now.
Brand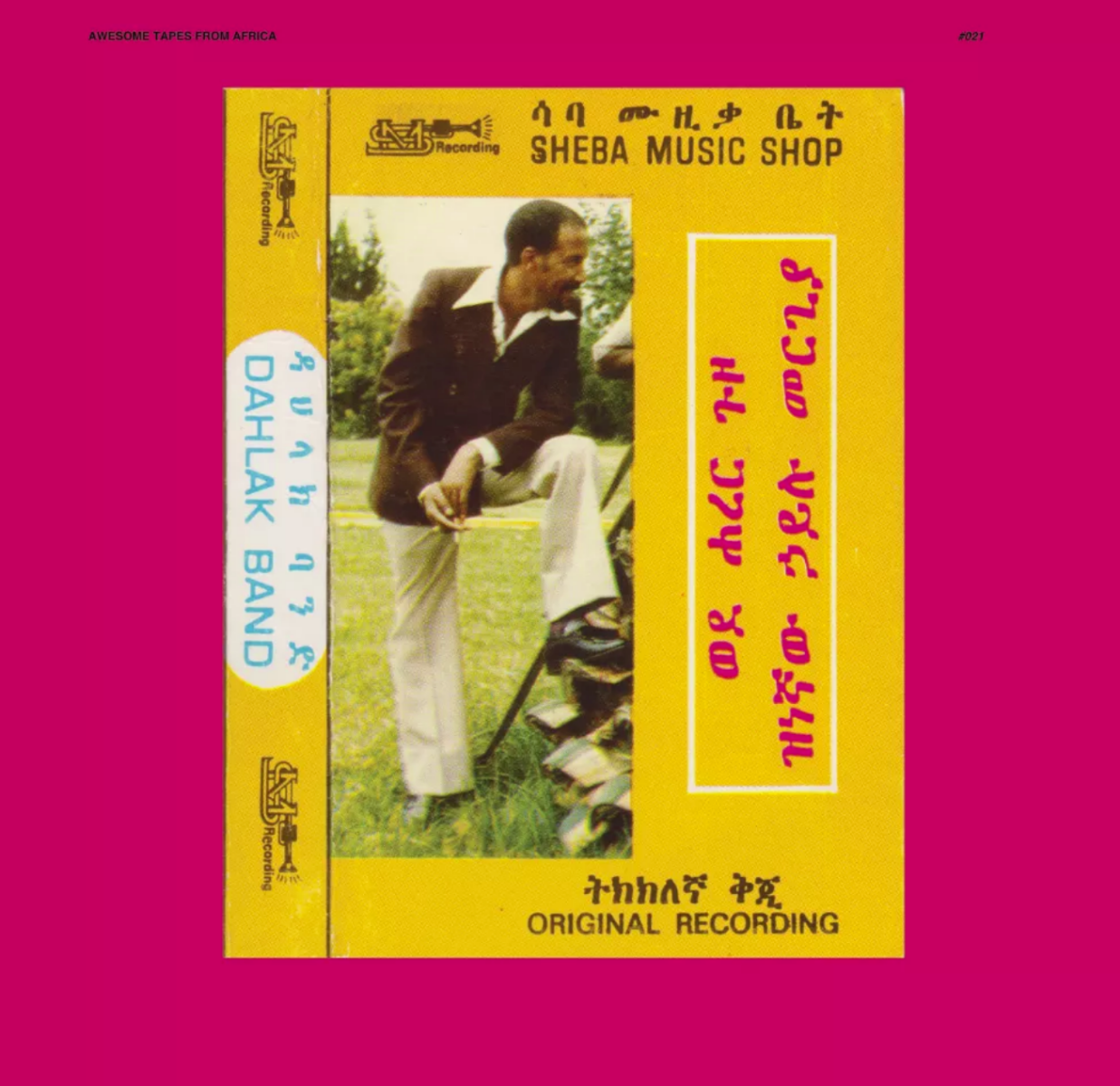 Awesome Tapes from Africa
Awesome Tapes From Africa is a record label and web site operated by Brian Shimkovitz.
The site was founded in 2006 in Brooklyn, New York.
The site was created as a way for Shimkovitz to share music he had come across while on a scholarship in Ghana.
He was interested in the variety of genres and artists he found, distributed largely on cassette tapes at markets, but that he had not come across outside West Africa.
In 2011 he transitioned the site from just a blog with posted recordings of collected tapes posted without the artists' permission to a commercial record label.
The goal of the company is to seed and expand an audience for the artists presented as well as provide opportunities to sell albums and tour.
Artists are paid every six months and receive 50% of the profits from an album.
Tapes presented on Awesome Tapes come from a variety of sources: gathered in Ghanaian street markets, purchased in stores in the US, or sent by others over the internet.
In addition to the website, Shimkovitz DJ's concerts, clubs and at festivals as Awesome Tapes From Africa, as well as hosts a show on Dublab.
Most Awesome Tapes From Africa releases are official rereleases of out-of-print cassettes from African musicians and bands.
SK Kakraba's Songs of Paapieye is the first album to consist of a new release. Although music is distributed in Africa via MP3 on mobile phones, Shimkovitz says the widest variety of music in West Africa is still available on cassette tape.
In the journal Public Culture, Awesome Tapes From Africa, along with record labels Sublime Frequencies and Parallel World, is discussed as being emblematic of "World Music 2.0" for combining the "open source ethics of online networks with long-standing countercultural networks of circulation" within cassette culture and music distribution in developing nations.