Awesome Tapes from Africa - More Ethiopian Soul And Groove - Ethiopian Urban Modern Music Vol. 3 LP
SKU
LP15400.MORE.ETHIOPIAN.SOUL.GR
Africa - Folk - Funk - Jazz - R&B/Soul - Soul
Repress of an amazing Ethiopian compilation released on Heavenly Sweetness.
It was France's l'Arome Productions that had first reissued
this spectacular selection of Ethiopian soul and funk back in 2009 but, since then,
this particular compilation has turned into something of a cult-classic within the digging world,
and it has been repressed by Heavenly Sweetness on three different occasions.
None of this is in the least bit surprising given just how special the sounds on here truly are,
and if you're a fan of Mulatu then this will hit the spot big time!
Moreover, tunes by the likes of Samuel Belay, Mahmoud Ahmed - who has appeared on Mississippi's reissue schedule -
and Girma Beyene go much further than the usual dosage of far-out funk, leading us to a tense, dimly lit scenario
that is both hypnotic and totally different from anything else.
Highly recommended, a timeless slice of history.
***
Neuauflage einer erstaunlichen äthiopischen Compilation,
die auf Heavenly Sweetness veröffentlicht wurde.
Es war das französische Label l'Arome Productions, das diese spektakuläre
diese spektakuläre Auswahl an äthiopischem Soul und Funk im Jahr 2009 neu aufgelegt, aber seither
hat sich diese Compilation zu einer Art Kult-Klassiker in der Digging-Welt entwickelt,
und wurde von Heavenly Sweetness bei drei verschiedenen Gelegenheiten neu aufgelegt.
All das ist nicht im Geringsten überraschend, wenn man bedenkt,
wie speziell die hier enthaltenen Sounds wirklich sind,
und wenn du ein Fan von Mulatu bist, dann wird das hier ein Volltreffer!
Darüber hinaus sind Stücke von Samuel Belay, Mahmoud Ahmed
- der bereits auf der Wiederveröffentlichungsliste von Mississippi erschienen ist -
und Girma Beyene gehen weit über die übliche Dosis Funk hinaus
und führen uns in ein spannendes, schummriges Szenario
das sowohl hypnotisch als auch völlig anders als alles andere ist.
Äußerst empfehlenswert, ein zeitloses Stück Geschichte.
Brand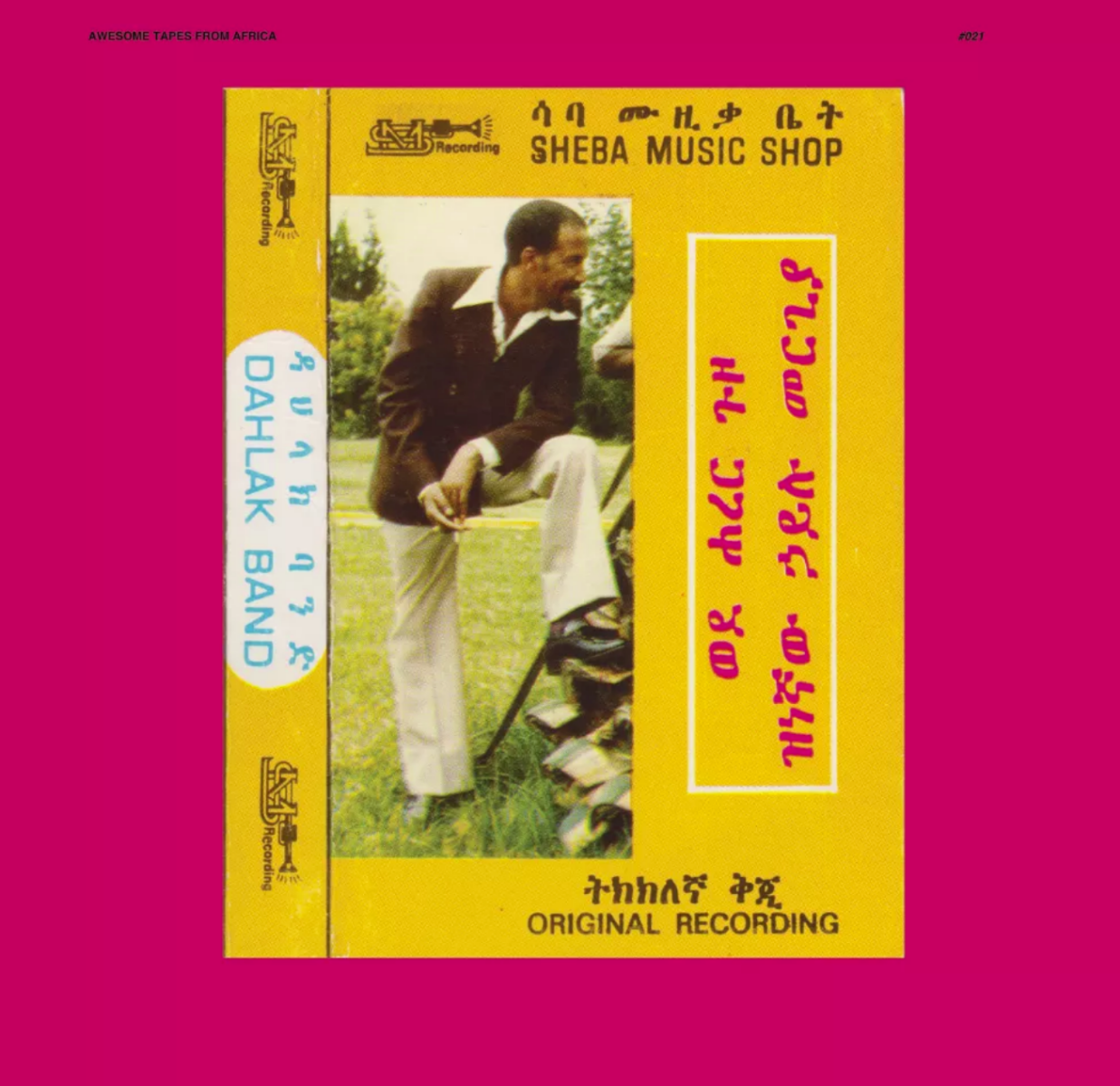 Awesome Tapes from Africa
Awesome Tapes From Africa is a record label and web site operated by Brian Shimkovitz.
The site was founded in 2006 in Brooklyn, New York.
The site was created as a way for Shimkovitz to share music he had come across while on a scholarship in Ghana.
He was interested in the variety of genres and artists he found, distributed largely on cassette tapes at markets, but that he had not come across outside West Africa.
In 2011 he transitioned the site from just a blog with posted recordings of collected tapes posted without the artists' permission to a commercial record label.
The goal of the company is to seed and expand an audience for the artists presented as well as provide opportunities to sell albums and tour.
Artists are paid every six months and receive 50% of the profits from an album.
Tapes presented on Awesome Tapes come from a variety of sources: gathered in Ghanaian street markets, purchased in stores in the US, or sent by others over the internet.
In addition to the website, Shimkovitz DJ's concerts, clubs and at festivals as Awesome Tapes From Africa, as well as hosts a show on Dublab.
Most Awesome Tapes From Africa releases are official rereleases of out-of-print cassettes from African musicians and bands.
SK Kakraba's Songs of Paapieye is the first album to consist of a new release. Although music is distributed in Africa via MP3 on mobile phones, Shimkovitz says the widest variety of music in West Africa is still available on cassette tape.
In the journal Public Culture, Awesome Tapes From Africa, along with record labels Sublime Frequencies and Parallel World, is discussed as being emblematic of "World Music 2.0" for combining the "open source ethics of online networks with long-standing countercultural networks of circulation" within cassette culture and music distribution in developing nations.