Awesome Tapes from Africa - Ethiopian Hit Parade Volume 2 LP
SKU
LP23588.ETHIOPIAN.HITS.VOL2
Africa - Folk - Funk – Jazz
At last, the second volume of the long-awaited Ethiopian Hit Parade
is widely available once again after the acclaimed first volume reissue!
Features tracks by Getachew Kassa,
Mulatu Astatqe, Teshome Mitiku, Alemayehu Eshete, Muluken Melesse and others.
An item of Ethiopian music history containing some
of the greatest Ethiopian Hits from 1972 to 1975 on 180g vinyl.
After releasing about fifty singles and his first LP (Ethiopian Modern Instrumental Hits AELP 10),
the late and hugely influential Ethiopian producer Amha Eshèté, who passed away this year,
undertook in 1972 to collect his best productions released on singles in a series of albums
that have become mythical (and unobtainable in original).
The first four volumes of Ethiopian Hit Parade were released in September
and October 1972, and the fifth in January 1973.
This is a reissue of Volume 2.
***
Endlich ist der zweite Band der lang erwarteten äthiopischen Hitparade
nach der hochgelobten Wiederveröffentlichung des ersten Bandes wieder erhältlich!
Mit Titeln von Getachew Kassa,
Mulatu Astatqe, Teshome Mitiku, Alemayehu Eshete, Muluken Melesse und anderen.
Ein Stück äthiopischer Musikgeschichte mit einigen
der größten äthiopischen Hits von 1972 bis 1975 auf 180g Vinyl.
Nach der Veröffentlichung von etwa fünfzig Singles und seiner ersten LP (Ethiopian Modern Instrumental Hits AELP 10),
hat der in diesem Jahr verstorbene und äußerst einflussreiche äthiopische Produzent Amha Eshèté
1972 seine besten Produktionen, die er als Singles veröffentlicht hatte, in einer Reihe von Alben zusammen
die zum Mythos geworden sind (und im Original nicht mehr erhältlich).
Die ersten vier Bände der äthiopischen Hitparade erschienen im September
und Oktober 1972, der fünfte im Januar 1973.
Dies ist eine Wiederveröffentlichung von Band 2.
Brand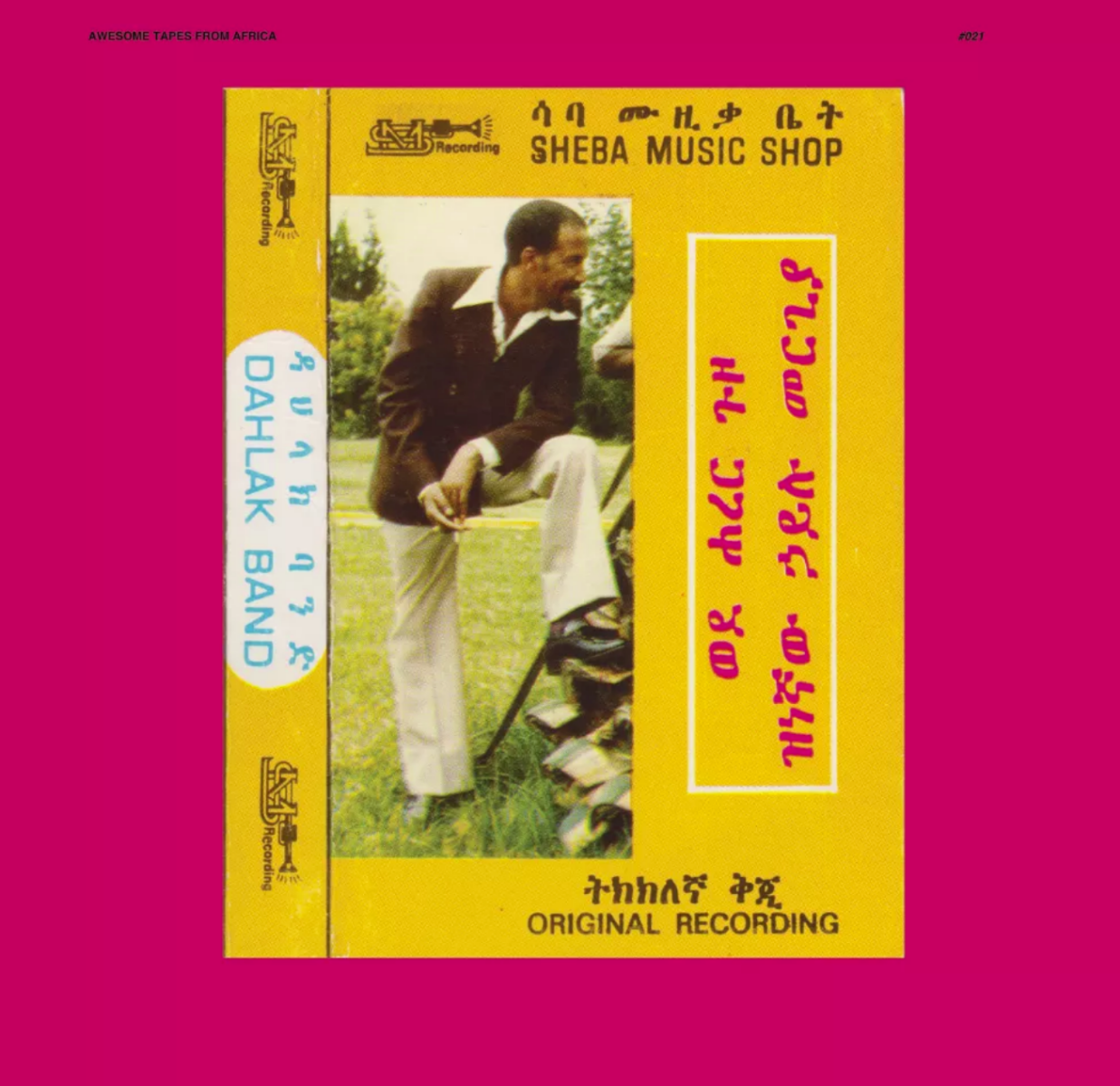 Awesome Tapes from Africa
Awesome Tapes From Africa is a record label and web site operated by Brian Shimkovitz.
The site was founded in 2006 in Brooklyn, New York.
The site was created as a way for Shimkovitz to share music he had come across while on a scholarship in Ghana.
He was interested in the variety of genres and artists he found, distributed largely on cassette tapes at markets, but that he had not come across outside West Africa.
In 2011 he transitioned the site from just a blog with posted recordings of collected tapes posted without the artists' permission to a commercial record label.
The goal of the company is to seed and expand an audience for the artists presented as well as provide opportunities to sell albums and tour.
Artists are paid every six months and receive 50% of the profits from an album.
Tapes presented on Awesome Tapes come from a variety of sources: gathered in Ghanaian street markets, purchased in stores in the US, or sent by others over the internet.
In addition to the website, Shimkovitz DJ's concerts, clubs and at festivals as Awesome Tapes From Africa, as well as hosts a show on Dublab.
Most Awesome Tapes From Africa releases are official rereleases of out-of-print cassettes from African musicians and bands.
SK Kakraba's Songs of Paapieye is the first album to consist of a new release. Although music is distributed in Africa via MP3 on mobile phones, Shimkovitz says the widest variety of music in West Africa is still available on cassette tape.
In the journal Public Culture, Awesome Tapes From Africa, along with record labels Sublime Frequencies and Parallel World, is discussed as being emblematic of "World Music 2.0" for combining the "open source ethics of online networks with long-standing countercultural networks of circulation" within cassette culture and music distribution in developing nations.