Awesome Tapes from Africa - Ethiopian Hit Parade Volume 1 LP
SKU
LP16891.ETHIOPIAN.HITS.VOL1
Africa - Folk - Funk - Jazz
A re-issue by Heavenly Sweetness of super-heavy compilation
of Ethiopian heaters that was originally released on Amha Records in 1972.
Vol.1 of 4 x LPs, is a riveting survey
of the sounds which defied the restrictive rule of Emperor Haile Selassie,
whose Ministry of Information initially attempted to stop Amha Records,
but eventually turned a blind eye, perhaps in recognition of the fact that Amha Esthèté had
the guts to produce new records of domestic music when they were too slack to produce any.
As ever with historical recordings, context is key to fully understanding the music,
but you simply need a functioning set of ears to appreciate the soul and vibe of these tunes,
ranging from performances by "trade-modern" singers representing Amhara and Oromo culture,
alongside the pioneering founders of Ethiopian groove, such as Alemayehu Esher with the driving Addis Abeda Bete,
Girma Beyene on the debonaire shuffle of Set Alameneme
or the funked-up hustle of Teshome Meter's Gara Ser Naw Betesh,
along with a prime version of the Ethio-Anthem, Yekermo Saw.
***
Eine Wiederveröffentlichung von Heavenly Sweetness einer superschweren Compilation
äthiopischer Heizer, die ursprünglich 1972 auf Amha Records veröffentlicht wurde.
Vol.1 von 4 x LPs, ist eine fesselnde Übersicht
der Klänge, die sich der restriktiven Herrschaft von Kaiser Haile Selassie widersetzten,
dessen Informationsministerium zunächst versuchte, Amha Records zu stoppen,
aber schließlich ein Auge zudrückte, vielleicht in Anerkennung der Tatsache, dass Amha Esthèté den Mut hatte
vielleicht in Anerkennung der Tatsache, dass Amha Esthèté den Mut hatte,
neue Schallplatten mit einheimischer Musik zu produzieren, als man selbst zu faul war, welche zu produzieren.
Wie immer bei historischen Aufnahmen ist der Kontext der Schlüssel zum vollständigen Verständnis der Musik,
aber man braucht einfach ein funktionierendes Gehör, um die Seele und die Stimmung dieser Melodien zu schätzen,
von Auftritten "handelsmoderner" Sängerinnen und Sänger, die die Amhara- und Oromo-Kultur repräsentieren,
bis hin zu den Pionieren des äthiopischen Grooves, wie Alemayehu Esher mit dem treibenden Addis Abeda Bete,
Girma Beyene mit dem flotten Shuffle von Set Alameneme
oder die funkige Hektik von Teshome Meters Gara Ser Naw Betesh,
zusammen mit einer erstklassigen Version der Ethio-Hymne Yekermo Saw.
Brand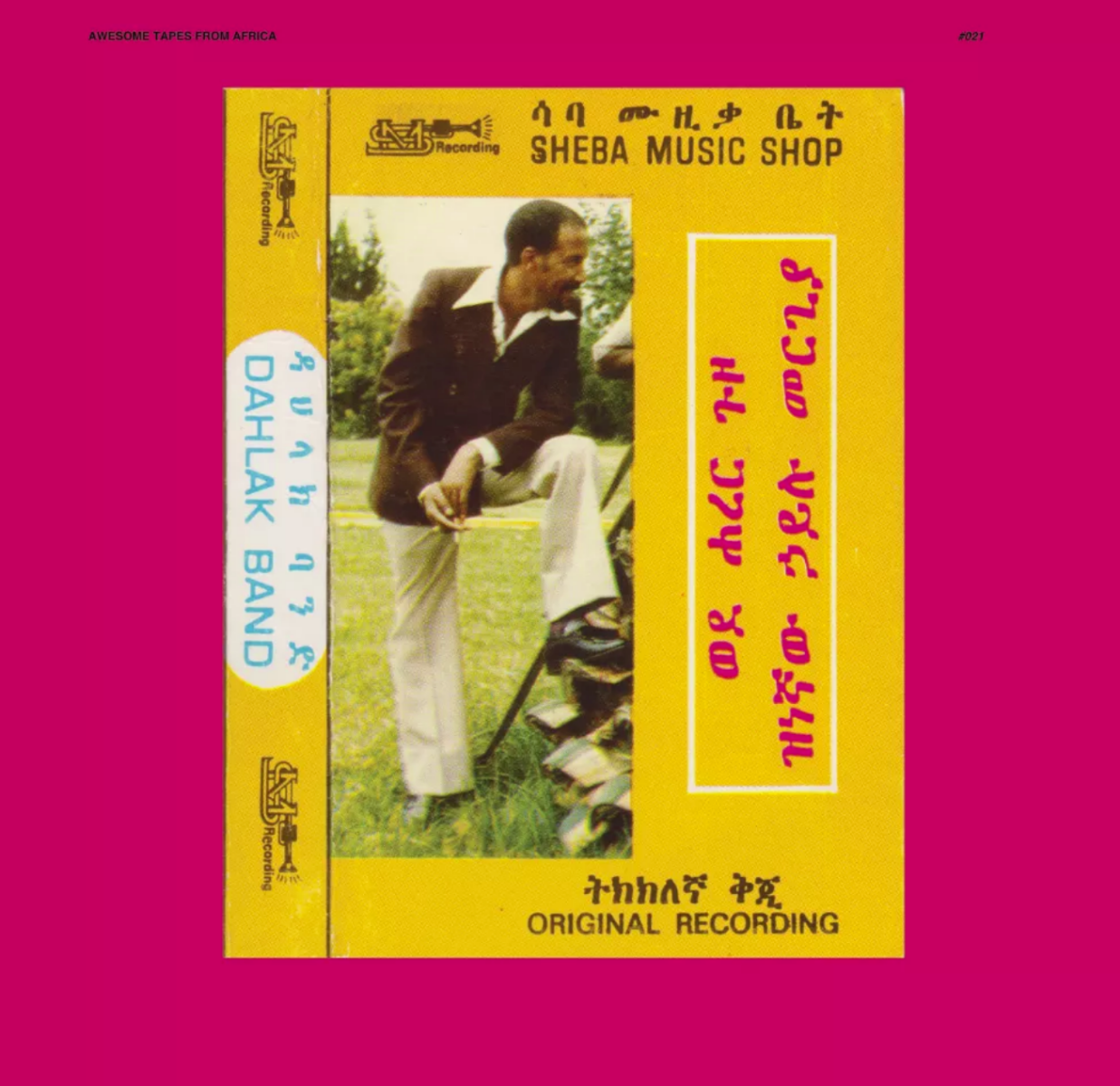 Awesome Tapes from Africa
Awesome Tapes From Africa is a record label and web site operated by Brian Shimkovitz.
The site was founded in 2006 in Brooklyn, New York.
The site was created as a way for Shimkovitz to share music he had come across while on a scholarship in Ghana.
He was interested in the variety of genres and artists he found, distributed largely on cassette tapes at markets, but that he had not come across outside West Africa.
In 2011 he transitioned the site from just a blog with posted recordings of collected tapes posted without the artists' permission to a commercial record label.
The goal of the company is to seed and expand an audience for the artists presented as well as provide opportunities to sell albums and tour.
Artists are paid every six months and receive 50% of the profits from an album.
Tapes presented on Awesome Tapes come from a variety of sources: gathered in Ghanaian street markets, purchased in stores in the US, or sent by others over the internet.
In addition to the website, Shimkovitz DJ's concerts, clubs and at festivals as Awesome Tapes From Africa, as well as hosts a show on Dublab.
Most Awesome Tapes From Africa releases are official rereleases of out-of-print cassettes from African musicians and bands.
SK Kakraba's Songs of Paapieye is the first album to consist of a new release. Although music is distributed in Africa via MP3 on mobile phones, Shimkovitz says the widest variety of music in West Africa is still available on cassette tape.
In the journal Public Culture, Awesome Tapes From Africa, along with record labels Sublime Frequencies and Parallel World, is discussed as being emblematic of "World Music 2.0" for combining the "open source ethics of online networks with long-standing countercultural networks of circulation" within cassette culture and music distribution in developing nations.