Alan Lomax's American Patchwork 2xLP
Niedriger Bestand
SKU
MRI127.ALAN.LOMAX.AMERIA2XLP
Alan Lomax's American Patchwork 2xLP
A stunning 2xLP collection of music documented during Alan Lomax's final American field recording sessions from 1978 to 1983. A completely overlooked and underrepresented period in American folk and blues history, this album includes performances by RL Burnside, Napoleon Strickland, Boyd Rivers, Tommy Jarrell, and many more never before released on vinyl.
160gram double LP in deluxe gatefold jacket with extensive notes by Nathan Salsburg of the Lomax Archive. Cover art by Joe Light. Read on for more…
From 1978 to 1983, Alan Lomax and a video-crew travelled through the American South and Southwest, documenting its traditional music — miners, moonshiners, and Primitive Baptists in Kentucky; flat-footers, string bands, and Piedmont blues in North Carolina; Cajun cowboys, fiddlers, and zydeco stompers in French-speaking Louisiana; and fife-and-drum ensembles, gospel quartets, former railroad track-liners, levee-camp muleskinners, and players on the pre-war blues circuit in Mississippi.

This footage ultimately totaled some 350 hours and was edited into Lomax's "American Patchwork" series, which aired on American public television in 1991. But given the strictures of the form, hundreds of discrete performances and compelling scenes were left unseen and unheard.

This set brings together some of the standout recordings Lomax made in his attempt to document the last vestiges of the "local surround" in Mississippi, Appalachia, and Louisiana. Intimate performances by R.L. Burnside, Tommy Jarrell, Boyd Rivers, Napoleon Strickland and more, newly remastered by Timothy Stollenwerk and never before released on vinyl.

Alan Lomax' Amerikanisches Patchwork 2xLP
Eine beeindruckende 2xLP-Sammlung von Musik, die während Alan Lomax' letzten amerikanischen Feldaufnahmen von 1978 bis 1983 dokumentiert wurde. Eine völlig übersehene und unterrepräsentierte Periode in der amerikanischen Folk- und Bluesgeschichte. Dieses Album enthält Auftritte von RL Burnside, Napoleon Strickland, Boyd Rivers, Tommy Jarrell und vielen anderen, die noch nie auf Vinyl veröffentlicht wurden.
160-Gramm-Doppel-LP im Deluxe-Klappcover mit ausführlichen Anmerkungen von Nathan Salsburg vom Lomax-Archiv. Cover-Grafik von Joe Light. Lies weiter für mehr...
Von 1978 bis 1983 reiste Alan Lomax mit einer Video-Crew durch den amerikanischen Süden und Südwesten, um die traditionelle Musik zu dokumentieren - Bergleute, Schwarzbrenner und Primitive Baptisten in Kentucky; Flat-Foters, String-Bands und Piedmont-Blues in North Carolina; Cajun-Cowboys, Fiddler und Zydeco-Stompers im französischsprachigen Louisiana; und Fife-and-Drum-Ensembles, Gospel-Quartette, ehemalige Eisenbahnarbeiter, Maultierkutscher und Bluesmusiker aus der Vorkriegszeit in Mississippi.

Dieses Filmmaterial umfasste schließlich rund 350 Stunden und wurde zu Lomax' Serie "American Patchwork" zusammengestellt, die 1991 im öffentlich-rechtlichen Fernsehen der USA ausgestrahlt wurde. Doch aufgrund der strengen Vorgaben des Formats blieben Hunderte von einzelnen Auftritten und fesselnden Szenen ungesehen und ungehört.

Dieses Set versammelt einige der herausragenden Aufnahmen, die Lomax bei seinem Versuch gemacht hat, die letzten Überreste der "lokalen Umgebung" in Mississippi, den Appalachen und Louisiana zu dokumentieren. Intime Auftritte von R.L. Burnside, Tommy Jarrell, Boyd Rivers, Napoleon Strickland und anderen, neu gemastert von Timothy Stollenwerk und noch nie auf Vinyl veröffentlicht.
Brand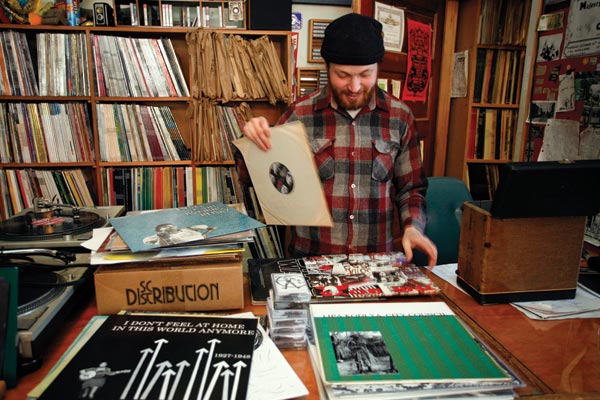 Mississippi Records
Selber waren wir leider noch nie bei Mississippi Records aber das Label hat sich in den letzten 12 Jahren ein Namen gemacht durch Veröffentlichungen von obskuren Raritäten, wunderbaren Blues & Folk Reissues und sensationellen Mix-Kasetten. Allesamt mit den grossartigsten Covers überhaupt. Mississippi Records-Releases werden nur auf Vinyl und oft in kleinsten Stückzahlen veröffentlicht.
EN: Unfortunately we have never been there ourselves at Mississippi Records but the label has made a name for itself over the past 12 years with releases of obscure rarities, wonderful Blues & Folk Reissues and sensational mix tapes. All with the greatest covers ever. Mississippi Records are released on vinyl only and often in small quantities.