Savon Stories Winter Rescue Mini Solid Lotion
SKU
LTN.WR.S.WINTER.RESCUE.LOT.25
---
Made in Europe
Sustainable
Small Producer
Organic
25g
A solid lotion made from 100% wild & organic ingredients;
melts when massaged on the skin to hydrate, repair and firm.
Eine feste Lotion aus 100% wilden & biologischen Zutaten;
schmilzt beim Einmassieren auf der Haut und spendet Feuchtigkeit, repariert und strafft
Winter Rescue is an intensive waterless lotion
packed with just the right vitamins & antioxidants to repair, protect and add a nourishing,
non-greasy barrier during the frigid winter elements that threaten to damage and dull your skin.
Undiluted with water (unlike conventional lotions) to deliver potent results, fast.
Combined with a warm woody aroma of sandalwood, frankincense, and soft citrusy top notes of yuzu.
These fruit and wood essential oils contain compounds that have been used for centuries
to speed up cell renewal for a smooth, refined complexion.
Combine with: plenty of clean water and hearty sleeps and naps!
***
Winter Rescue ist eine intensive wasserfreie Lotion
mit genau den richtigen Vitaminen und Antioxidantien, um die Haut zu reparieren, zu schützen und ihr eine nährende Barriere zu geben,
nicht fettende Barriere während der eisigen Elemente des Winters, die Ihre Haut zu schädigen und stumpf zu machen drohen.
Nicht mit Wasser verdünnt (im Gegensatz zu herkömmlichen Lotionen), um schnell wirksame Ergebnisse zu erzielen.
Kombiniert mit einem warmen, holzigen Aroma von Sandelholz, Weihrauch und weichen, zitrusartigen Kopfnoten von Yuzu.
Diese ätherischen Öle aus Früchten und Hölzern enthalten Verbindungen, die seit Jahrhunderten verwendet werden
zur Beschleunigung der Zellerneuerung für einen glatten, verfeinerten Teint.
Kombinieren Sie es mit: viel sauberem Wasser und ausgiebigem Schlaf und Nickerchen!
Brand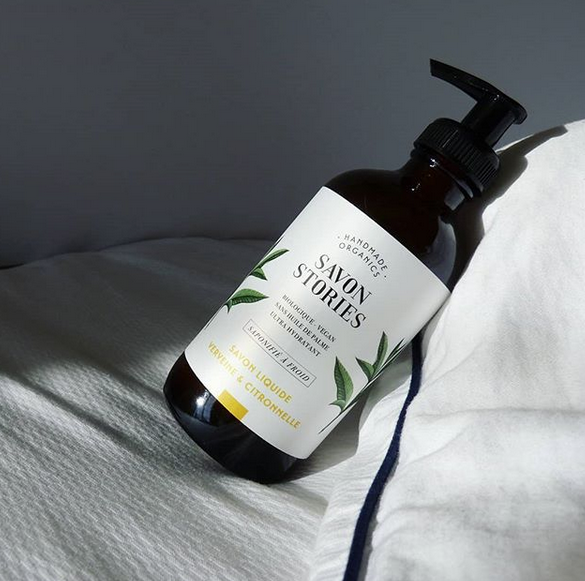 Savon Stories
"nurture the best of good green earth & to be rich with less than more. We call it "raw minimalism" and it defines everything we do. "

Handgemachte, biologische Kosmetik hergestellt in Surrey, England.
Savon Stories ist der Ansicht, unsere Haut sei unser zweiter Magen. Aus reichhaltigen, rohen, rein natürlichen und kaum veränderten Zutaten stellen sie ihre mehrfach ausgezeichneten Produkte her.
Eines unserer Lieblingsprodukte ist die "Bodylotion Bar". Sie hat die Konsistenz einer Seife, verteilt sich aber wunderbar, wenn sie aufgetragen wird. Und am Security-Check am Flughafen geht sie locker im Handgepäck durch, da sie keine Flüssigkeit enthält.

Aber auch das Arganöl oder die Rassoul-Tonerde möchten wir in unserem Badezimmer nicht mehr missen.
"nurture the best of good green earth & to be rich with less than more. We call it "raw minimalism" and it defines everything we do. "
Handmade, organic cosmetics made in Surrey, England.
Savon Stories believes our skin is our second stomach. From rich, raw, purely natural and hardly changed ingredients, they produce their multi-award winning products.One of our favorite products is the "Body Lotion Bar". It has the consistency of a soap, but spreads wonderfully when applied. And at the security check at the airport, it easily gets through in the hand luggage as it does not contain any liquid.But we also do not want to miss the argan oil or the rassoul clay in our bathroom.
Erhältlich bei:
Kitchener Bern
Kitchener Plus Zürich