Savon Stories - Ottoman Rose Organic Solid Moisturiser
SKU
LTN.ROS.OTTOMAN.ROSE.70
---
Made in Europe
Sustainable
Small Producer
Organic
70g
Revitalising & Moisturising Boosting Tonic
100% Organic
-Revitalisierendes & feuchtigkeitsspendendes Tonic
100% biologisch
Say goodbye to dry skin and useless water based lotions.
This is what your skin is craving: a solid,
concentrated moisturising balm to nourish & hydrate instantly, for longer.
No water. No additives. Just 100% active ingredients and real, deep nutrition.
Aroma: a highly floral and calming blend of organic essential oils
– rose, palmarosa and geranium.
✓ It prevents dryness
✓ Helps your skin stay young
✓ Soothes sensitive skin
✓ Relieves itchiness (ahhh…)
✓ Vegan, cruelty free & palm-free
✓ 100% organic. 100% active.
***
Verabschieden Sie sich von trockener Haut und nutzlosen Lotionen auf Wasserbasis.
Das ist es, wonach sich Ihre Haut sehnt: ein solider,
konzentrierter Feuchtigkeitsbalsam, der die Haut sofort und länger mit Feuchtigkeit versorgt.
Ohne Wasser. Keine Zusatzstoffe. Nur 100% aktive Inhaltsstoffe und echte, tiefgreifende Nährstoffe.
Aroma: eine sehr blumige und beruhigende Mischung aus ätherischen Bio-Ölen
- Rose, Palmarosa und Geranie.
✓ Beugt Trockenheit vor
✓ Hilft der Haut, jung zu bleiben
✓ Beruhigt empfindliche Haut
✓ Lindert Juckreiz (ahhh...)
✓ Vegan, tierversuchsfrei & palmfrei
✓ 100% biologisch. 100% aktiv.
Brand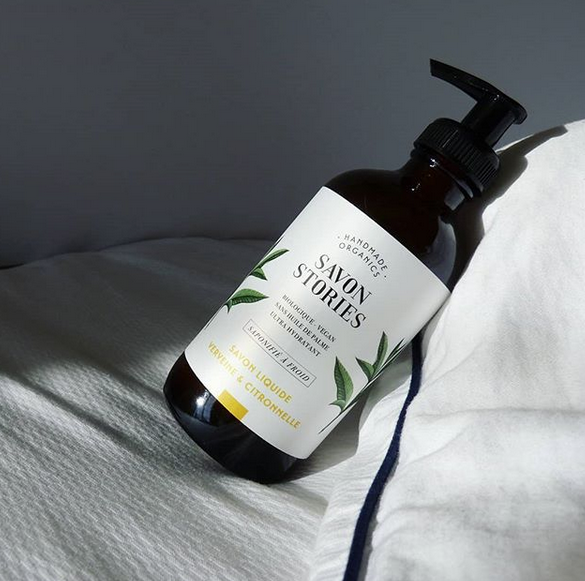 Savon Stories
"nurture the best of good green earth & to be rich with less than more. We call it "raw minimalism" and it defines everything we do. "

Handgemachte, biologische Kosmetik hergestellt in Surrey, England.
Savon Stories ist der Ansicht, unsere Haut sei unser zweiter Magen. Aus reichhaltigen, rohen, rein natürlichen und kaum veränderten Zutaten stellen sie ihre mehrfach ausgezeichneten Produkte her.
Eines unserer Lieblingsprodukte ist die "Bodylotion Bar". Sie hat die Konsistenz einer Seife, verteilt sich aber wunderbar, wenn sie aufgetragen wird. Und am Security-Check am Flughafen geht sie locker im Handgepäck durch, da sie keine Flüssigkeit enthält.

Aber auch das Arganöl oder die Rassoul-Tonerde möchten wir in unserem Badezimmer nicht mehr missen.
"nurture the best of good green earth & to be rich with less than more. We call it "raw minimalism" and it defines everything we do. "
Handmade, organic cosmetics made in Surrey, England.
Savon Stories believes our skin is our second stomach. From rich, raw, purely natural and hardly changed ingredients, they produce their multi-award winning products.One of our favorite products is the "Body Lotion Bar". It has the consistency of a soap, but spreads wonderfully when applied. And at the security check at the airport, it easily gets through in the hand luggage as it does not contain any liquid.But we also do not want to miss the argan oil or the rassoul clay in our bathroom.
Erhältlich bei:
Kitchener Bern
Kitchener Plus Zürich